Disclaimer: This post may contain affiliate links, meaning we get a small commission if you make a purchase through our links, at no cost to you. For more information, please visit our Disclaimer Page.
A monitor is a great way to raise productivity in the office or your home as It makes it easier to work on multiple things at once. You can make video calls with colleagues, and even play video games, though it has its disadvantages. So, can you stop a monitor from entering power-saving mode?
You can effortlessly stop a monitor from entering power-saving mode. Click on start> control panel> appearance and personalization> display> change power settings. Now change the setting for turn off display after to Never and click save changes.
If you've been having problems with power-saving mode on your monitor, this post is for you. I'll talk about why a monitor enters power save mode, whether it's a good feature, and how you can stop it. Without further ado, I'll get started!
Why Is the Monitor Entering Power Save Mode?
A monitor normally enters power-saving mode after being left idle for a few minutes. It may also be because of a problem with your Windows display settings. This is one of the most common problems that computer users experience when using their computers. The message "The monitor is entering power save mode" may also pop up if you are using an external monitor or if there are problems with your graphics card.
The purpose of a monitor entering power-saving mode is to conserve energy. The performance of the monitor does not get affected by this, but it does affect everything else on your computer. If you have problems with a monitor entering the power-saving mode, you should begin troubleshooting by checking the hardware.
To prevent a monitor from entering the power-saving mode, check the power settings on the computer to ensure they are set so the monitor doesn't enter power-saving mode. You can also troubleshoot to see what the root cause of the problem is and fix it.
Check your video cable connection between your PC and your monitor. If it is loose or damaged, there may be a problem with that connection that is causing the problem. Replace or tighten any loose connections and see if that solves your problem.
Try switching out your video cable for another one and see if it still turns off after a few minutes. If it doesn't, then you know that was part of the problem and need to replace your video cable.
Why Does a Monitor Enter Power Saving Mode on Startup?
A monitor usually enters power-saving mode on startup when it senses that the video source has been turned off. It's a feature of the monitor and not something that can be controlled by an operating system or application. How the monitor detects the absence of the video signal varies depending on the type of monitor, but it's usually because:
Disconnected Cable
The cable to the monitor has been disconnected from both ends or has come loose from one end.
Malfunctioned Devices
The video card, built-in motherboard video port, external video adapter, cable, or another device that is connected to the monitor is malfunctioning and no longer transmitting a signal to the monitor.
Improperly Connected Cables
The cable between your computer and your KVM switch is not properly connected, so when you turn on your computer, it does not send a signal to your monitor through this switch.
Is Power Saving Mode Good for the Monitor?
Power saving mode is somehow good for a monitor as it has many benefits than drawbacks. The feature can save energy consumption on a monitor. It is not the best way to save energy but the monitor can save you some power.
The power-saving mode on a monitor can reduce the amount of energy used by the LCD. If you use it for longer periods, then you will be able to reduce the amount of energy consumed by your monitor.
A major downside of using power-saving mode is that it takes longer to turn on and off the monitor. This means that if you have a large screen monitor and your monitor has been turned off for a while, then it will take longer to turn on and off. This can be very annoying if you are in a hurry.
Can I Prolong Or Stop My Monitor From Entering Power Saving Mode?
You can prolong the monitor from entering power-saving mode. The only thing you can do is to disable it for some time. Once the screen saver disappears, then you will be able to start using your computer again. If you are having this issue, then follow one of these two methods below:
Open your Settings and then click on "System".
On the left-hand side you should see "Battery", click on it.
In the battery settings, click on "Power & Sleep Settings"
There, you'll see screen options, select never on both and under the Sleep option, select never on both. If you want to prolong it, you can select timeframes such as 25 minutes up to 5 hour.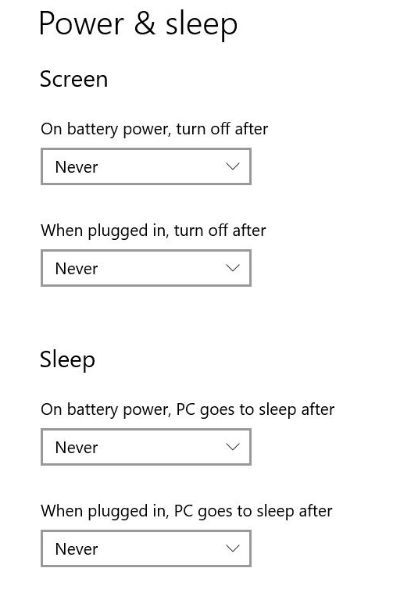 If you are still having issues with your monitor entering the power-saving mode, then you may want to try checking your battery settings in the Control Panel as well as updating any drivers that may be out of date. You can also try changing your power plan by following these steps:
Go to Control Panel, once you're there, type in Power Options in the search box. Select Power Options from the list of results.
In the Power Options window click Change plan settings next to your current power plan.
In the next window, switch put the computer to sleep option Never and click the Save changes button. If you want to prolong putting your computer to sleep, you can select anywhere from 1 minute up to 5 hours.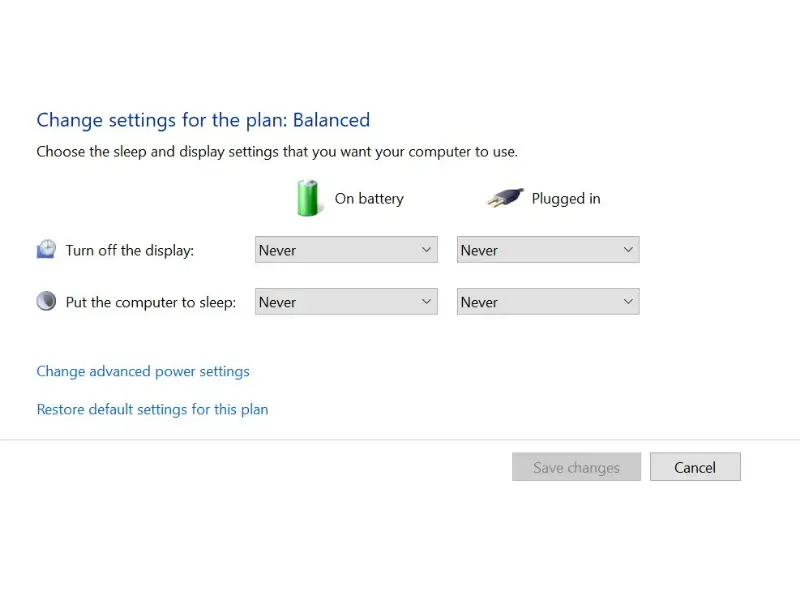 Should I Stop Monitor Entering Power Saving Mode?
You can stop a monitor from entering the mode anytime you want to. Keep in mind that everything is all about your preference. Keeping your monitor from entering power-saving mode is beneficial for many reasons.
Several computer issues can cause your monitor to display a blank screen or go into power-saving mode.
A few simple steps may fix the problem, while others may require a little more troubleshooting.
Why Should I Stop My Monitor From Entering Power Saving Mode?
There are several reasons you should keep your monitor from entering power-saving mode. When your monitor enters power-saving mode, it often displays a blank screen.
If you are using your computer, your work is interrupted, and it suspended the task you were working on until you get the monitor back online.
The next time the monitor is turned on, Windows must reload the software and re-establish communication with the monitor driver.
This takes time, especially if you have multiple programs open at one time. You also lose any unsaved data if you do not save your work before turning off the computer or letting it go into power-saving mode.