Disclaimer: This post may contain affiliate links, meaning we get a small commission if you make a purchase through our links, at no cost to you. For more information, please visit our Disclaimer Page.
Ever Wonder if you can make phone calls using your tablet? After all, you can consider a tablet as an oversized version of your smartphone. But, what makes it different from your smartphone is that it also integrates elements of a laptop. So, ultimately, a tablet is rather a cross between your smartphone and your tablet.
Most tablets allow you to make phone calls. However, different models have different designs. Therefore, their working mechanisms differ. So, if you want to invest in one – always check the manufacturer's features and instructions first.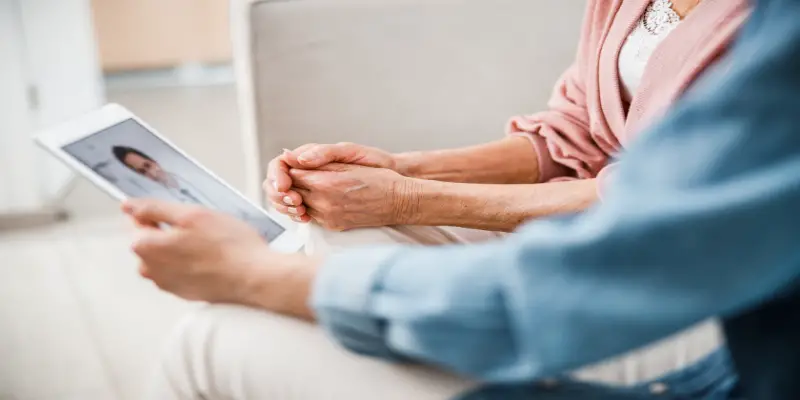 You can find tablets that connect to cellular networks. You can also find options that connect to Wi-Fi networks, or both. Alternatively, some tablets don't have sim card slots for cellular networks at all.
Either way, both these options allow you to make calls using different methods. Nonetheless, you have to figure out which one will work best for you before investing in one.
In the brief below, we've shared a guide to help you figure out whether or not you can make phone calls with your tablet. The piece helps to answer a vast range of questions you may have regarding making calls using a tablet.
The piece answers questions such as – how do I make a phone call using a tablet? What do you need to make a phone call with a tablet? Are there any limitations?
Does A Tablet Need A Phone Number?
Not all tablets have an assigned phone number. However, those who have assigned phone numbers do so for billing purposes. Just like your smartphone, you have a phone number assigned to your tablet.
This allows your mobile service provider to bill you for the minutes you used to make calls.
Typically, tablets assigned numbers come in two categories. These include a tablet from a carrier and carrier unlocked tablets. A tablet from a carrier is normally blocked to ensure you connect it to their provider's network.
There are two ways a phone number can be usually assigned to you with a tablet from a carrier. You can have a number assigned to you through the smartphone plan or directly to the tablet.
However, with the phone number assigned to you, some functions might get limited.
Since the tablet is still locked by the network, you will only be able to make calls. But, you will not have access to other options. You will not have the option to send or receive texts or other activities.
A carrier unlocked tablets on the other hand comes with more freedom. Using the tablet, all you need to do is invest in a sim card of any choice. Again, the sim card will of course come assigned with a phone number for the carrier to bill you with.
In addition to the billing, the phone number allows you to set up other elements on your tablet. For example, you can use your number to set up your WhatsApp account.
If you have a call, text, and data option, your tablet will be able to do it all. You can use your tablet to make calls, text, and even access the internet with mobile data.
Tablets that don't support mobile data can't really have a phone number. These are normally tablets built with only the Wi-Fi option.
So, without the sim card slot, you really can't use the tablet for GSM phone calls or other GSM-related functions. The most you will be able to do is make calls over the internet or through apps such as WhatsApp.
Will A Phone SIM Card Work In A Tablet?
You can use a phone SIM card on a tablet. In fact, you can use your phone SIM card on other smart devices such as 4G routers and mobile broadband dongles.
Before, you had to invest in a mobile broadband SIM card if you wanted to use it on devices such as a tablet and router.
This is no longer the case now. Yet, whilst you can use a phone sim card on your tablet, make sure it meets two requirements. First, ensure your tablet supports the frequency bands of the sim card carrier.
Additionally, you will have to create an appropriate APN for data connection. An APN allows you to use the data should you need to do so.
You will find some cases where a phone's sim card is larger than the micro sim card slot in the tablet – or vice versa! In this case, you can find mobile carriers that can curate a sim card appropriately sized to fit your tablet.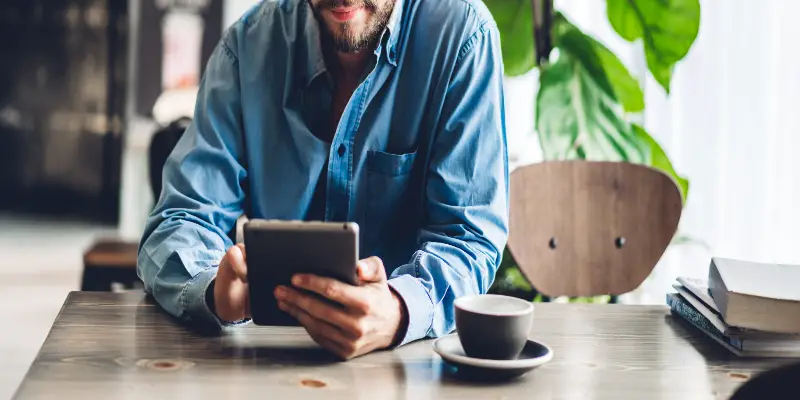 Can a Tablet Work Without a SIM Card?
A tablet can still work without a SIM card slot as long as you can connect it to a Wi-Fi network. Once there, it can route its calls through the network. One of the easiest ways to make calls using a tablet without a sim card is through Google.
For example, you can make calls using an existing Google Voice number on an android tablet. In this case, the tablet will depend on its Wi-Fi connection.
To set up the call, on your android tablet, turn on the airplane mode and enable the Wi-Fi connection.
After signing into the Wi-Fi network, open the Google Voice app and sign in to your Google account. On the app's menu, head to Settings, and under the Calls option, tap on Make and Receive Calls. Select the mode to be Wi-Fi instead of mobile data.
Once you've set up Wi-Fi calling, you can begin to use the app to make your calls. However, this is not the only way you can make calls using a tablet with no SIM card slot.
You can use apps on your tablet to make your calls as well. All you need to make calls using the apps is a Wi-Fi connection. Some apps you can use to make calls include:
WhatsApp for texting and voice calls
Viber for voice calls
Skype for voice and video calls
Facebook for voice and video calls as well as instant messaging
Zoom for video calls
WeChat for calls and messages
Signal for voice and video calls as well as messaging ( like WhatsApp)
ooVoo allows you to make individual and group video calls ( the app can accommodate up to 12 people at once in a four way display)
Tango allows you to make voice and video calls (you can even import phone and Facebook contacts and group them together)
However, there are some limitations to using a tablet with no SIM card slot. This is because you will depend entirely on a Wi-Fi network. You cannot make emergency calls if you are not within a Wi-Fi network range.
You cannot receive or send GSM calls. Since your calls depend on Wi-Fi, you have to make sure you are within range – so, you can't move around much!
Can You Use Tablet As A Phone?
A tablet can function as a phone – even without a connection to a cellular network. On a cellular connection, the tablet allows you to make phone calls and send texts as if you are using a mobile phone.
If your tablet is not connected to a cellular network, simply connect it to a Wi-Fi connection. Using a Wi-Fi connection, you can use the apps on your tablet to turn it into a phone.
As mentioned above, you can use different apps to make calls and even send texts from your tablet.
You will even find some tablets with special apps that allow you to use your tablet as a phone. For example, Verizon android tablets come pre-installed with Verizon Messages. Using this app, you can alternate between your phone and tablet.
You can do so if you have HD voice on your phone. Simply connect your number to the Verizon Messages app on your tablet. The connection allows you to receive calls and texts on both devices, simultaneously.
Or, you can use more traditional apps such as the ones listed above to continue using your tablet as a phone.
Can You Text From A Tablet To A Cell Phone?
If your tablet connects to a cellular network, you can use it to send text messages to a cell phone. But, you can find tablets that don't have this capability. For example, some Android tablets use the same operating system as android phones.
However, they don't carry the same features – including the text messaging feature. This is because they may not have phone numbers associated with them. In this case, the best choice may be to use an email program amongst android devices.
This email program allows you to send texts from your android tablet to your android device. The best part is your recipient doesn't have to have the same app. If you use the email app, the android recipient phone will receive the message as regular text.
To do this, open the App drawer on your tablet and pick the email application you prefer. After setting up your email account, look up the carrier SMS gateway your recipient uses. Cellular networks use SMS gateways to forward email messages to cell phones and vice versa.
So, for example, if your recipient uses Verizon, the gateway will be vtext.com. After you have entered the gateway, choose the compose option on the email app and start typing. When you are ready to text, enter your recipient's number and add the symbol @ after.
For example, if the recipient's number is 1234567890, you will type 1234567890@messaging.vetext.com. This message will simply be sent as a text to number 1234567890. After their response, you can continue to communicate as if you are using a regular texting app.
However, if the method above is cumbersome for you, you can opt for many other different apps. These include;
Android messaging app – this is perhaps the best app for android users. Plus, for most android devices, the app comes pre-installed. The app allows you to send and receive quick messages, share photos and videos, and chat with friends in groups.
Other popular and user friendly apps for a tablet to phone texting include;
Telegram
Facebook messenger
WhatsApp
Chomp messaging app
EvolveSMS
In fact, there is a myriad of text messaging app options (over 100+) to choose from.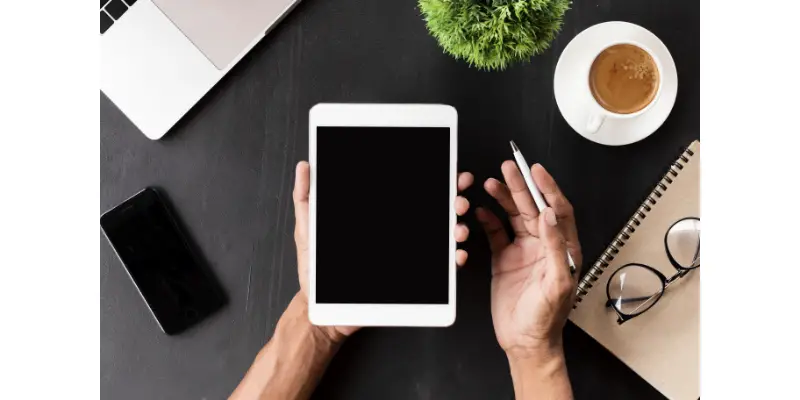 Conclusion
Using a tablet, your life really isn't limited. Just like a mobile phone, a tablet allows you to make phone calls and send/receive text messages at any time. However, a tablet also brings its uniqueness. As mentioned above, a tablet offers a cross between a smartphone and a laptop.
Therefore, if you don't have a cellular network connection, nothing changes. You can still continue to use your tablet using a Wi-Fi connection.
With the Wi-Fi connection, you can continue to make calls, send/receive texts, and browse the internet. For general use, your tablet can double as your mobile phone and laptop.