Disclaimer: This post may contain affiliate links, meaning we get a small commission if you make a purchase through our links, at no cost to you. For more information, please visit our Disclaimer Page.
One year ago, at the Google I/O developer conference keynote, Google announced a new service called Google Photos. It was a built-in service, which comes with Google+. But Google has decided to rebuild it to be a new separate service with a new interface, allows us to store unlimited photos and videos.
Google Photos also offers apps for many platforms, including Windows, Mac OS X, Android, and iOS. These apps will automatically upload and sync photos and videos between your device and Google Photos account. It's a great solution for storing photos and videos, right?
Compared to similar services like Dropbox or OneDrive from Microsoft, both are good enough. But they don't allow you to store unlimited photos because they come with a limited of storage space.
To keep your photos safe, not only store on your mobile device or computer but also upload to Google Photos. It will keep your photos more secure, in the case of your hard drive fails.
How To Use Google Photos To Store Your Photos
Before using Google Photos, you need to have a Google account. If you don't have any Google account, sign up one. After completing sign up process, visit here and start to use Google Photos.
There are two types of photos' quality in Google Photos: high quality and original size. If you choose to store your photos in high quality, you will be able to upload an unlimited number of photos. But if you decide to keep your photos in original sizes, there is a limited of photos you can upload, depending on your Google account's storage quota.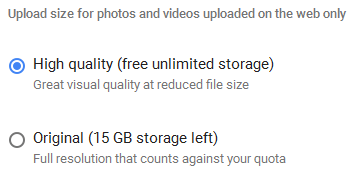 The high quality option allows you to upload and store images up to 16-megapixel in size. If most of your photos are taking by your phone's camera, then the "original size" option isn't really good. Google only recommends us to use this option if we have higher quality images, which taken by a DSLR camera.
You can also download and use apps to upload your photos from any device, including your Windows or Mac computer, your smartphone or tablet to Google Photos, automatically.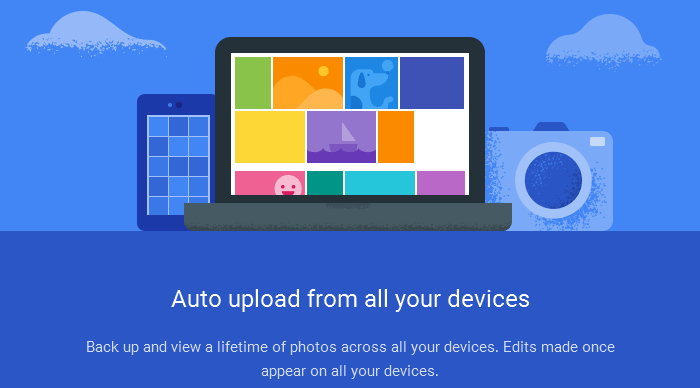 Google Photos also allows us to upload and store full HD videos (1080p resolution) or below for free.
Viewing Your Photos In Google Photos
To browse your uploaded photos, use the Google Photos apps for iOS, or Android, or visit the Google Photos website and then scroll through your photos and click them to view. By default, your photos are sorted from most newest to oldest.
You can also search your photos in different types, such as objects, locations and so on. Google will return you appropriate images that contain the right objects.
For example, if you search for "cat", Google will return you images that contain cats there, in the images.
You can also organize your uploaded photos by using the "Collections" option and add your images to albums.
Share Your Photos With Friends
Sharing an image in Google Photos is as simple as browsing it. All you need is just clicking the "Share" button at the top of the screen and select where you want to share to, such as Facebook, Twitter, or Google+.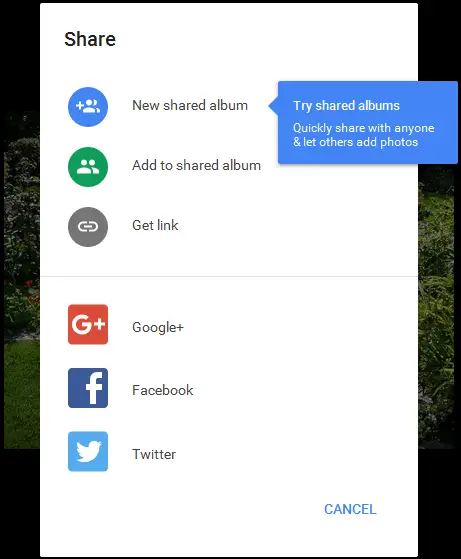 Google Photos also offers you to get the direct link to your photo and then share on anywhere you want or give that link to anyone, via instant messengers or email. They will be able to view your shared photo without needed to log in.
If you want to stop a photo from public status, click on the "Shared Links" option from the Google Photos menu to manage those shared links.
It's easy to download a specific of your photo from Google Photos or entire photo collection to keep an offline backup. It can be done with Google Takeout.