Disclaimer: This post may contain affiliate links, meaning we get a small commission if you make a purchase through our links, at no cost to you. For more information, please visit our Disclaimer Page.
Developers are making computers more powerful with each passing year. In fact, you can upgrade your system every few months, provided you have the funds and know what to look for in new or refurbished computer parts. With more powerful machines comes the ability to run more intense applications, or you can run several processes at once in the background.
When computers work hard like this, they generate a lot of heat. The computer's brain, or central processing unit, is one of the most hardworking components, and it is not good for it to get too hot. To deal with this problem, modem rigs have special coolers that work with some of the larger components in order to dissipate heat.
The CPU is no exception to the above rule, and some computer owners wonder if there is any utility in older cooling systems. We will explore some of the answers to this question in our topic today, and we will dive into whether you might be able to reuse an old CPU water cooler.
Additionally, we can think of some of the common ways in which you might be able to use an old cooler, talk about how these parts might break or go bad, and discuss how to get rid of your old coolers responsibly.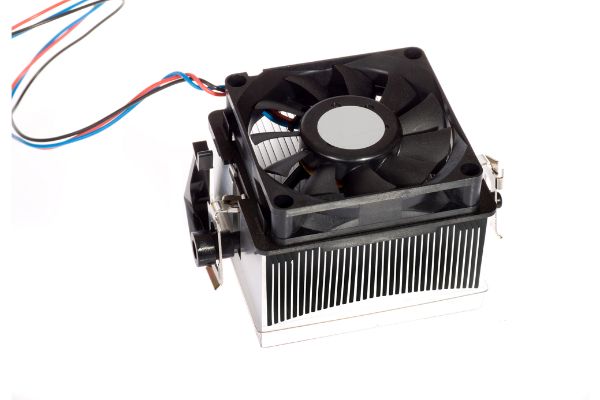 Can You Reuse a CPU Water Cooler?
CPU coolers will often use two main methods to keep the devices from taking on too much heat. One is air, and the other is water. It is good to remember that both methods do the same job through different means. Their main purpose is to take heat away from the processor and dissipate it over a different area.
You may hear some computer users refer to water cooling as liquid cooling instead. Although you can do different things with an old cooler, for our purposes, we'll go over using such a cooler in a different system in this section.
Whether you can swap between systems using the cooler of your choice depends on compatibility. Not all parts that work with one CPU can work with another. Central processors have sockets, and different parts go into these sockets. In general, one processor should have compatibility with more than one version of a specific attachment, but the list is not infinite.
If you want to reuse an old cooler that you pair with a different CPU, you'll need to check an official compatibility list. You should be able to find these on various community forums that relate to computer parts or other tech subjects. We recommend using https://pcpartpicker.com/ , and the site has a forum as well.
However, you can check official manufacturer's websites for the processor of your choice, too. Oftentimes, these sites will help owners of their products determine which parts can work with them.
What Can I Do With an Old CPU Cooler? 5 Things
Even if you aren't planning to put your old cooler to work in a different processor, there are still some things you can do before you get rid of it. Although our list may not be complete, we will try to give some of the easiest, most useful things you can do with yours. Here are some of the top suggestions you can try:
1. It is never wrong to just keep your old cooler as a backup. Although technology usually improves over time, you never know if the new thing you bought is going to work without any problems. Since a central processor's cooler is integral to a computer's health, it is a good idea to keep one as a backup device, if you already have a spare.
2. As we touched on already, there is a possibility that you can reuse it. Even if you are upgrading other parts of your system, there may be no reason to get a whole new cooler. As long as it is compatible, it will still perform the same function, and it should be able to do so with good results.
3. On a related note, why not use it to keep your graphics processor cool? The graphics processor tends to be another computer part that generates a lot of heat when it works. Much like the CPU, the GPU should come with its own cooler.
However, stock coolers for graphics processors can differ a bit from those that come with the CPUs you might find. They will still do the same job, but the way developers make them can be different.
This means that stock GPU coolers might be louder than those for central processors. You might find that doubling an old CPU cooler as a GPU one can cut down on noise or raise its cooling efficiency. Two things to keep in mind here are bulk and weight.
A central processor's cooler is usually larger than its cousin, and it can be heavier. If you want to use yours for the GPU, make sure it has proper support before you install it.
4. Assuming the cooler is still in good working condition, you can sell it on to someone who can use it. If you do, it is a good idea to make sure that it still comes to the new user with all of its parts. These parts might include things like the fans, brackets, or even the paste.
If you don't have the brackets, let potential buyers know which ones are supposed to fit in which sockets on the CPU.
5. You can repurpose it entirely as something else. Because it is a cooling device at its core, you may be able to refashion it for a different purpose. For example, you might turn your old cooler into a personal fan that sits on your desktop.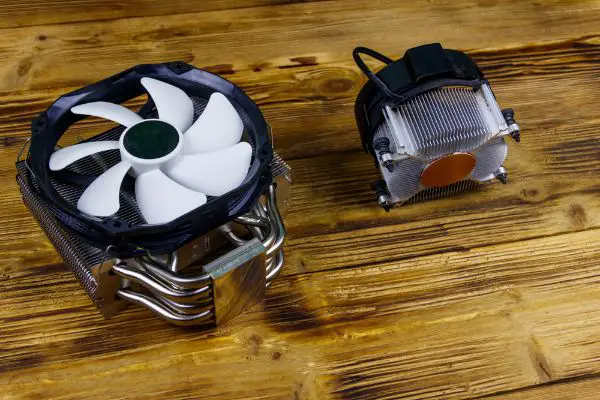 Can CPU Coolers Break?
Some CPU coolers can break. Before we dive into this topic, it is important to remember that most coolers should last you for several years under normal circumstances.
By normal, we mean that the cooler does not take any physical damage that might impact its performance. Of course, things can happen over the years, and any item that needs to rely on mechanical parts may find itself failing at some point.
Fans are common parts in a CPU cooler, and they might go bad sometimes. The fan needs power and motors in order to run, and you may find that the motor in yours doesn't work as well as it once did. If your fan is excessively loud all the time, it could be a sign that it is going into failure.
There are occasions when a fan needs to increase its speed to cool off the central processor, but it should revert to a normal level that you can't hear as much. A fan running high all the time is working hard, and it may be going out.
Furthermore, any physical damage to the computer could cause mechanical failure in some of the hardware that is inside it. This means that the cooling devices might fall out of alignment, or they could take on damage that prevents them from doing their jobs.
Breaking like this is somewhat different from just going bad, something that we will cover in the next section. In general, the coolers should not break unless some outside force subjects them to damage that hurts them too badly.
Coolers that are too heavy or that don't get proper mounting in their brackets can extend this breakage to the motherboard itself, too.
Do CPU Coolers Go Bad?
Although it is not common, cooling units can go bad. We touched on the physical damage aspect of this, but there is also the matter of defective or failing parts that cause the whole unit to stop working properly. In these cases, a computer technician might say that the cooler went bad and needs a replacement.
Even in systems that get their cooling from liquid rather than air, the pumps that supply the cooling agent could stop working or leak in some way. Pump failure means that the agent cannot get to where it needs to go, and the central processor will start to overheat.
And, although they are not common, leaks in these pumps could damage other parts of the system. The copper pipes themselves should not degrade over time. However, the seals might go bad in ways that cause the pipes to spring a leak, and this is something to consider.
How Do I Throw Away an Old CPU Cooler?
If you want to get rid of your CPU cooler entirely, here are a few steps you can take in order to recycle it properly:
1. Check the regulations for your local recycling center. Many places will accept old electronics. However, they may need yours to meet certain requirements first. Further, some places may not accept all kinds of parts.
2. Certain places may ask you to take the cooler apart before they will accept it.
3. The liquid coolant should be non-toxic, so it is safe for most places to accept. If the center asks you to drain the fluid, you should be able to empty it down a typical drain.
4. Certain manufacturers or retailers may have their own recycling programs. In many cases, they allow you to take and recycle a particular number of items for free, and you can repeat this process each day.
Conclusion
Most coolers for central processors should last many years. Even long past their usual lives, coolers can keep functioning without any issues. However, there are rare cases where damage could cause them to break, or time and use means that they are failing. In either situation, there are things you can do to recycle or repurpose your own coolers, and you can sell old ones that still work.