Disclaimer: This post may contain affiliate links, meaning we get a small commission if you make a purchase through our links, at no cost to you. For more information, please visit our Disclaimer Page.
Problems can occur with just about any program you may choose to install on your computer. However, it can be incredibly frustrating when that program is something you need to keep your computer safe. From time to time, people may notice specific problems that happen with Malwarebytes, including the inability to connect to the service.
What the Malwarebytes Service Error Looks Like
You click on the Malwarebytes icon in order to complete a scan. It appears to load for a moment or two, but then results in a small pop-up box rather than the Malwarebytes program. In the box, you find a message telling you that it cannot connect to the service.
Before you panic, know that you have several methods for getting this problem resolved. Most only take a few minutes and you'll be back on your high-tech feet. We'll guide you through those methods here.
Related Reading | Bytefence Review: How To Remove Bytefence Anti-Malware
Four Methods For Solving Malwarebytes Problems
Each of these methods tackles a different issue that may be occurring with Malwarebytes. Because of that, you'll want to go through each one carefully and then test Malwarebytes to see if the problem has been solved. If you get lucky, you may only need to try out one to fix the issue.
Reinstall Malwarebytes
Many can find that all it takes is a reinstallation of Malwarebytes to resolve problems with connecting to the service. Keep in mind that this may have a few more steps for those who are signed up for the pro version of Malwarebytes.
Read Article: What to Do When Discord Won't Open
Step One
Before you do anything, make sure that you collect your Malwarebytes ID and key if you have them. Copying and pasting them to a notepad or word document is a great way to go.
Step Two
To begin with, you'll want to open up Malwarebytes and get into the settings. In the advanced settings section, make sure that the "Enable self-protection module" box is unchecked.
Step Three
Next, go to "My Account" and then "Deactivate."  Then shut down Malwarebytes.
Go to the Malwarebytes website and download mbam-clean.exe.
Shut down all of the programs you currently have open and make sure that your Antivirus software is disabled. Find the mbam-clean.exe file and run the program. Follow the instructions that it guides you through, and then restart your computer when instructed.
Step Four
Once your computer has rebooted, go to the Malwarebytes website and download the newest version of Malwarebytes.
Step Five
When you run Malwarebytes, uncheck the "trial" box, and copy/paste your ID information back into the program if you have them.
Finally, run a test scan to make sure Malwarebytes is working.
Uninstall With Safe Mode
In some cases, you may find that Malwarebytes isn't able to uninstall when your computer is running regularly. When this happens, using Safe Mode to uninstall the program is the way to go.
Step One
Press "R" and the Windows key. Then, enter "msconfig" into the bar.
Step Two
At this point, the system configuration box will pop up. You should see a box next to "Safe Boot." Make sure that box is checked, and also check the circle next to "Minimal Option."
Step Three
Select "OK" and affirm that you will restart.
Now, your computer should restart in safe mode. From here, you can open up the start menu, click on the gear that represents "settings" and then select "apps." Once you have located Malwarebytes, then opt to uninstall the program.
Step Four
Now, you'll need to get the configuration box up again and uncheck the option to boot in safe mode.
From here, you'll want to restart your computer, go to the Malwarebytes website and then download the newest Malwarebytes program.
Check Malwarebytes Service
Generally, what Malwarebytes installs into your computer is a service. Malwarebytes communicates with that service in order to run scans and keep track of issues. However, there can be instances where this communication cannot take place.
Step One
In the search bar you'll find when you select the "start" button, type in "services.msc".
What you're looking for should show up as the first result on the list. Right-click and run this option as administrator.
In the services list, look for Malwarebytes. When you've found it, right-click the option and select "properties."
Step Two
First, look for "startup type." Malwarebytes should be set to "automatic" for this category. If it isn't, go ahead and change it.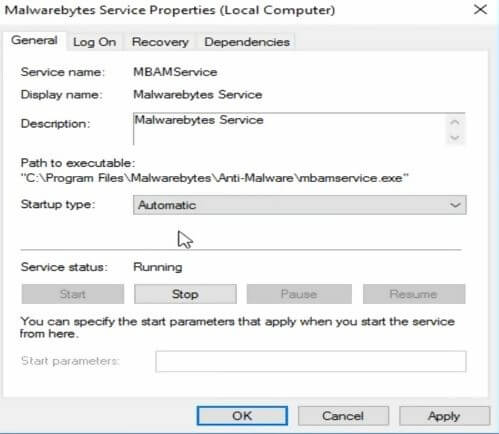 Step Three
Next, check the status of the program. If it isn't on "Running," then click on it until it is.

Step Four
Check to see if Malwarebytes has been fixed. This may require a reboot.
Checking Issues With Antivirus Programs
While Malwarebytes typically doesn't have a problem working alongside other programs on your computer, there are some pieces of anti-virus software that it may not get along with. The good news is that this can typically be changed.
Additionally, it's often just a single version of the Malwarebytes program that causes the issue. This tends to mean that it can be patched to fix the problem. Furthermore, you can try the following steps.
Step One
Open up your anti-virus software. Each is a little different, but just about every anti-virus has an area where you can set the exceptions to the program. Placing Malwarebytes in this folder is likely to solve the problem in most cases.
Step Two
If you have the F-Secure anti-virus, it's worth noting that you may be more likely to have issues with Malwarebytes. That doesn't mean it won't work at all. Wherever you happen to find the exceptions folders, it's a good idea to try to place the entire Malwarebytes folder into the space. You may not always be able to, but it makes solving the problem easier if you can.
Sources