Disclaimer: This post may contain affiliate links, meaning we get a small commission if you make a purchase through our links, at no cost to you. For more information, please visit our Disclaimer Page.
The System Restore is a built-in feature of Windows, use to backup and restore Windows OS when something goes wrong. It allows you to roll the whole Windows OS back to previous points, which create automatically by the system.
This feature will help you to fix most serious and unknown errors on Windows, including Blue Screen Of Death (BSOD) and other errors that related to corrupted system files. The Windows System Restore will roll the whole system back to previous configurations, registry entries, and drivers.
When you turn System Protection feature on, your Windows PC will automatically create restore points. Let's imagine these points look like backup versions. When you got any problems with your computer, you will be able to select one of these restore points and roll the Windows OS on your computer back to the working point, the point without any errors.
This feature is useful to help you protect your computer from most errors, in case something goes wrong with the drivers and Windows system files.
Use System Restore To Roll Back Your Windows OS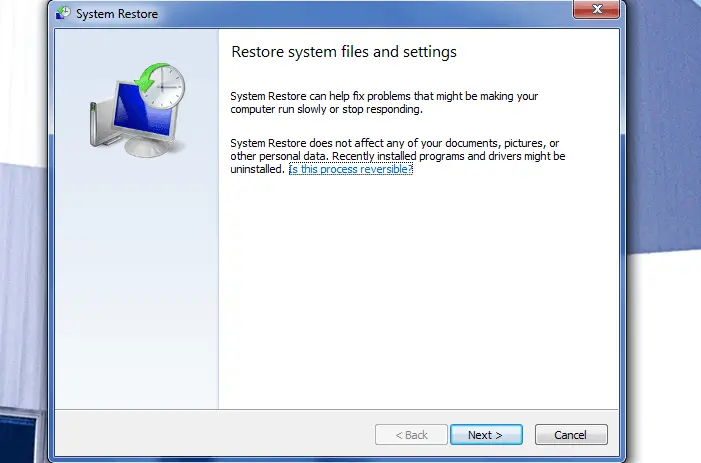 Before starting to use the System Restore function, make sure you have enabled "System Protection" on Windows. If this feature doesn't turn on before the errors occur, there is no restore point to roll back.
To help you understand more about the "System Protection" function, I will explain to you a few things about it.
When you use your Windows computer and make any change (such as installing new programs, drivers or updates), Windows will automatically create a system restore point.
This restore point is a snapshot of your Windows OS before the change was made. If any errors occur because of that change, you will be able to roll back your Windows OS with the System Restore without losing any files.
You can also be able to create a system restore point by yourself from System Restore panel.
However, it doesn't create any backups of your personal files or data. If you were deleted your files because a mistake, it can't help you to undo it.
Get Started With System Restore On Windows OS
To use System Restore function, go to Start > Run and search for "System Restore", and then open it.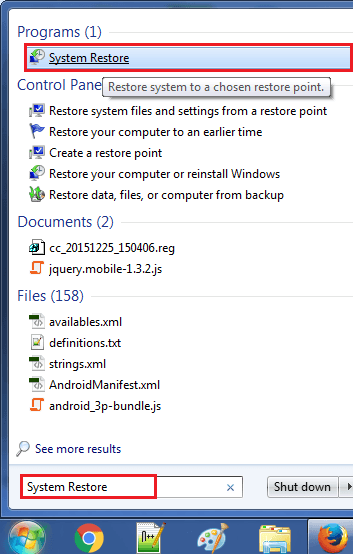 In the System Properties window, click on the "System Restore" to start the function. You can also open this function by going to Control Panel > Recovery > System Restore.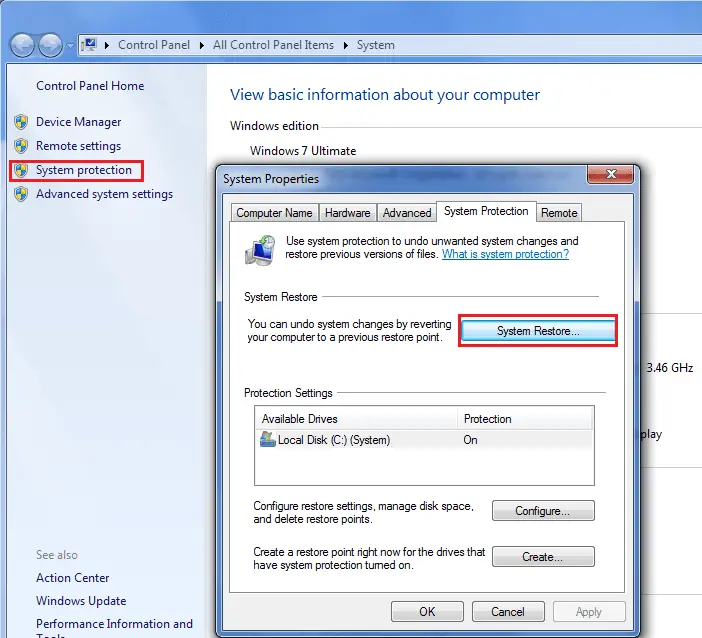 Select a restore point from the list and click the "Next" button to move to the next step. You can also check on the "Show more restore points" to show more restore points to select from.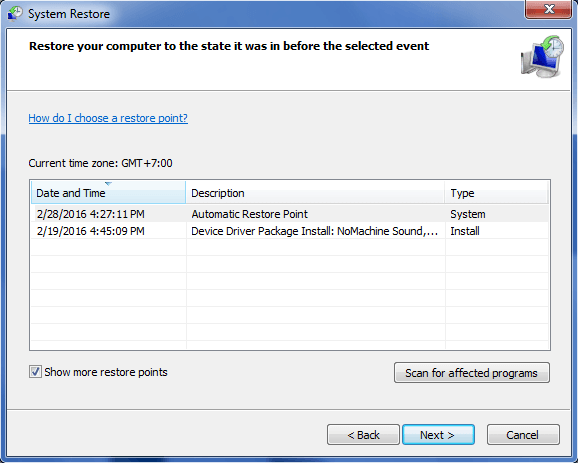 Click on the "Finish" button to start the system restore process.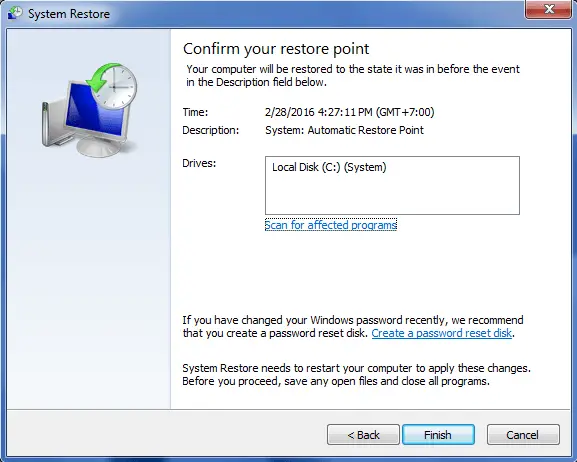 The process will start to revert Windows to the point that you have selected. You will see a message like "Preparing to restore your system…" on the screen of your Windows computer. The next message should be: "Please wait while your Windows files and settings are being restored message".
Using the Windows System Restore to roll changes back in Windows OS usually takes from 15 to 30 minutes.
As we mentioned above, the System Restore function will not affect to any non-system files like documents, music, and video. If you hope it can help you to undelete or restore any deleted non-system files, try file recovery programs instead.
Restore points don't usually need to create manually. When the System Restore is enabled, Windows should automatically create restore points.
If the System Restore function doesn't help you to fix errors which have occurred on your Windows computer, try reset your Windows instead.
In this article, I have used Windows 7 to show you how to use Windows System Restore. If you are using other versions of Windows like Windows 8, 8.1 or Windows 10, there is not much different.