Disclaimer: This post may contain affiliate links, meaning we get a small commission if you make a purchase through our links, at no cost to you. For more information, please visit our Disclaimer Page.
Have you ever used any of these services: Dropbox, Google Drive, Amazon Cloud Drive, OneDrive, or Box.net?
Which one do you often use to sync your photo & video, and store necessary files?
What Is Cloud Storage And How Does It Work?
Cloud storage is becoming increasingly popular globally, with applications ranging from operating systems to mobile devices. However, do you know what it is exactly, and how it works?
In essence, cloud storage is a loose term for any feature on software that enables a user to upload, download, and share information digitally. By storing information that is accessible with an internet connection, one can seamlessly transfer documents, files, images, or video from one device to another.
The big benefits of using cloud storage as opposed to more traditional forms of data transfer (USB drive, disk, hard-line connection) are ease of use and accessibility. By clicking and dragging a desired file into the selected cloud storage program, one can quickly upload and share the file across any platform that supports it. Multiple users can then download the file as well, allowing for the seamless transference of data on a global scale.
There are a few downsides to using cloud storage. For example, if a user doesn't have an internet connection, they can't access the files stored. Further, if the user doesn't have a reliable fast internet connection, uploading or downloading files on the cloud can be slow.
Cloud storage works in a similar method to accessing any data available on the Internet. The cloud storage software enables users to upload data onto a web server, which is then stored on the server. The data stored on the server can then be shared privately or publicly, depending on the features available for the particular cloud storage software.
A web server is ultimately just a secured computer with an active internet connection, and storage capacity (hard disk drive, solid state disk, or both). The security of the server and accessibility of the files is dependent on the cloud storage software, features programmed into it, and the competency of the server system administrator.
5 Best Cloud Storage Services You Should Know
1. Google Drive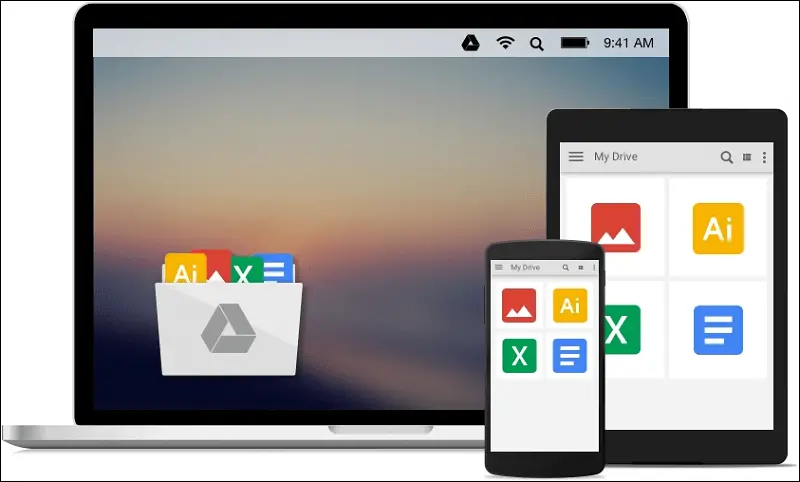 Google Drive is a storage service where you can keep files and folders of files safe. It is entirely cloud-based, meaning none of the stored files is a physical place. All files are safely put away in a mass online server and under your account. Google Drive also has a series of features that do useful functions such as create presentations, documents, and even spreadsheets. It also allows you to share files with people while selecting certain people or certain groups of people in your contacts to be able to view or even edit files.
Also Read: How To Use Google Photos To Store Unlimited Photos.
Pros:
Google Drive offers 15 gigabytes of free storage without any monthly subscription.
Google Drive allows you to share documents, folders, or files without a selective audience, meaning any person who doesn't have your permission can see the files.
You can upload whole folders of files.
Google drive has built in widgets for creating documents, presentations, spreadsheets, and more, making presentations and the like very portable and accessible anywhere.
Cons:
You must pay a monthly subscription fee to access any more than 15 gigabytes of storage.
The only increments are 100 gigabytes ($1.99 monthly) or 1 terabyte (9.99 monthly) or beyond depending on your account type.
2. Dropbox
Dropbox.com is another cloud-based service that safely stores your files under your certain account. Like Google Drive, no one can access your files that you do not want to. You can safely upload files or whole folders of files at a time. There is a certain amount of storage free when signing up.
[right-related slug="get-free-dropbox-space"]
Pros:
You start off with a little storage to keep some important files set aside.
You can get one terabyte for a cheaper monthly fee than Google drive.
Without making your account a corporate account, you can select a business plan.
Their business plan has no limits to storage space.
Cons:
You only start off with a fraction of free storage unlike Google's 15 gigabytes.
When choosing a business plan, they start to charge a monthly fee per individual, and this is more than one individual's one terabyte plan.
3. Amazon Cloud Drive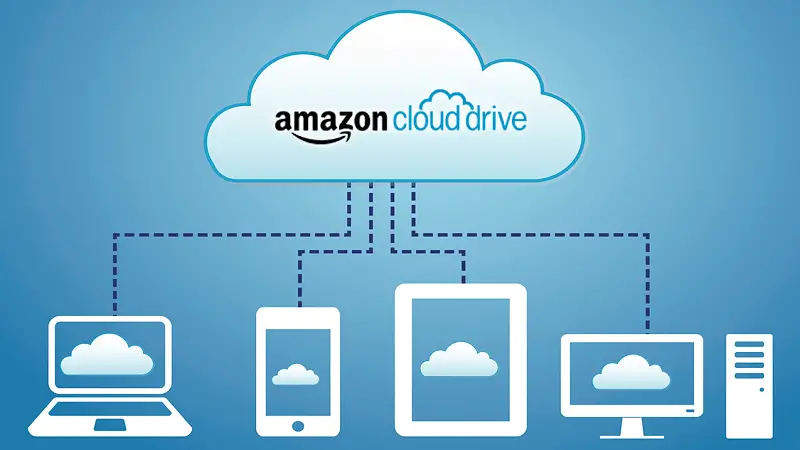 Amazon Cloud Drive is one of the biggest cloud storage services available on the market today, joining the company's major offerings in e-commerce and electronic gadgets, including eBooks and tablets in Amazon's Kindle line.
The company's cloud storage services aim to make Amazon indispensable for all users today, rather than just those who shop or read through Amazon online.
The benefits of Amazon's cloud storage service include 5GB of free space for each user and unlimited photo storage for Amazon Prime members; unlimited storage of all types is available for $59/year, with a three-month free trial.
It's also even easier to access other Amazon devices and subscriptions through Amazon Cloud Drive, like Fire TV, Fire phone, and Fire tablets. It's also easy to combine Amazon's cloud service with other subscriptions like Amazon Prime.
However, some cons of the service include an inability to share folders with others and limited desktop app downloads, while the service's web interface is excellent.
4. OneDrive
OneDrive is backed by Microsoft, so it is a cloud storage service backed by one of the biggest names in technology. From the ubiquitous availability of Windows operating systems to numerous Microsoft devices, Microsoft's technology and software have come to define much of today's computing experience.
OneDrive is also associated with Microsoft's email services, including Hotmail.com and Outlook.com. This means that your documents and email attachments are directly connected to your cloud storage services.
The benefits of OneDrive include 5GB of free space for every user. An additional 50GB of space costs $1.90 monthly. There's no need to install any special software; you can just use the web-based service. However, OneDrive is baked into most new Windows systems, which makes it easy to get started using the service without delay.
However, the service does not provide Web streaming capabilities for audio and video, and synced folders shared with other users are just for storage, not for collaborative editing and versioning.
5. Box.net
Box.net is another cloud file storage solution aimed primarily at business and enterprise users. As such, it has a slightly different set of pros and cons compared to other cloud storage solutions.
Pros:
Storage capacity. For $15 per user/month, the service provides unlimited storage and up to 5GB file uploads.
Security features. All business plans offer varying levels of security features, from SSL and Two-factor authentication on the cheapest 'starter' plan to SSO integration and HIPPA compliance with the 'business' and 'enterprise' plans.
User management. Business plans include features to control access to certain folders, reset user passwords, and manage access locations. This is great for a small or large business to implement a secure and effective cloud storage solution.
Cons:
Limited individual options. Box only provides two plans for individuals, a 'free' 10GB plan and a $10 per month 100GB plan. This is far less than the storage offered by competitors like Dropbox, who provide 1,000GB of storage for the same price, or Amazon who offer unlimited storage for $60 per year.
User minimums. Business plans require a minimum of three users, and the cheapest 'starter' plan only allows a maximum of 10 users before one must upgrade to the 'business' plan. This may prove challenging as a company grows; as soon as there are more than 10 employees who need access, the cost will go up from $5 per user/month to $15 for all who are signed up.
Conclusion
There are numerous cloud storage options available to the end user today. Depending on the needs of the customer, each service offers its own unique set of features and benefits. Whether one's priority is maximum storage, collaboration, or syncing features, an option certainly exists to fit each need.