Disclaimer: This post may contain affiliate links, meaning we get a small commission if you make a purchase through our links, at no cost to you. For more information, please visit our Disclaimer Page.
Is your keyboard not working with your new Windows 10 upgrade? You're not alone.
You probably have a very close relationship with your mouse at this point. If you're anything like me you've found loopholes and ways around it just to navigate to some solution.
That's the puzzle solver in you. It's the drive that led you to want to the most suited machine to you, it's the reason your keyboard is using a different driver.
The mix and match attitude. Or maybe you used your phone to check this up, either way, it's time to reconcile your drivers.
What's happening? Good question.
Your drivers — the system that acts as the middle man between your software and hardware — are getting mixed signals or no signals at all. This is because your keyboard may have a different manufacturer and needs its own upgrade.
It feels neglected. Let's spruce it up and show it some love.
If you did find this with a mouse, then great, you're going to need it. If not, and you're reading this on your phone, you're going to have to get access to a mouse.
A USB mouse will do just fine. If you're locked out of your account, you can utilize the onscreen keyboard to pop in your password.
Related Reading: Two Finger Scroll Not Working
Ok, let us begin.
Firstly, we always make sure it isn't a hardware problem. No point trying to fix something internal, when the issue is external. So, perform a general exam of your keyboard.
Check that nothing has been spilled, there are no keys that are stuck, things like that. To be sure, you can take a clean toothbrush and give your board a clean just to remove excess dust and make sure you're taking all the initial precautions before carrying on.
Next, you can run this little test to let you know if it's a software issue. We're going to try and access the BIOS menu.
The BIOS is short for Basic Input Output System. You're familiar with it, even if you don't know what it's called.
Many of us stumbled upon it while bored as our PC boots up in our youth. It's the menu that pops up when you hit either escape or delete while booting.
Now, we don't actually need the menu. What we are trying to identify is if the keys will work. If the menu comes up, the keys themselves work, and it is not a software issue.
For that, you'll have to go in to store, if the keys don't work. You got yourself a software issue.
Safe to say, it's time to reinstall keyboard drivers. If you want to use your onscreen keyboard, here's how:
Step 1: Enter PC settings.
Step 2: Select Ease of Access in the settings.
Step 3: Choose Keyboard, and tap the switch under On-Screen Keyboard to turn it on.
That's it.
Run Hardware and Device Trouble-Shooter:

Although there are communications issues at times, the Windows 10 trouble-shooter is very effective. This might cut out you having to do anything at all, really, as the trouble-shooter not only identifies the problem it also fixes it itself. Let's get the process rolling:
Open Control Panel
Navigate to Hardware and Sound
Select Configure a device.
Alternatively:
Go Settings, Update & Security, Troubleshoot and Select Hardware and devices.
Let it do its magic.
After it's performed its scan it will present you with a report. You select which tools you want to fix and click on next.
That is all.
Manually installing a new keyboard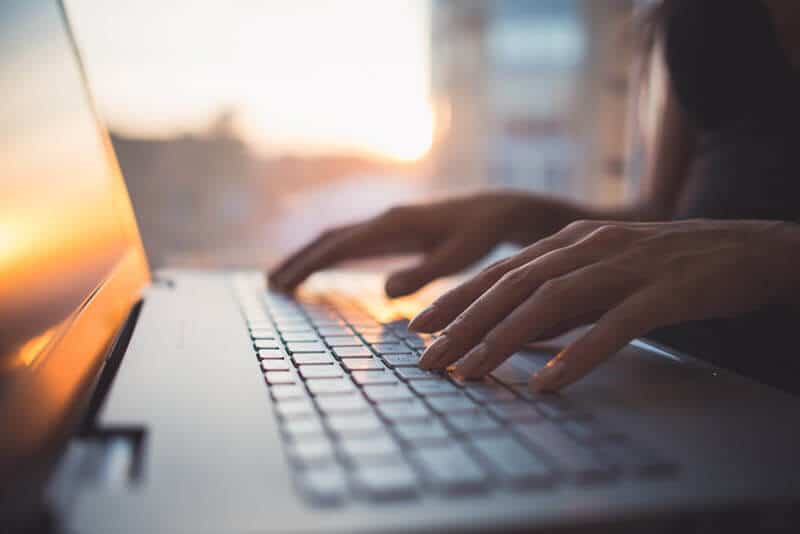 Before installing anything new, we must uninstall the trouble maker. To do that, navigate to your Device Manager from the Windows menu.
Under 'Keyboards', you will find your laptop's keyboard. Right-click on it and select 'Uninstall'.
If you are not sure which one's yours, just uninstall all of them. You only need one, if it is the right one – Amy, Little Women.
Installing 'the right one' :
Right-click the Start button and choose Device Manager.
Once in Device Manager asses all devices with a yellow mark in front of them. When you've got yourself a case of the dud keyboard, they are most-likely located under Human Interface Devices (HID) and keyboards.
Under keyboards right-click a keyboard with a yellow mark.
Pick Update Driver Software….
Select Browse my computer for driver software
Choose Let me Pick from a List of Device Drivers
Hit HID Keyboard Device
Click on Next and wait for the installation to complete, there should be no error code!
Expand the Human Interface Devices category
Repeat steps 3-8 for any device with a yellow mark.
If the issue with your keyboard is that there is a lag between the time you type and the time it shows up on your screen, that is a different problem. For that, you will need to disable filter keys.
Filter Keys is an amazing innovation intended for people with tremors to ignore double tapping and the like. It's like an inbuilt autocorrect. This can present issues, just like autocorrect.
To disable it simply go to Settings and Ease of Access, and disable filter keys. Now you should have a functioning keyboard, to match your newly upgraded PC.