Disclaimer: This post may contain affiliate links, meaning we get a small commission if you make a purchase through our links, at no cost to you. For more information, please visit our Disclaimer Page.
Apple has cemented its legacy as a provider of proprietary computers, mobile platforms, and software. It also uses its own operating system for all of its devices, and this OS comes with multiple features that can help it stand out from the rest of the major systems you might find involved in any of your devices. Part of the way Apple is able to do this is through its ability to let developers from third-party apps submit their work to the dedicated Apple Store. The company does this by providing distribution certificates.
Some users who are working with Apple may receive periodic messages about their distribution certificates expiring. If so, it is common to wonder if they can renew the certificates without a coder.
We will discuss this in our article, and we will also cover some of the steps on how to perform such a renewal. Additionally, we'll tackle whether it is possible to have multiple certificates, how long they might last, and what happens if you revoke them or they expire on their own.
Is It Possible To Renew a Distribution Certificate with no Coder Involved?
We touched on what a distribution certificate is, but it is a good idea to become a little more familiar with how it works. Such a certificate is a bit like an authenticator of sorts. It tells Apple that the source code for the app or program that the user or team wants to upload originated from the same organization that signed off on the app.
Furthermore, it certifies that the code has not been altered or changed from what it was when the team developed it. In short, it is a way to verify that the app is authentic, and that it has the full approval of the original person or persons who worked on it.
Certificates can be complex things, but they are wrapped up in a way that is supposed to make it relatively easy to find, figure out, renew, or revoke them as needed. Most times, a team or company will have a dedicated coder to work on things like certificate renewal.
Although the process is not always complicated, it can create huge problems if a business does not have a technical expert on their team to manage these things. However, not everyone has the right setup for these things, and some people may need to renew certifications without the help of a coder.
Apple realizes this, so they make it is possible to renew a distribution certificate without a coder. There are a few steps to learn, and there are some things one needs to be aware of before proceeding.
Like anything that is used for the purposes of authentication, doing this job improperly could result in something related to the company's credentials being messed up.
However, as long as you understand what to do and what to avoid, Apple's usual interfaces for developers contain relatively easy ways to help you renew these things.
How Can I Renew the iOS Distribution Certificate?
At some point, you may get a notice that your distribution certificate is set to expire. You should get at least one notice about 30 days prior to this happening.
While it is not necessarily urgent to renew the certificate right away, it is handy to have this reminder. You should receive this notice via the email address that you used in order to sign up for your developer account.
If you don't plan to renew the certificate immediately upon receiving the notice, it might be a good idea to mark the message in some way that allows it to stay at the forefront of things you need to take care of within a certain time.
You'll first need to sign in to your account on the developer portion of the Apple website. Unlike the standard Apple website, the developer version gives you access to options that are curated around making your own apps or programs for submission to the Apple Store.
1. Sign in at the address listed above.
2. In the 'Overview' section of the Apple Developer Program window, you should see a few things that you can click on. One of them should be 'Certificates, Identifiers, & Profiles'.
3. Navigate to this section to get into the area where all of your certificates are stored.
4. Once here, you will see the certificate that is about to expire. Find the '+' symbol next to 'Apple Distribution' and click on it.
5. Select the 'App Distribution Certificate' and click the appropriate link to download it.
6. If the certificate has expired completely, you may need to enter some identifying information into the appropriate fields.
7. You might also have to generate a new provisioning profile. The provisioning profile acts as the identifier for you or your team within the Apple distribution or developer network.
8. Follow the appropriate steps to set up or reactivate this profile.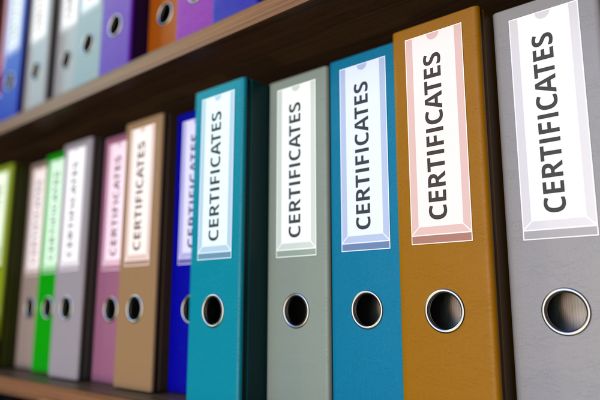 Can I Have Multiple iOS Distribution Certificates?
Yes, you can have multiple iOS distribution certificates. However, you cannot create an unlimited number of such certificates. Apple sets the limit at three certificates per account.
This assumes that a maximum of three developers will need to upload content to the account that is for the whole team.
However, some teams may have more than three developers who might need upload capabilities or admin access to the account. While it is not possible to increase the number of distribution certificates available artificially, there may be a workaround to allow more users to keep working with this kind of access.
You can export a .p12 file from the Mac that created the original request for certificate signing and download it onto another machine. The file in question will have its own private key embedded, and this could allow access to the same credentials necessary to other developers after the team surpasses the certificate limit of three already.
It is important to keep in mind that even revoking old certificates may not allow you to create new certificates that count toward the three that you might need. In some cases, Apple may still register that the account has reached the maximum limit even after revoking older ones or allowing them to expire.
What Happens When the iOS Distribution Certificate Expires?
It is possible that a team or coder might fail to renew a distribution certificate before it expires.
If this happens, the immediate effect is that you can no longer generate a production file for uploading to the app store. In other words, you lose the credentials you would need to distribute your app to the store and a wider audience.
You won't be able to post updates to the app or make new ones that are available for users to download via the store.
However, any version of an app that you have already put out there on the store should remain. This would mean that users can still download whatever the current version of your released app is, and they can install and run it on any of their Mac devices.
The distribution certificate is something that controls many things from the developer side of an app's production. Conversely, the production profile controls many aspects of an app from the user's perspective. Both are needed to ensure stable and smooth operations for any app you release.
How Long Do Apple Development Certificates Last?
We mentioned the two related certifications above. Certificates you get through the Apple Development Enterprise Program should last for three years from the date you got them originally. Your provisioning profiles expire after one year of use.
Because your provisioning profile expires before the development certification does, you can use a valid distribution certificate to renew the profile. If your certificate expires, it is a good idea to have a second certificate with a different, valid date.
You can use the credentials from this one in order to renew the first one. Keep in mind that, in this context, renewing the certificates means setting them up again through the appropriate channels on the developer website.
What Happens if I Revoke the iOS Distribution Certificate?
Unlike a simple expiration, revoking here assumes that you have decided to cancel the certificate in question yourself. If you choose to do this, you should receive a message that tells you something about how revoking the certificate can invalidate any process and profiles that are relying on it currently.
If you have nothing relying on the old certificate that you wish to revoke, this might not be a huge problem for you.
However, if other things are relying on this certificate, they may cease to function normally as soon as you revoke it. This could include being able to make changes or updates to apps. Furthermore, they may fail to launch at all.
If the current certification is tied to Apple's Enterprise, it can also mess up its functioning on the user side of things. You can always put in a request for a new certificate instead. If you think your private keys might be compromised, though, it is best to revoke the certificate.
Conclusion
Being able to develop and distribute apps via Apple's own store is a great way to hone your skills, provide welcome services to others, and maintain a business. This does require some authentic credentials, and you will need to renew these things periodically.
Failure to do so can cause problems for you with updates or uploads, problems for users who want to get into the app, or both. There are ways to renew your certificates before they expire to ensure things continue smoothly for your business.