Disclaimer: This post may contain affiliate links, meaning we get a small commission if you make a purchase through our links, at no cost to you. For more information, please visit our Disclaimer Page.
It's possible to use HDMI and USB-C simultaneously if the ports on your device support it. There are also external resources like a (dock) you can use to host an HDMI and USB-C simultaneously. However, some laptops may be unable to handle using two output ports simultaneously.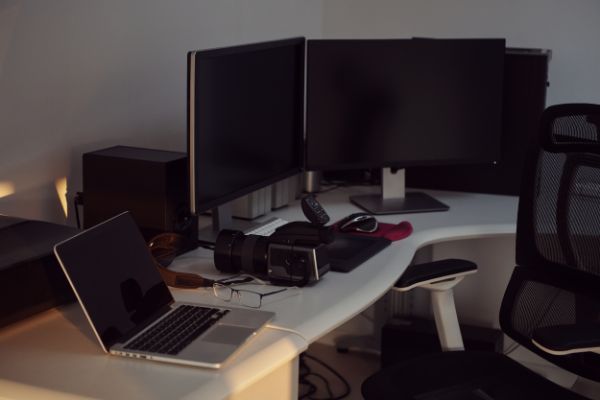 Can USB-C Be Used for Dual Display?
A compact and portable 2-in-1 convertible notebook might be good enough for daily use, but some scenarios call for more. Sometimes, you need a more extensive, sharper display with brighter colors or a smoother refresh rate, depending on your task.
Connecting your device to one external display or more can give you the portability of one device plus a fantastic visual experience. The dual display allows you to optimize your workflow awesomely or enjoy a good movie with more friends.
For example, you could have a fully opened document on one display, and your inbox opened on the other one. Connecting to a dual display is possible because of monitor ports.
The five main types generally seen are USB-C, DisplayPort, HDMI, DVI, and VGA
USB-C is the most recent addition to the list, and it may replace the other types in the coming years. It has carrying power, can connect accessories, and its standards include both HDMI and DisplayPort.
You can use USB-C for dual display with the right accessories. With a hub, docking station, or adapter, you can hook up your USB-C device to two or more monitors at a time. In addition, there're USB-C to dual or three DisplayPort adapters and a USB-C to HDMI connection.
If you want efficiency and ease of work from two monitors, you can get it even if your PC only has USB-C ports. Depending on what you plan to transmit or share across all screens, you can use one or more connecting ports.
Some ports can transmit only audio, while others can share audio or video feed, but the quality may be terrible. However, you can mix and match monitors if your laptop or USB hub has all the ports.
However, you need to pay attention to the compatibility of the devices to ensure efficient connectivity. Also, ensure you select the best input for each monitor's specifications to get the best refresh rate and resolution from each one.
Can I Use HDMI and USB-C at the Same Time?
A good understanding of how cables and ports work makes it easier for you to explore the depths of what your computer can do. There are also many ways to create more screens with one or more monitors.
Thankfully, a laptop has over one port to facilitate a connection and give you options. If you have a newer model laptop, it most likely has a USB-C port along with the regular HDMI.
Previously, it may have been challenging to find a connection between an HDMI and USB-C, but it's now possible.
You can use your laptop's HDMI and USB-C ports at the same time, both outputting. Just make sure the USB-C has Thunderbolt or DisplayPort support, otherwise the USB-C cannot be used for external displays.
For example, you can connect one monitor to your laptop's HDMI port, and the other to the same laptop, through an HDMI to USB-C dongle.
However, not all laptops allow you to use output through ports simultaneously. The Lenovo ThinkPad T590 is an example of a laptop prohibiting a simultaneous connection. (amazon.com link)
These are the display supports of the T950:
GeForce MX250, 2GB GDDR5 memory
Supports three independent displays
Supports external digital monitor via HDMI or Thunderbolt
Max resolution: 4096 x 2160 @ 24Hz (HDMI); 4096 x 2304 @ 60 Hz.
Interesting specs for a laptop, but it has a Shared Display Setting. In addition, it explains why the HDMI and USB-C ports can't work simultaneously, as follows:
Look at your laptop or computer specs to see which shared outputs is prioritize. The HDMI connection and the back USB Type-C connector may share a single display output, and this means you cannot use both ports to connect to an external monitor.
Another example would be laptops with USB-C with no display outputs.
Summarily, the T590's HDMI and USB 3.1 Type C Gen 1 share display outputs, and you can't use them at the same time. Regardless, the HDMI port may work with the USB 3.1 Type C Gen 2/Thunderbolt 3 (Lightning bolt right next to the port).
Of note, the USB 3.1 Type C Gen 1 port on the T590 has the DisplayPort and Power Delivery function.
Will HDMI to USB-C Work for Dual Monitors?
Monitor ports are connection points that allow various data and information flow. Over time, the evolution of monitor ports has resulted in ports that can also power and charge the devices they connect.
You must understand how they work to settle on the connections that best meet your needs.
Although there are many USB-C to HDMI adapters or even direct cables, there are barely any that go in the other direction. Unfortunately, this means your chances of connecting a USB-C-only monitor to an HDMI-only PC are slim.
Before you even think about connecting USB-C to HDMI for dual monitors, first get the right adapter or cable for one monitor. Of course, the ideal one must support reverse or bi-directional signaling.
Unfortunately, such products are costly because they have several integrated circuits inside.
For example, if you have a DisplayPort-over-USB-C screen, you'd need these to connect:
An active converter from HDMI to DisplayPort
A way to convert DisplayPort to DP-over-USB-C
Getting the first converter is relatively easy, but the second might be impossible. A means to create such a connection can exist technically, but it's not likely to be in production at the moment. On the off chance that it is, it may challenge to find because you'd be overwhelmed with reverse converters (it won't work).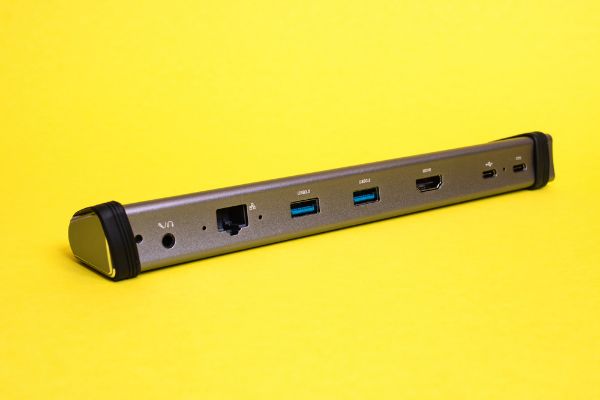 What to Do When USB-C and HDMI Are Not Working Simultaneously?
A simultaneous connection to two monitors is possible in laptops with a DisplayPort and a USB-C port. The DisplayPort is usually a mini/full HDMI or DisplayPort. You'd connect one monitor from the HDMI or DP and the other from USB-C.
Sometimes, USB-C and HDMI won't work simultaneously, even though they should. As mentioned above, a major reason could be that your system can only output either USB-C or HDMI.
If your laptop only supports three displays (like Intel UHD 620), this may be the case.
Another reason could be that the USB-C port can only output data, not video. If USB-C and HDMI are working simultaneously, the connecting monitors should display what you want. Here's what you can do if both ports aren't working simultaneously:
Change the USB-C port: You can try using the Thunderbolt 3 port on your laptop if the other one isn't working. It'll work for some laptops: HDMI + USB 3.1 Type-C Gen 2/ Thunderbolt 3.
Check all components: A defective monitor, an improper connection, or wrong cables may prevent your PC from detecting the external monitors. If this happens, it will seem like the USB-C and HDMI ports aren't working.
Ensure you have connected all the cables correctly; run some tests with another cable and an alternative monitor.
Use an adapter or docking station: Getting a USB-C to HDMI adapter may eliminate some connection problems. A docking station also seamlessly connects when setting up over one external monitor.
This is the ideal solution for people who have a USB-C with no display outputs because it doesn't have Thunderbolt or DisplayPort Support.
I used a Lenovo IdeaPad Flex 14 that had this issue, and I wanted to connect it to 2 external monitors, but only the HDMI port worked, so I bought a docking station which is compatible with DisplayLink drivers.
Unfortunately, these type of docking stations are a bit more on the pricey side, like the Dell Display Docking System D3100. (amazon.com link)
The good news is this docking station is compatible with other brands like Macbooks, but it does not support Multi-Stream  Transport.
Update your drivers: If your graphics card driver can't support multiple monitors, even the right connections won't work simultaneously. You'd need to update your drivers either manually or automatically.
An app like Driver Easy can help with an automatic update by detecting and downloading new driver versions on your Windows. Alternatively, you can update the driver manually by searching for one that matches your Windows OS.
The manufacturer's website will probably have the product you need. Once you find the right driver, download and install it on your computer. A manual update requires computer skills and time, so find some help if you can't handle it alone.
References
Bi-directional DisplayPort->USB-C, HDMI->USB-C, and
HDMI->DP cables – Dan S. Charlton.
https://itectec.com/superuser/ubuntu-usb-c-and-hdmi-not-working-simultaneously/