Disclaimer: This post may contain affiliate links, meaning we get a small commission if you make a purchase through our links, at no cost to you. For more information, please visit our Disclaimer Page.
Nowadays, many users are using VPNs to hide and protect their identity while accessing the Internet. The goals are to hide your real IP address, encrypt & protect your personal information while transmitting between your PC and the Internet, as well as bypass & access geo-restricted contents.
However, all these goals can be fallen if your information is leaking out via a security hole or something else. Many VPN service providers out there, but not all of them are safe and protect you 100%. So, let's take a look how to identify which VPN service is leaking your personal information and also learn how to protect yourself from these information leaks.
How Did Your Information Leak Out?
Technically, when you connect to a VPN server, all of your traffic will go through an encrypted and secure tunnel, from your computer or device to the VPN server – the exit point, and then access the web or any other apps. To the outside world, your location is the location of the VPN server, such as United States, United Kingdom, Germany, or anywhere based on your choice. That's great when you want to hide your real IP to access U.S.A streaming websites, right?
Nevertheless, there is nothing perfect. Many factors from your computer side can leak out your personal information that you don't ever know. For example, the WebRTC communication protocol is one of many factors that can leak out your real IP if you don't disable it. Even if you are behind one or two layers VPN, your real IP address is still being revealed.
Therefore, I have written this guide to help you learn more about information leaks when using VPNs and how to detect if your information is leaking out. Here are three methods that your personal information can be leaked out. Take a look at these methods and then use appropriate solutions to prevent them from leaking your information out.
Bugs And Protocols On Your Computer
As I mentioned above, the WebRTC communication protocol is one of many plugins, services or built-in functions on your computer or browser that can leak out your information. In this article, I will not go any further to discuss what is WebRTC. If you want to find out, read this article.
From that reason, when you look for a new VPN provider, I would recommend you to use Whoer.Net to verify that your real information won't be revealed. This online tool will help you check if your information is leaking out through Javascript, Flash, Java, ActiveX and WebRTC or not.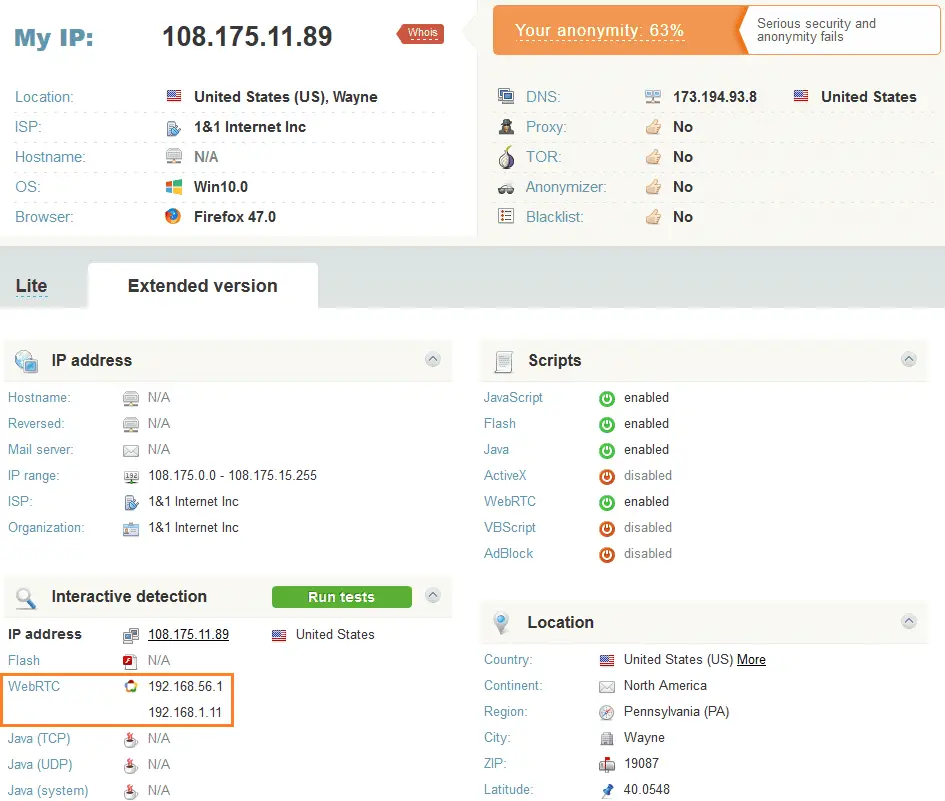 There are many VPN service providers allow you to try their service with trial programs. So just test them before using for main works or giving money for the premium subscription. Also, you can read these VPN reviews from CloudWards.Net. Many detailed & in-depth VPN reviews there that can help you to choose a good VPN service provider to use, protect your privacy against these kinds of information leaks. Check it out!
Here is a perfect result with a good VPN service, combine with a few extra steps to configure and disable everything that can leak out your information.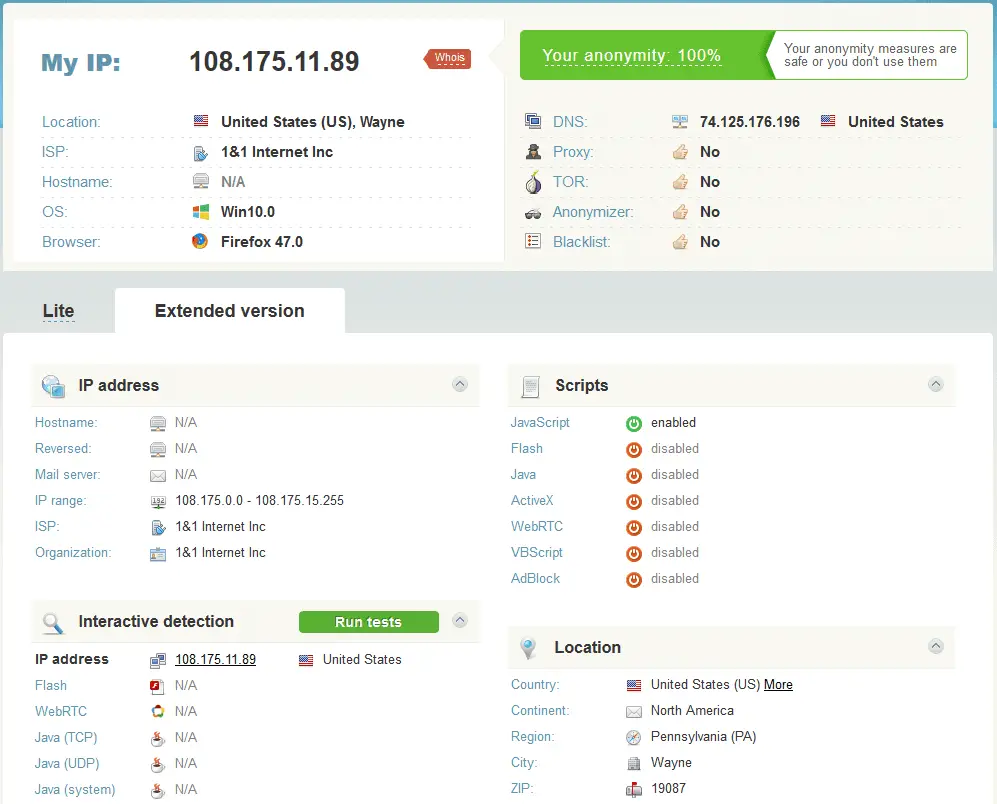 How To Disable WebRTC In Your Browser
The WebRTC is enabled by default on most of the internet browsers and it's one of many factors that leak out your real location while using a VPN connection. In order to protect yourself against IP leak issues, I would recommend you to disable WebRTC on your browser.
To doing so, you can install ScriptSafe extension for Google Chrome, Opera or Disable WebRTC addon for Firefox. You can also disable WebRTC manually by typing "about:config" in the Firefox's address bar, press Enter and then find the entry "media.peerconnection.enabled" and set its value to "false".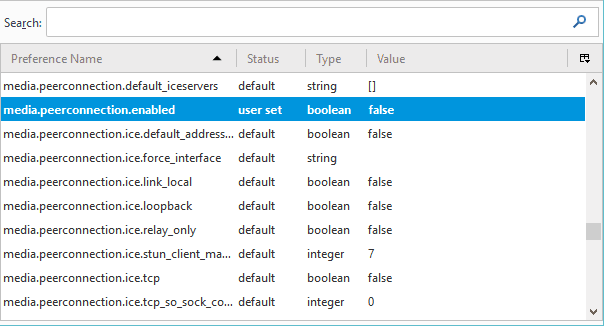 You should be aware that when you disable WebRTC, some web-based apps and services will not work until you enable it. For example, some chat websites, Google Hangouts or food delivery sites that need to detect your real location.
DNS Leaks
Sometimes, without security flaws, there are chances that your DNS information can leak out. The causes are many but mostly come from your operating system configuration or error from the VPN provider.
DNS leaks aren't bad like IP leaks. It's a smaller issue, but many websites & online services still can detect your real location based on DNS information. As for instance, if the DNS server you are using belongs to a particular ISP that has location far away from where VPN located, then probably most of the websites & online services can quickly know that the VPN IP isn't your real IP. It's a fake one!
To check and verify that your DNS information isn't leaking out, take a DNS leak test by using https://dnsleaktest.com. From the result, if this tool recognizes your real location or ISP, that means you have a DNS leak.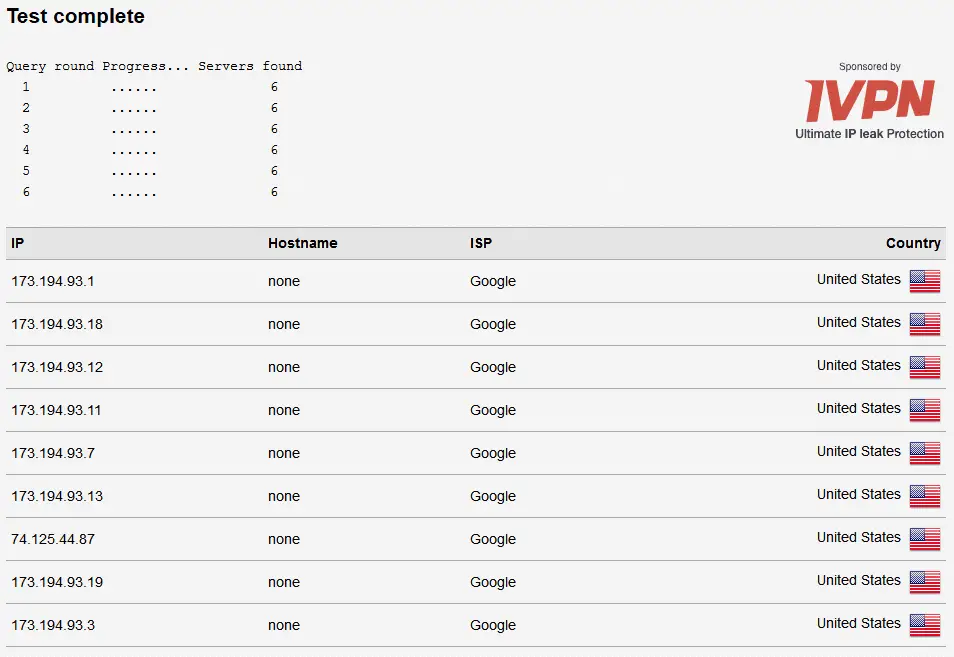 To prevent DNS leaks, I would recommend you change your default DNS server to be a third-party one, such as Google's DNS, OpenDNS or any in this list. Technically, you don't use DNS server of your ISP anymore. By that, websites & online services will know that you are using a third-party DNS server, but don't know what your real ISP is.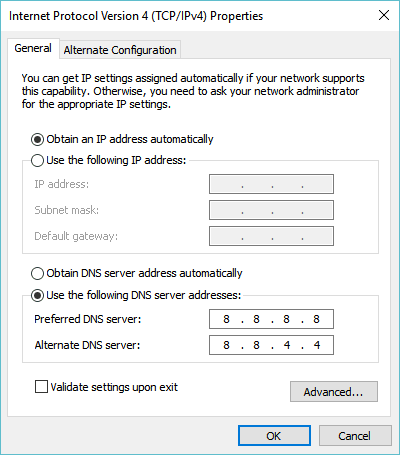 If you are using Windows 10, I highly recommend you to turn off "Smart Multi-Homed Name Resolution". It's a new feature in Windows 10 to improve the web performance by sending all DNS requests to all available resources at once, and then choose to use the fastest one. By that, Windows 10 sometimes will redirect DNS requests through your the DNS server of your ISP instead of the DNS of your VPN provider.
To disable this feature, press Windows + R,  fill in "gpedit.msc" and press Enter. The Local Group Policy Editor will show up, just navigate to Computer Configuration -> Administrative Templates -> Network -> DNS Client. Then find "Turn off smart multi-homed name resolution" and double-click on it, choose "Enable" and then click on the "OK" button.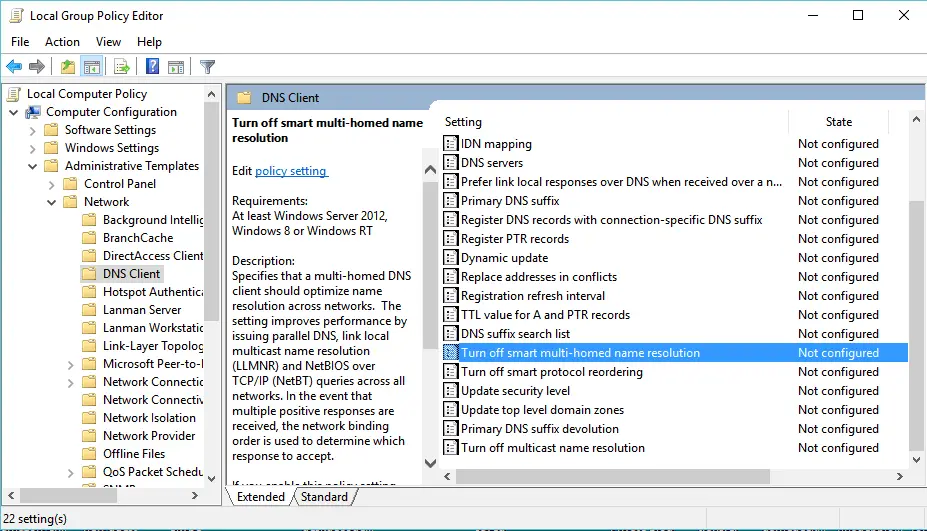 That's it!
IPv6 Leaks
You know, the Internet is running out of IPv4. That's the reason why IPv6 has been invented. For further details about IPv6, read this explanation from Wikipedia.Org.
While the IPv6 is good at resolving the running out of IP address problem, it's not really good at protecting your online privacy. For example, if you are using a VPN that doesn't support IPv6, then all IPv6 requests will be ignored, and it won't go through the VPN secure tunnel. Instead, these requests will go directly to the Internet. Therefore, your IPv6 address and its DNS information will be leaked out. This is a serious problem, and you should be aware and proactively protect against it.
If you want to use IPv6 and want to ensure that it doesn't leak out your information, use http://ipv6leak.com to test it out.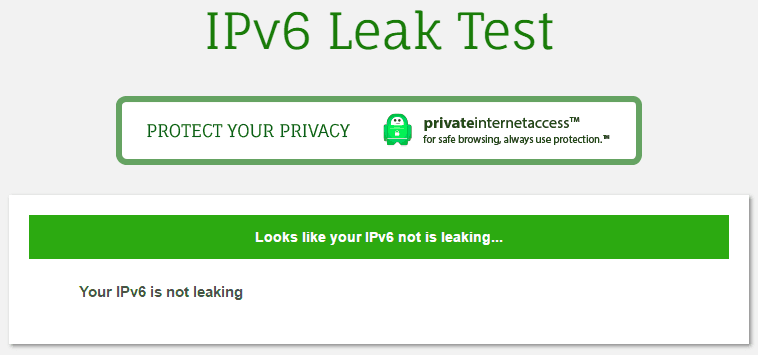 The only method to protect yourself from IPv6 leak is that disable this feature in your network properties, or you can find a reputable VPN provider that can handle IPv6 requests. Also, you can make one by yourself for FREE from here.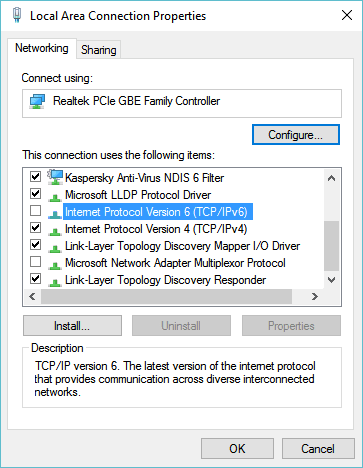 As ensuring anonymity is the primary reason that most people use VPNs, it makes sense to spend several minutes on diagnosing and taking necessary steps to protect you against anything that can leak out your information.