Disclaimer: This post may contain affiliate links, meaning we get a small commission if you make a purchase through our links, at no cost to you. For more information, please visit our Disclaimer Page.
Many troubleshooters are available in Windows Control Panel that are designed to help you diagnose and solve computer problems automatically and quickly. Of course, these troubleshooters can't solve everything, but they are a great solution to start from when something happens on your PC.
These troubleshooters exist in most versions of Windows, including Windows 7, Windows 8, 8.1 and Windows 10. So everyone who uses these versions of Windows can take advantage of these troubleshooters.
Where To Find Windows Troubleshooters?
To get started, go to Control Panel and then click on the "System and Security" section. If you can't find this section, look at the upper corner of your screen and change "View by" to be "Category".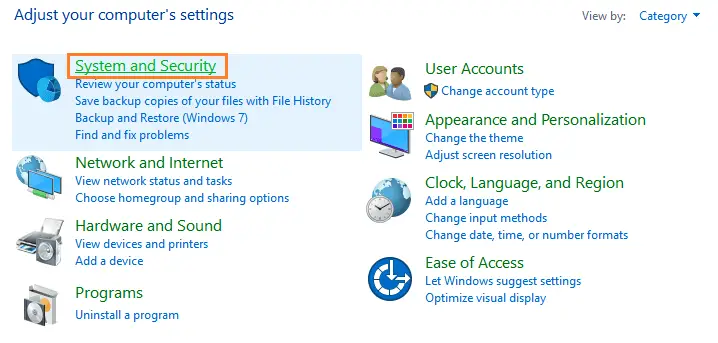 In the next step, click on the "Troubleshoot common computer problems" link. It appears under "Action Center" or "Security and Maintenance" section. This may differ depending on the version of Windows you are using, but it's easy to find. There would be a list of common troubleshooters you can use to diagnose and troubleshoot issues on your Windows computer.
If you want to view the list of all troubleshooters, click on the "View All" option in the left sidebar.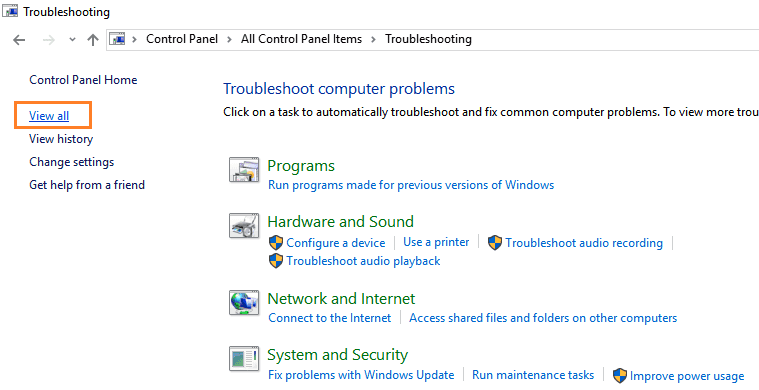 Currently, I'm using Windows 10 and here is the list of full troubleshooters that are available on it. Check it out!
Background Intelligent Transfer Service: The Background Intelligent Transfer Service is used by Windows Update and some other programs and services for background downloads. This troubleshooter will help you to search and fixes issues with the Background Intelligent Transfer Service.
Hardware and Devices: Scan your computer hardware for problems, and give appropriate solutions to remove or update drivers if there are any issues.
HomeGroup: Find problems with the HomeGroup network as well as File Sharing settings of your PC.
Incoming Connections: Checks and fixes if there are any issues with Windows Firewall. Sometimes, your built-in firewall blocks a few particular incoming connections, and this troubleshooter will help you to find and unblock them.
Internet Connections: Detects and solves issues with the Internet connection.
Internet Explorer Performance: Detects and fixes problems that make your Internet Explorer run slowly.
Internet Explorer Safety: Determines and resolves issues that can lead to security and privacy issues in Internet Explorer.
Network Adapter: Finds and solves problems with your Wi-Fi adapter as well as other network adapters (LAN and Bluetooth).
Playing Audio: Finds issues that can prevent sound from playing.
Power: Identifies and resolve problems with the power settings to increase the battery life.
Printer: Scans and solves problems with your printers.
Program Compatability Troubleshooter: Helps you choose the best compatibility settings for running programs designed for older versions of Windows.
Recording Audio: Identifies problems which prevent your microphone from recording audio properly.
Search and Indexing: Fixes issues with Windows Search.
Shared Folders: Determines matters that prevent shared network folders from working.
System Maintenance: Scans and fixes broken shortcuts, performs and system issues, including checking if your date and time are correct.
Video Playback: Identifies and fixes issues that can prevent your videos from playing properly.
Windows Media Player DVD: Resolves problems that can prevent your DVDs from playing in the Windows Media Player.
Windows Media Player Library: Fixes problems with the Windows Media Player's media library.
Windows Media Player Settings: Fixes issues with Windows Media Player's settings.
Windows Store Apps: Scans and fixes any problems that can prevent Windows Store from working properly.
Windows Update: Identifies and resolves issues that can lead to Windows Update errors, or unable to install some updates.
How To Use A Windows Troubleshooter?
To open and run a Windows troubleshooter, simply find an appropriate troubleshooter that fits with your case and then click on it to open.
Click on the "Next" button to start the troubleshooting process. Most Windows troubleshooters will scan for issues and solve any problems they find automatically.
To prevent the Windows troubleshooter from automatically making changes to your PC, you have to uncheck the "Apply Repairs Automatically" option by clicking "Advanced" link and uncheck the option.
The system will notify you about any changes before the troubleshooter makes it.
A few troubleshooters need your action before scanning and determining problems on your Windows PC. For example, the Incoming Connections troubleshooter needs you to choose the type of incoming connections to start the process. Or the Program Compatibility troubleshooter will ask you to pick a program that does not working properly to diagnose and troubleshoot it.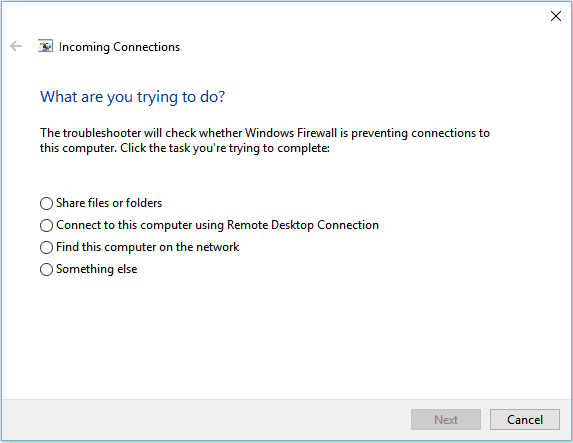 So, I hope you can know a bit more about Windows troubleshooters. If you are looking for an all-in-one solution like a troubleshooter for every problem you will face, it won't  exist. Maybe, these troubleshooters can't help you to fix all issues, but it's a good place to start when you face a problem with your Windows PC.
If none of these troubleshooters work, I would recommend you try Windows System Restore or reset the whole Windows OS. It would be helped.