Disclaimer: This post may contain affiliate links, meaning we get a small commission if you make a purchase through our links, at no cost to you. For more information, please visit our Disclaimer Page.
Apple, the company that creates Macs, is known for often dropping new products and refreshed designs. It's no wonder many Mac users, newbies, and enthusiasts have many questions about their product specifications, especially HDMI.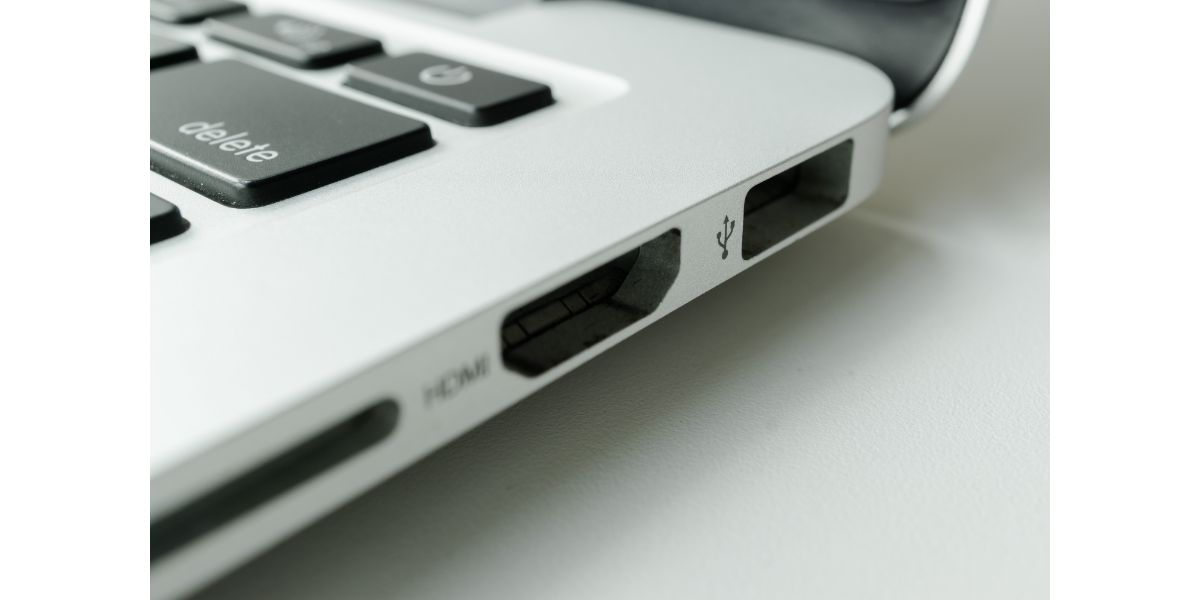 Locating The HDMI Port on Your Mac
In computers, HDMI allows users to directly interface with audio and video devices, sharing information with almost no loss in quality and at high bandwidth.
It's also why features like screen sharing and multi-screen setups are so easy.
Most Mac computers have HDMI ports, but some don't. The ports you'll find on a Mac depend on its model and listed specifications. And while HDMI ports might be missing in many Macs, there are alternative methods for interfacing with other devices.
To determine if your Mac has an HDMI port, examine the available ports on the computer.
The HDMI port is distinctive, so you shouldn't have trouble identifying it. Alternatively, you can check the product specifications for your Mac computer to confirm that it has an HDMI port.
You can check the product specifications for your Mac online by providing the device serial number.
Here's how to check product specifications for your Mac using the device serial number:
Click on the "Apple Menu."
Select "About This Mac."
Double-click on the device serial number on the screen and copy it.
Open your browser and go to the Apple Tech Specs website.
Paste your device serial number in the search bar and click "Search."
The next screen will display the Mac computer you have, and you can select it to view the full technical specifications of your device.
You should find information about HDMI availability under "Charging and Expansion."
How HDMI Works on Macs
Mac computers are undoubtedly one of the best machines you can get today — albeit for a premium. This premium might be steep, but you get high-quality displays and futuristic processing power in a productivity-focused computer built for all kinds of creatives.
But before we dive into more about Macs and HDMI ports, it's important to understand precisely how HDMI works on Macs.
What's all the fuss about?
HDMI, or High Definition Multimedia Interface, works on Macs like every other device. The connection interface standard allows users to connect their digital devices via a single connector and cable system.
In a nutshell, you can connect devices to a Mac via a port with a single multi-channel-capable cable. This cable can send and receive video and audio signals — perfect for interfacing your device with monitors, speakers, PCs, and other Macs.
But unlike other systems, HDMI-capable devices can transmit high-definition and almost lossless audio and video signals between each other.
After all, the connection standard was developed by companies looking to create a connection standard that could handle the ever-evolving technological requirements of the 21st century, even as far back as 2002.
These companies, sometimes called HDMI founders, included industry giants like Sony Group Corporation and Toshiba Corporation.
However, the standard has continued to improve thanks to input and adoption by several other companies and industry players. Apple Inc. is one of these, and the company has been an adopter since 2006.
Today, HDMI has evolved to more than just being a replacement for AV cables. And as of the latest update to its specifications (HDMI 2.1a), the technology now supports screen resolutions of up to 10K — allowing 8K video capabilities.
It also supports 8K60 and 4K120 screen refresh rates, dynamic High Dynamic Range (HDR) formats, and enhanced bandwidth capability of 48Gbps for improved transmission speed.
Why Does My Mac Not Have an HDMI Port?
Unfortunately, not all Mac computers have HDMI ports — even though the connection standard is so beneficial. But why would Apple remove HDMI from their devices if Macs are so progressive and user-friendly?
Your Mac doesn't have HDMI because Apple removed the port and several other ports to save space and improve overall device efficiency. However, a Mac missing HDMI usually has a Thunderbolt USB-C port for connections.
Apple's decision to remove HDMI ports began in 2016, with the MacBook Pro released in the same year.
However, the company later resurrected this port — and several others — in its release of the 2021 MacBook Pro. The decision to reintroduce the HDMI port surprised some Mac users but a welcome development by many in the community.
And while the HDMI port has disappeared and reappeared in MacBook devices, it's been a core part of Mac Mini and Mac Pro devices since they first got it in 2010 and 2013, respectively.
Which Macs Have HDMI Ports?
Macs might be popular, but Apple's decision to remove the HDMI port from its computers was not very popular — even among die-hard Apple fans. And since some users still prefer having HDMI on their Macs, it's only necessary to have a complete list of Macs with the interface.
Here are the Macs with HDMI ports:
All versions of the Mac Mini released after 2010
All versions of the Mac Pro launched after 2013
All versions of the 13-inch MacBook Pro launched between 2012 and 2015
All versions of the 15-inch MacBook Pro released between 2012 and 2015
All variants of the 14-inch MacBook Pro that debuted in 2021 or later
All variants of the 16-inch MacBook Pro that debuted in 2021 or later
The Mac Studio introduced in 2022
While HDMI connections are pretty straightforward, you can check out this article from Apple to learn more about using HDMI on Macs correctly.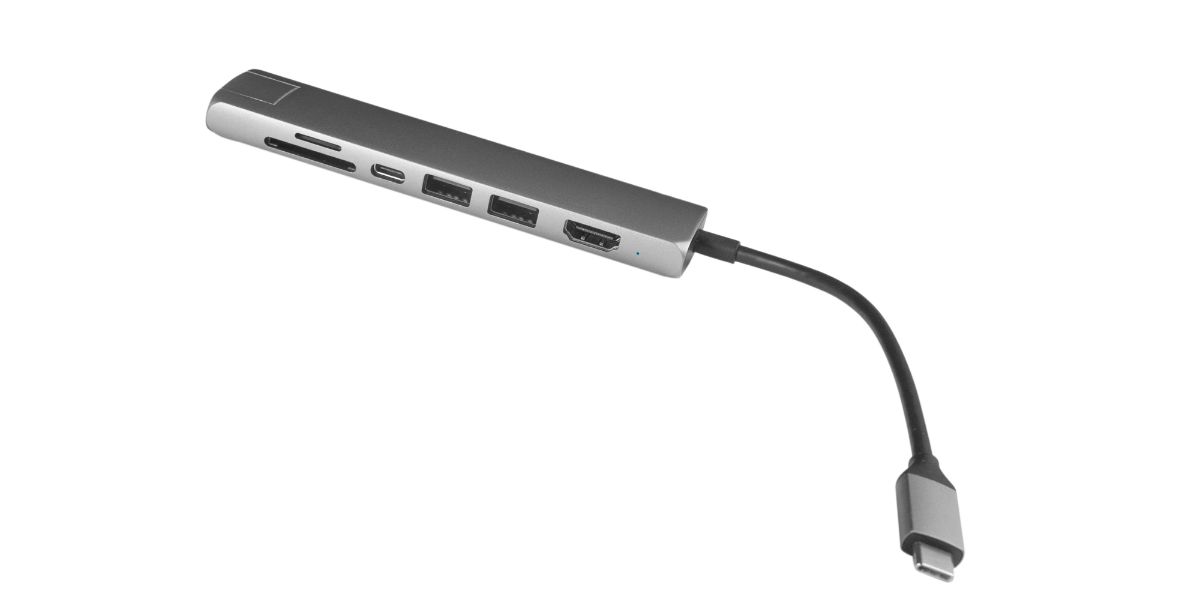 Is There a USB to HDMI Adapter for Macs?
Apple's decision to remove HDMI ports might have helped device efficiency, but it created many user problems. However, the most crucial issue is how Mac computers without HDMI can interface with other digital devices.
There's a USB to HDMI adapter for Mac computers, and this technology allows users to enjoy the full benefits of HDMI without an HDMI port. This adapter is a multiport connector that plugs into the USB-C Thunderbolt port of your Mac and allows other device connections.
HDMI is the industry standard for interfacing with digital devices, so it only made sense for Apple to develop USB to HDMI adapters for Mac computers.
These devices work just as well as regular HDMI ports, typically featuring other connection standards like USB B-type and headphone jacks.
However, some adapters only have the HDMI port for digital connections.
There are many high-quality adapters for Mac computers without ports — each with advantages. The best adapter to use depends on your needs as well as the quality of the device.
However, most adapters should easily interface with your Mac without problems.
The Anker USB-C to HDMI Adapter (available on Amazon.com) is one of these adapters. This product allows users to enjoy vivid video and clear audio without installing additional software or programs thanks to USB-C.
I've already written quite a bit about USB ports and connections on Macs. However, you can check out this article to learn more about the last MacBook Pro with USB.
The Bottom Line
Not all Mac computers have HDMI ports, but you can easily use a USB-to-HDMI adapter to interface with other digital devices. These adapters come in different forms, depending on your needs.