Disclaimer: This post may contain affiliate links, meaning we get a small commission if you make a purchase through our links, at no cost to you. For more information, please visit our Disclaimer Page.
The Nvidia Control Panel is a piece of software that makes it easy for you to adjust the hardware settings on your graphics card (GPU) and media processor (MCP).
Before the company released this product, users would have to dive directly into their BIOS to configure their hardware settings. Honestly, it was kind of a pain.
Now, all you have to do is open up the Control Panel and tweak away. You can assign different processors to specific programs, adjust your PC's fan settings, and customize your color profile for an optimal PC experience.
It's a piece of software that's beloved by gamers, video editors, and other media heads. But, it can be a little tricky to figure out if you don't know what you're doing.
We've outlined this guide to help you install and find the Nvidia Control Panel on your computer. There are also a few Frequently Asked Questions answered at the bottom to help get you started.
Read Article: Fix Windows Modules Installer Worker High CPU In Windows 10
---
How Do I Install the Nvidia Control Panel?
Before you can access your Nvidia card and change its settings, you've got to download the Control Panel application.
Unfortunately, it doesn't come preloaded on most computers, even if you have an Nvidia graphics card.
But, downloading the software is easy.
Nvidia Control Panel Download
Here's what you do:
Open up your web browser and head to the official Nvidia Download Drivers site.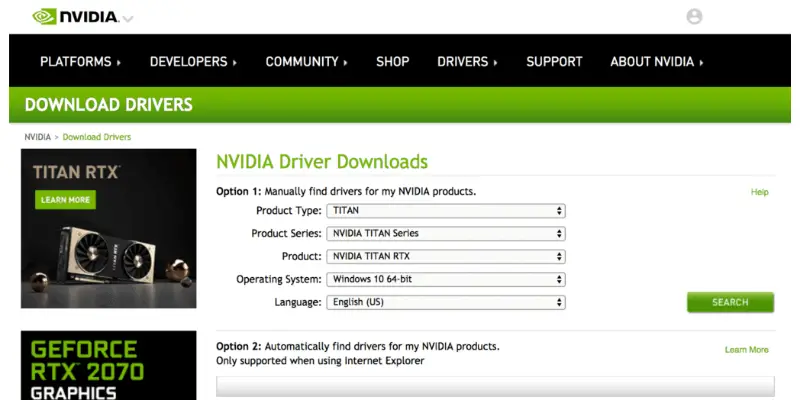 Find a display driver that supports your graphics card by filling out the form under Option 1:
Select the Product, Product Type, Product Series, and Operating System that correspond to your setup. Also, select the language that you'd like to work in.
If you installed it yourself, this should be easy. If your graphics card came with your computer, you can identify it by looking up the product specs for your PC online.
You can request that the application identify your product for you by using the Option 2 section. In order to use this feature, however, you'll have to run it using Internet Explorer (other browsers don't support it).
Once you've filled out your form, click the SEARCH button.
The application will return the driver that supports your graphics card.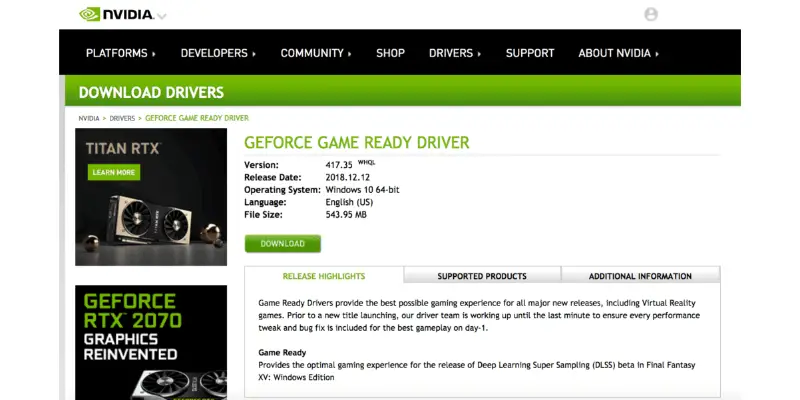 Before you move forward with the download, click on the SUPPORTED PRODUCTS tab and double-check to make sure that you're not downloading the wrong driver. If you don't find yours on the list of supported products, you may want to run the search again just to be safe.
If your card is supported, click the DOWNLOAD button. Agree to the terms and move forward. Follow the instructions given to you within the installer.
Once the download is complete, restart your computer. You'll now have access to the Control Panel.
---
How Do I Find the Nvidia Control Panel in Windows 10?
Accessing the Windows Control Panel is super easy. Once you've installed it, you'll find an icon in the context menu on your desktop?
Context menu? Huh?
Can't find Nvidia Control Panel?
This is the menu that appears when you right-click your desktop. Sometimes, people refer to it as the pop-up menu or the shortcut menu.
It's this one: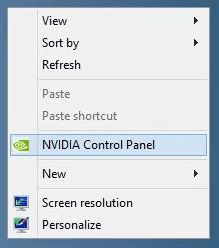 So, when you right-click, you'll see the option to access your Control Panel straight from the desktop. It's that easy!
This technique works in Windows 8 and Windows 7, too. Whenever you installed the driver, this icon will show up on the menu.
---
What If the Nvidia Control Panel Is Not Showing up on My Menu?
Is the Control Panel missing from your menu?
Not a problem.
How to access Nvidia Control Panel
Occasionally, it might disappear from the desktop context menu. Maybe you accidentally hid the option. Or maybe it went into hiding during an upgrade.
Whatever the case, it's an easy fix.
The easiest solution for this problem is just to go into your Panel and unhide it.
You can do that by following these steps:
Hit the Windows+R keys on your keyboard. This will open up the Run screen in your operating system.
Type "control" into the box and press enter to open your PC's Control Panel.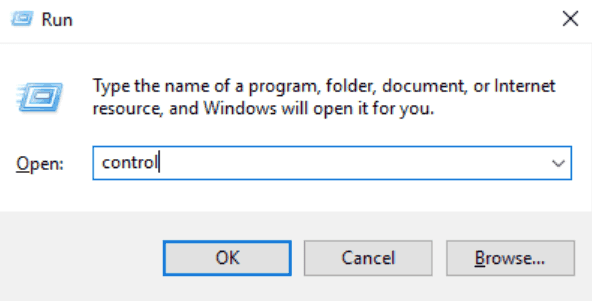 Here, you'll be able to select Nvidia Control Panel. Double-click the icon.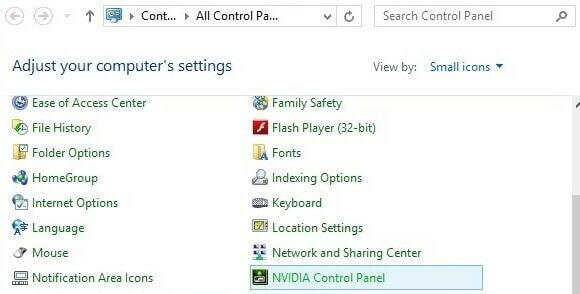 Inside the driver's Panel, select the Desktop dropdown menu from the Menu bar.
Check the box that reads "Add Desktop Context Menu".
Screenshot via GeForce Forums
When that box is checked, the icon will appear in the context menu on your desktop.
And if this ever happens again…well, now you know how to access Nvidia through your computer's Control Panel.
---
Nvidia Not Opening In Windows 10 at All? Here's How to Fix It
If you've recently upgraded your operating system to Windows 10, you may be experiencing some issues with the Control Panel. It's probably because it's not up to date.
You might have to upgrade your driver software before it will open. Otherwise, Windows will probably just return a blank screen whenever you try to access it.
The easiest way to update your driver is to download GeForce Experience.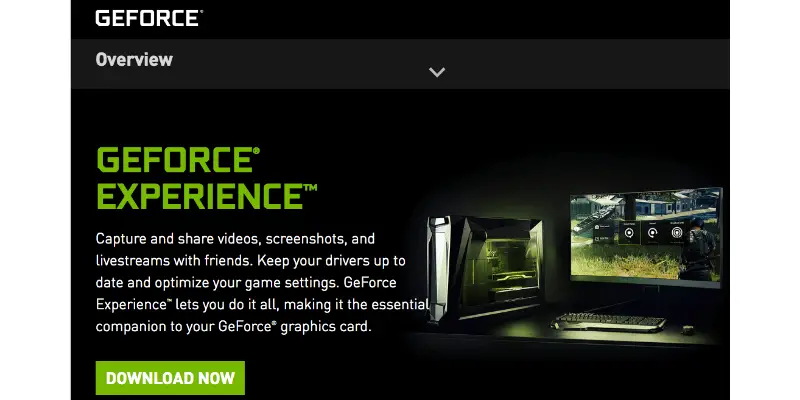 This is an application that you can use to manage multiple Nvidia drivers. It's relatively easy to install (just visit the link above).
GeForce Experience will check for any updates the first time you run it and periodically after that. It will notify you whenever a new update is available.
With Experience, you'll have the control panel updated and running in no time.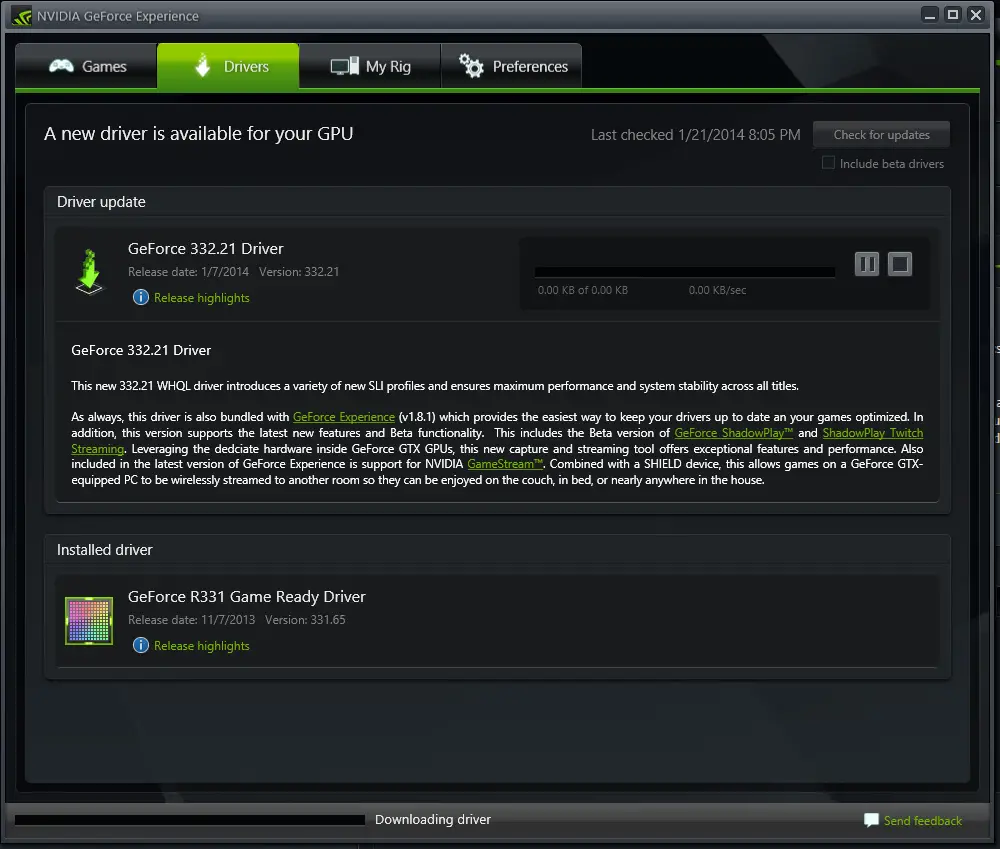 ---
My Nvidia Control Panel is Missing Options: What Do I Do?
Here's a common problem among users:
They're able to open their Control Panel just fine. But, when they go to access it, they find that all of their options are missing.
Like…nothing there, whatsoever. Just a blank white window with a green logo.
It looks like this: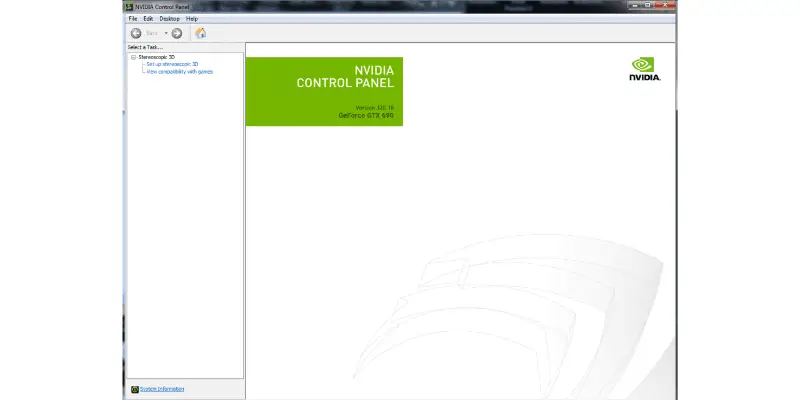 The problem is quite frustrating for many users. It's gotten so bad, in fact, that some users have even claimed it's turned them off of the company entirely.
But, don't go selling your graphics card just yet. There are a few things you can do to try and fix the problem.
Reinstall the App
The first (and perhaps most obvious) solution is to delete the application and reinstall it. Whenever you're having a problem with a piece of software, this is usually a go-to solution.
Essentially, you'll just remove it from your hard drive and download a new driver version using the steps outlined above.
Unplug Your Monitor
Strangely enough, some users report that this is a monitor-related issue.
It makes sense, actually, considering that Nvidia's products are pieces of graphic hardware.
So, you might want to try unplugging your monitor and plugging it back in.
This seems to be the solution for users who have multiple monitors plugged in at once. If you have more than one screen, unplug all of them except the main one and see if that works.
---
Can You Install the Nvidia Control Panel on a Mac?
Yes!
In 2017, Nvidia started manufacturing graphics cards for Apple computers.
Their Quadro 4000, for example, is built to provide Mac users with an optimal graphic experience.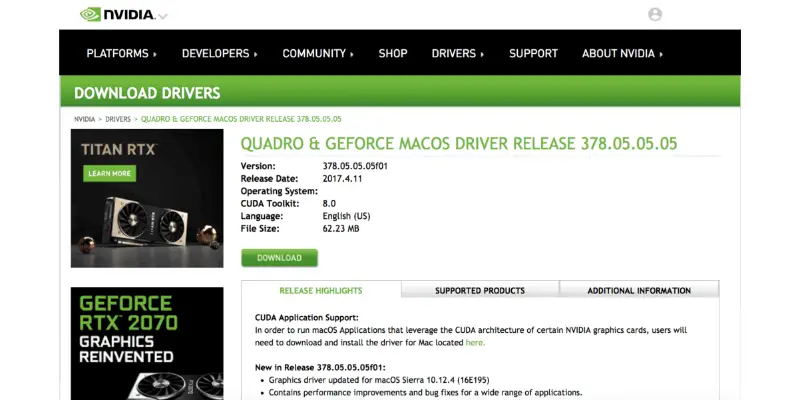 So, if you have a Mac with an Nvidia graphics card in it, you can download a driver to monitor your settings.
The process is similar to downloading a new driver for your PC:
Head to the driver download site and select the options that correspond with your computer. Click SEARCH to find the driver that supports your OS.
It will most likely bring you to a page where you can download correct drivers for the Quadro or GeForce graphics cards. These are the company's primary products for Mac users.
Click the green DOWNLOAD button, agree to the terms, and follow the instructions.
Once the installation is complete, restart your computer.
You should be able to access the Control Panel after that!
Additional FAQs
Here are the answers to a few more commonly asked questions.
I keep getting the message "Access Denied" when I try to change settings. How do I fix this?
Any time you try to change your settings, you get a message that reads, "Access Denied. Failed to apply settings to your computer".
What you need to do is make sure you're logged in as an administrator. If you're logged in as a mere user, you probably won't be able to make any changes.
It's as easy as that!
What are the best Nvidia Control Panel settings?
Honestly, it depends on what your intentions are. Are you gaming? Editing video? Using a VR headset?
Each of these activities requires different settings to achieve maximum quality.
Here are a few articles that might help you fine-tune your graphics card for your specific purposes:
How can I contact Nvidia customer service?
If you need further help, you can always contact the company's Customer Support department.
There are a number of ways to get in touch with them.
The easiest way is to set up a live chat with one of their support agents. The company will ask you for your name and email address.
They'll also ask you for a few words about the nature of your call.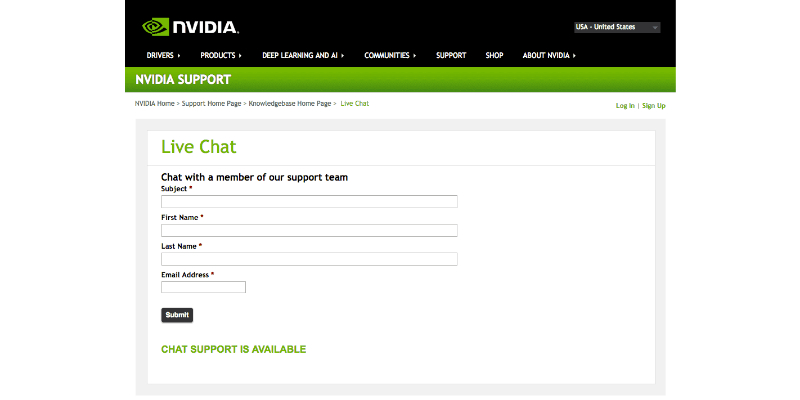 Then, a customer representative will be available to chat via text within a few minutes.
Or, you can always email them. The company requires that you log in to your account before you send an email (you have to send it through Nvidia's website).
But this could be a good way to get answers if you don't have the time for a full conversation with a support agent.
And, although this isn't a customer support resource necessarily, you can find plenty of good info on the GeForce user forms.
There, you'll find a community of folks who've been using these products for a while and will likely answer any questions you have. Sometimes, it's better to get information from actual users rather than support agents who might not use it on a regular basis.
---
Learning to Use the Control Panel Takes Time
Finding the Panel is one thing. But learning how to use it is a whole different story.
Remember: this is a pretty complex tool.
It takes a while to learn and master. If you've never used the Nvidia control panel before, you may be overwhelmed when you open it up and see words like "Ambient Occlusion," "Anisotropic Filtering," and "Multi-display/mixed-GPU acceleration."
But it gets easier. Trust us.
Here's a short video on how to make use or optimize Nvidia control panel
Honestly, most of those features are things you don't have to worry about, anyway. But, now that you've accessed it and opened it up, you can experiment with the various features it has to over.
Over time, you're likely to find that it's a helpful way to improve the quality of your computer graphics.