Disclaimer: This post may contain affiliate links, meaning we get a small commission if you make a purchase through our links, at no cost to you. For more information, please visit our Disclaimer Page.
A common question for programmers is what processor to buy.
i5 and i7 are ideal for programming because they are robust, sturdy, and have better processing capabilities. They are ideal for coding, and you can deploy them to gaming and business productivity tasks. These are high-range processors that can make any computer efficient and fast.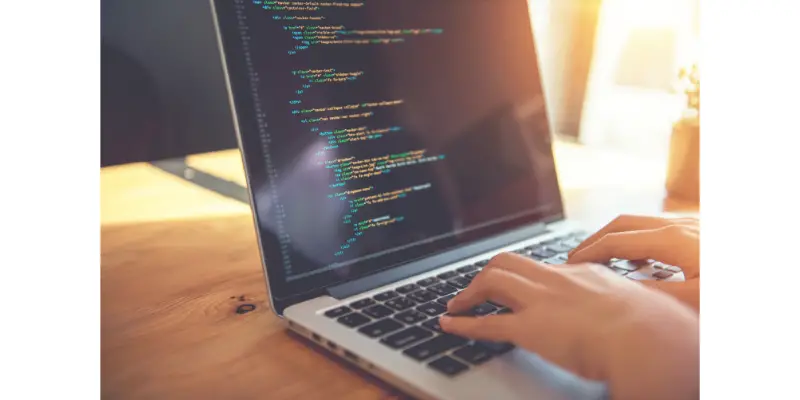 But what is the difference between Intel's i5 and i7 processors? This article will help you understand the differences between the two and determine the best one for your needs.
i5 For Programming
Before you choose a laptop for your programming tasks, it may be necessary that you do some research on the best model for the task ahead. Unfortunately, while researching, you may easily get confused because we do not have a one-size fit for all. What's more, laptops come in different sizes and shapes which may confuse you further.
Also, the screen is quite vital for programmers. Remember that they spend most of their time behind it and so the quality matters a lot. Therefore, a good screen must allow for multitasking but ensure that the text remains sharp to enable you to work comfortably. Also, the processor specs are essential and will influence the efficiency of the machine.
For any serious programming, it may be necessary that you get a machine with more than 4 -16 GB RAM. Besides, if you can get an SSD, you will be guaranteed enhanced performance. So, which could be the best option for a programmer?
i5 is an excellent processor for programming activities. It is designed with quality in mind and offers excellent value for your money. Core i5 features 4-6 cores designed to handle up to 2 threads each. Also, i5 is suitable and ideal for high-capacity CPUs. It is reliable and can greatly enhance your work if you are a professional coder.
Notice that Intel i5 is a high-speed machine with a speed of 4.1GHz. This is the kind of speed that can allow you to code with minimal disruption. What is more is that this machine is ideal for intermediate coders and beginners.
Pros
Has a higher clock speed
It features an integrated design
High-performance capabilities
Has plenty of space and works at a speed of a flash
Reasonably priced
Ideal for multitasking
Supports hyper threading
Cons
·It not ideal for complex practices such as overclocking
Overclocking is risky because of the enormous energy it generates
Not ideal for intensive and demanding tasks
It cannot handle all video editing and intensive gaming needs.
i5 is a powerful processor that will not keep you waiting for long when loading. Instead, it allows you to multitask with ease. It means that you can program, carry out video editing, play games and engage in 3D rendering.
Also, the processor is ideal for all-around programming needs and can handle day-to-day tasks ranging from coding to playing games to regular office work.
Notice that i5 has limited performance compared to Core i9 and Core i7. However, the processor features better hardware which makes it ideal for top-tier computers. But i7 is designed for high-level users, while i5 may not be ideal for intensive tasks.
i7 For Programming
i7 processor features integrated graphics that make it ideal for programming tasks. It is therefore a development tool with a dedicated graphic solution. The processor is fast and suitable for anyone that is interested in compiling codes. But the i7 requires a sturdy and high-quality keyboard. It makes using such a keyboard for programming tasks enjoyable.
However, the i7 processor may be ideal and will give more value if used on a screen of between 14 or 15 inches. These are the ideal screens for programmers that spend most of their time behind the screen. They are full HD screens with an enhanced resolution to give the coder enough space to allow them to work on multiple side-by-side windows.
Pros
· One of the most vital points of i7 chips is that they are ideal for Hyperthreading. Thus, they allow you to multitask and accomplish a variety of tasks at the same time.
· i7 laptops have a higher cache size memory (8MB), meaning that they have a high capacity of data storage and allow the user to access and utilize them quickly. This aspect gives them an added advantage over the i5 laptop.
· Speed is high thanks to the combination of hyperthreading and turbo boost technologies.
· Comes with a four-pin connector that controls the fan's speed, so it cools the motherboard without producing too much noise.
· You can run it at overclocking speed
Cons
· It is expensive compared to Corei5 and Corei3
· It is extremely sensitive to very high voltages
· Consumes more power
· It only works well on newer motherboard models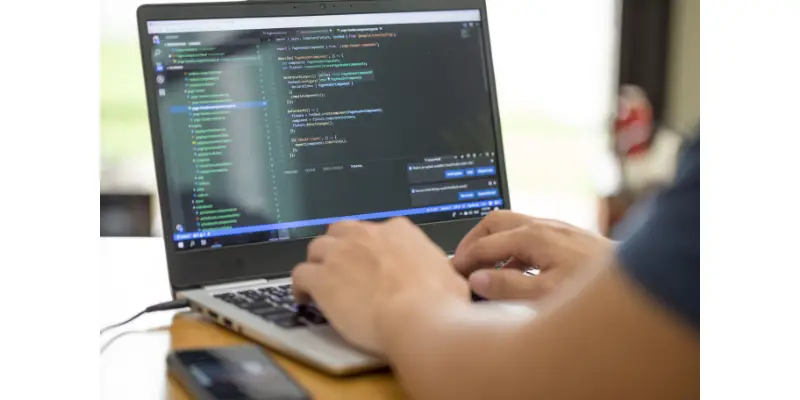 i5 Vs. i7: Which One To Choose?
Intel i7 and i5 are top processors you can fit in your computers to enhance the speed and performance. i5 is relatively fast, but it cannot compare with i7, which is more robust, powerful, and faster.
Core i5 is ideal for almost all computing needs. It is a good processor that can significantly improve your productivity. The graphics are intensive, and it features an audio editing capability and above-average high-definition video.
i7 is a high-performance processor that you can deploy to perform highly intensive tasks. Moreover, i7 chip is Hyper-threading, meaning that you can use it to perform a variety of tasks simultaneously. Also, it has more cache memory compared to i5. As a result, it can store more data which you can access quickly when the need arises.
However, both i5 and i7 processors can run on 4 or 6 cores and have a similar clock speed. But the i7 configurations are always higher. Therefore, for faster coding and higher resolutions, or when you want to play games that hit a higher frame rate, you may need to consider i7.
Consequently, choosing either i5 or i7 depends on your budget and performance expectations. i7 is a little bit expensive but will offer you better service compared to i5. When it comes to graphics, i7 ranks higher than the i5 model, but you can install a separate graphic card on i5 to enhance the visuals and match i7 performance.
Thus, choosing either i5 or i7 depends on what you want and of course, your budget.
The Size of the RAM and a good processor is key when choosing an ideal laptop for programming. Often, the programmer will need to multitask, including opening IDEs alongside other browsers and various tabs.
So, they will need a good processor for this kind of work. i7 processor could be the best bet for any programmer. It is a bit pricey alright, but guarantees value for your money. If you are an external game developer, you also need a laptop that can accommodate an external graphics card.
Other than the processor, programmers need a screen that does not change its sharpness. Thus, it should remain sharp regardless of the angle at which you look at it. Therefore, Core i7 processors fitted with IPS screens could be the best option. Notice that the programmer will spend hours and hours on the screen. So, it should not flicker to save them from unnecessary headaches.
Conclusion
When it comes to buying a computer, getting the best quality is the best thing to do. But there are many aspects that you may need to consider. The speed, the resolution, and the possibility of future upgrades are critical.
If you plan to use the computer for programming, then both i5 and i7 could be ideal for you. However, if your budget allows, choose i7 because it is robust, fast, and features HD resolutions. But if your budget is small, i5 may still be suitable for coding.