Disclaimer: This post may contain affiliate links, meaning we get a small commission if you make a purchase through our links, at no cost to you. For more information, please visit our Disclaimer Page.
When it comes to home networking, WiFi extenders are great. They're inexpensive, easy to install, and they boost the wireless signal from your home's router. But what if you have two WiFi extenders? Can you connect one to the other?
You can connect a single WiFi extender to another WiFi extender. However, for the extenders to function successfully, you should not connect them wirelessly. They shouldn't share an identical SSID (Service Set Identifiers) or network name.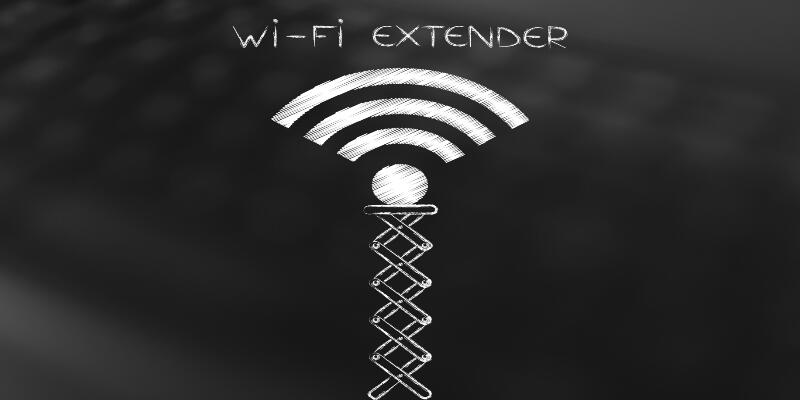 Why Use WiFi Extenders?
If you are struggling to extend the coverage area of your WiFi network, a WiFi extender may be the solution. A WiFi extender offers the best method to enhance your wireless connection. Plus, they eliminate the need to spend hefty sums of money on expensive equipment and bundles.
Yet, sometimes, you may struggle to use a single extender to cover the area you want. This is because a single extender may not be strong to amplifying the signal. Or, you may have a big house or office where a single extender is not enough.
Wifi extenders are excellent for WiFi signal boosting compared to other WiFi signal boosters. WiFi extenders function by extracting the speed from your main router. After extracting the speed from the main router, WiFi extenders amplify it to cover dead or poor signal areas in your home or office.
WiFi extenders function differently than other signal boosting devices. They use a wired connection to link up to your network. A WiFi extender uses electrical signals in your home or office building to boost wireless signals from your router.
Other signal boosters, such as repeaters, tend to use a wireless connection. Due to their design, WiFi extenders offer a stronger and reliable signal connection. Furthermore, their wired connection prevents interference.
This, in turn, ensures you enjoy a dedicated WiFi extender connection to your network. A wired connection means that you don't have to worry about interference from thick walls or other Wifi devices. You can use any coax cable such as electrical cables in the walls to connect your WiFi extenders.
The choice of wires depends on the extender's design and the model you go for. WiFi extenders are a better choice especially for extending coverage in larger areas. You should most certainly get WiFi extenders if you have WiFi dead spots in your home.
For example, if your living room has a strong Wifi connection, but, your home office doesn't, you need a WiFi extender. Additionally, as their name suggests, WiFi extenders boost your WiFi signals in other key areas of your home. These include outdoor spaces, such as backyards or large homes with multiple floors.
Where Should I Place WiFi Extender?
The setup and location of your Wifi extenders are important. You have to place them where they will relay optimal signal boosting. So, you want to set up your WiFi extender between the wireless router and your workstation.
But, to ensure it works efficiently, you have to make sure you place it within the wireless range of the router. Generally, you can position most WiFi extenders within a 150 feet distance from the router inside a building. In the outdoors, the distance can double to about 300 feet.
The distance depends on the wireless strength of the router and the extender's design. I normally move my extender closer to my laptop to enjoy the best signal transmission.
But, I always make it a point to ensure my extender is within the wireless range of my router.
On the other end, you can place the extender on the middle floors if you have a multi-floor office building. You want to conduct a survey to establish dead zones or poor signal areas in your home or office. Then, position your extender towards those areas. But, ensure it is still within the range of the router.
For my home, I use a WiFi analyzer and survey app to check for signal strength and speed. To use the app, simply walk around the house after launching the app. It will automatically point you to where the signal is the strongest and where it is the weakest.
How To Connect Two WiFi Extenders?
You can set up your extenders in two distinct methods. The first method involves connecting the two extenders together. First, connect one extender to the router – this will be the middle extender.
Then, connect the furthest extender to the middle extender. Since the middle extender is closest to the main router, it will have a stronger signal. The second method involves setting up the WiFi extenders to the same network.
However, they are several factors to consider when opting for this method. When linking extenders on the same network, you should never connect them wirelessly. This is because a wireless connection will result in the second extender delivering a poor signal.
Instead, you want to connect each extender to the main router. Yet, each extender should not bear the same SSID. In this case, your WiFi extenders will have two different passwords.
If you don't want to fumble around with multiple devices and the programming for each, I have a solution for you. You can choose to set up the same SSID for your extenders as the router.
However, you will risk the likelihood of the extenders connecting directly to each other.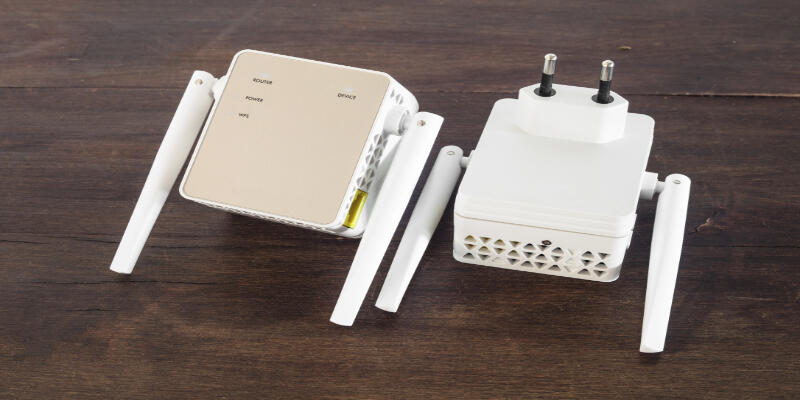 Can WiFi Extenders Interfere With Each Other?
The best part about connecting more than one WiFi extender is that they don't interfere with each other. This is because of their connection route. Unlike other signal boosters, extenders connect to your network through a wired connection.
This means that they will have a dedicated connection to your network. This eliminates the likelihood of interferences. This is because connecting WiFi extenders wirelessly causes them to connect to one another.
The goal is for both to connect to the router. A wired connection ensures this happens. With a wired connection, you don't have to worry about thick walls that may block or slow down the signal.
A wired connection also prevents wireless devices in the building from interfering with it.
Pros And Cons
WiFi extenders come with many benefits compared to other signal boosting devices. Thus, connecting the Wifi extender to another WiFi extender is the best way to boost the signal in your home.
Yet, as with any other man-made tools, they also have their fair share of disadvantages. Below, I've shared the pros and cons of using WiFi extenders;
Pros
They are set up in a wired connection – this means you will experience zero interference
Wired connection means that you don't have to worry about signal obstacles such as thick walls
You don't have to worry about other wireless devices connecting to the extenders
They cover a large space or area – you can use them for a multi-floor building
They significantly enhance internet speed and connection across the house or office
They are portable and convenient – you can move them at any time
WiFi extenders allow you to connect them to extra signal boosting devices
Cons
Connecting them wirelessly may reduce the signal strength and speed
When connecting more than one extender, using separate SSIDs means you have to spend time programming multiple devices
You have to invest in extra equipment such as coax or electrical cables
You may have wires strewn across your home or office
You have to invest in an extra extender
The Bottom Line
So, if you want the simplest way to extend your WiFi coverage, boost signal strength, and increase internet speed, connecting two extenders is the best way. After all, using WiFi extenders guarantees a reliable and strong wired connection. Plus, they come with the advantage of covering bigger spaces with zero interference.