The 5 Best (Free) Tip Calculator Apps for iPhone and Android
WhatsaByte may collect a share of sales or other compensation from the links on this page.
Have you ever wondered how much you should tip when having dinner in a restaurant? These free tip calculator apps will help you figure out how much you should tip, very fast!
In the United States, we should all tip about 15% to 20% when having lunch or dinner in a restaurant. If the bill already includes a service charge, then you do not need to include any additional gratuity.
However, the majority of restaurants leave the gratuity up to your discretion. So, if you eat out and someone serves you, then you definitely need to tip them. According to an article from Wait But Why, diners should never tip under 15%, and should consider tipping between 17% and 20%.
But how much is that exactly? How can you calculate exactly how much you should tip?
If you want to do some mental math, you can calculate the 20% of your bill by multiplying the bill total by .2. But that's not always easy to do in your head.
You might feel embarrassed when pulling out your phone, opening the Calculator app, and doing some sixth-grade math. In fact, the Calculator app on your smartphone is not the quickest way to calculate a tip.
If you need a dependable tipping app for Android or iPhone, then you're in luck, because we've pulled together the 10 best tipping apps that allow you to customize and calculate a restaurant tip in seconds.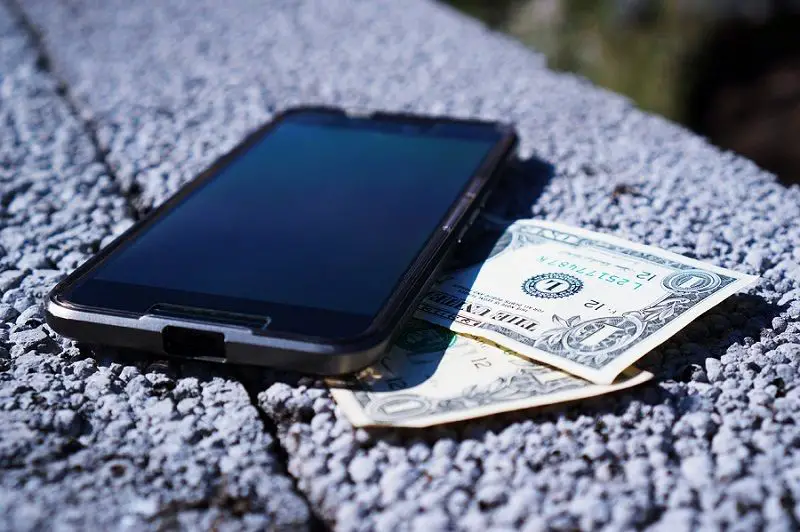 To help you calculate how much you should tip when eating out, I've made this list, which contains 10 free tip calculator apps for your phone, including iOS and Android.
Once you have the bill from the waiter, check the amount you need to pay before tax.
Enter that amount into one of the free tip calculator apps below.
Choose the percent you want to tip to the service personnel.
The tip calculator app will return to you an exact amount you need to tip. Extremely fast!
So, let's get started to find out these tip calculator apps.
---
5 Best Tip Calculator Apps For iPhone
1. Tip Calculator Free by iHandy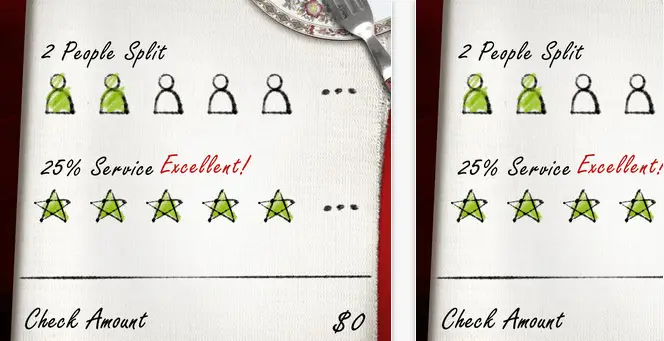 This is the quickest and most handy free tip calculator ever. You can quickly calculate how much you should tip, as well as split the bill among several diners.
2. QuickTip Tip Calculator by Doug Penny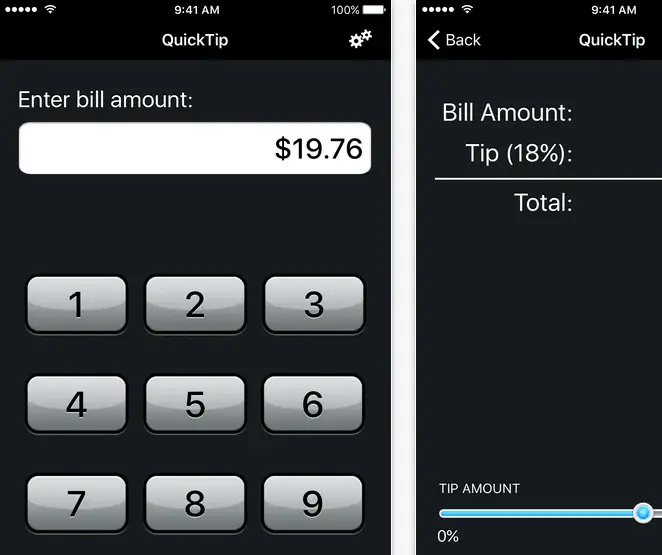 This app is simpler than the previous app as you just need to enter the bill amount and choose the percent for the tip. Then it will calculate and show you the amount you need to tip.
The QuickTip app provides a fast & convenient method to calculate the tip for any bill.
3. Tip Check – Tip Calculator by ChuChu Train Productions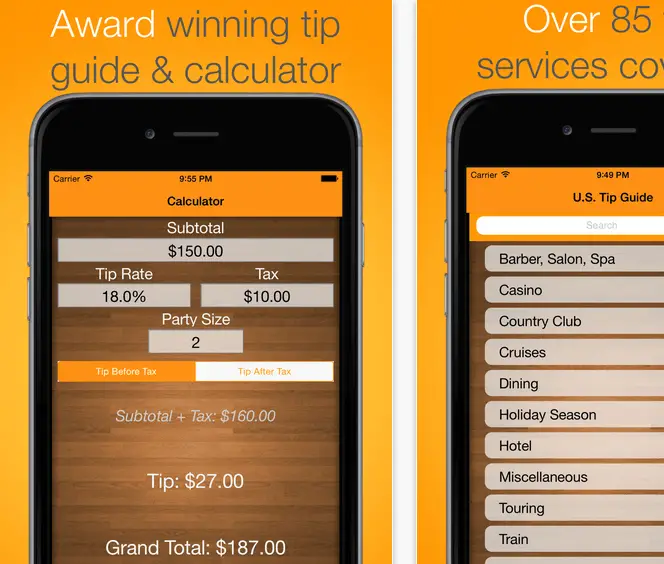 With this application, you can quickly figure out how much money you should leave for the waiter as a tip. It comes with an easy input calculator, U.S and International tip guide, as well as bill split feature.
4. Gratuity – Tip Calculator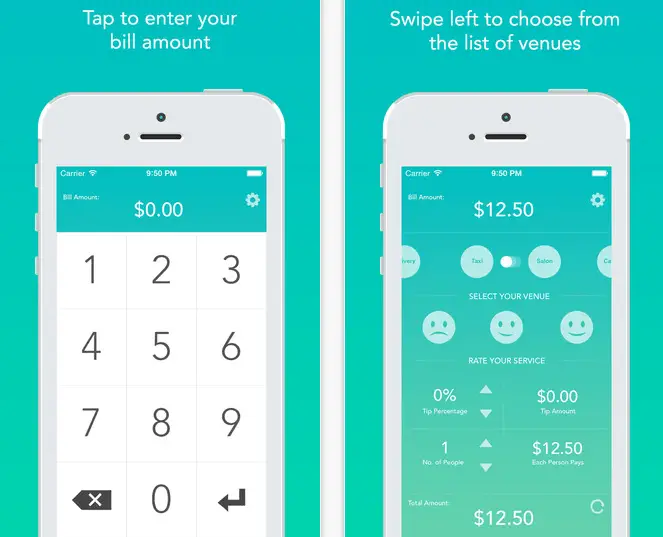 The Gratuity app comes with a simple user interface that allows you to enter the bill amount with a keypad. Then choose the percent you want to tip to the service personnel, as well as the number of diners if you are splitting the tip.
5. Tip Calculator % Free by Skol Games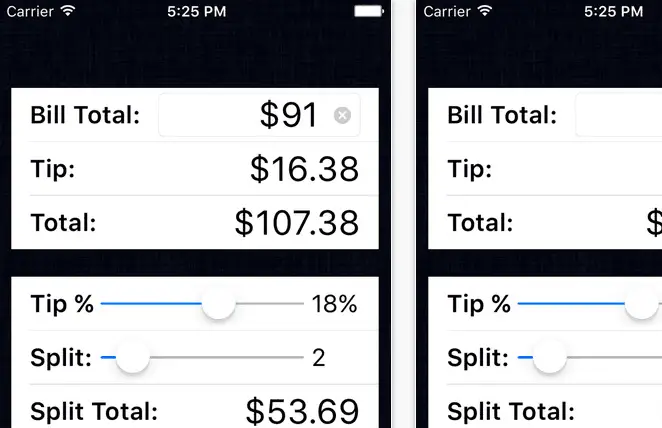 This is also another great app you can use on your iPhone or iPad to calculate the tip amount quickly. Just need to enter the bill amount, select the percent & indicate how many people are dining. Then it will show you how much you have to leave for the waiter.
---
5 Best Tip Calculator Apps For Android
1. Tip N Split Tip Calculator

Handy Apps developed this Android app to help users calculate how much they should tip when eating out, as well as how to split the bill among friends.
There are also tipping guides in the app that you can read to find out the percent you should leave as a tip.
2. Tip Calculator by Skol Games

Like many other apps above, this is another option you can use to calculate the tip, split the bill, round up and round down. It saves you time when eating out, so you can tip exactly what you mean to – no more, no less!
3. Tip Calculator- AD FREE

If you feel annoyed with a free app that has tons of ads, then try this app, which doesn't have a single ad.
4. Tip Me

With a beautiful design, this app lets you input total bill, choose tip percentage, and select the number of people. Then it will help you to split the bill, shows how much you should tip in total, as well as how much each person needs to pay.
5. Clear Tip Calculator

This is another ad-free app for your Android device, which lets you calculate and leave behind a tip when leaving the restaurant.
---
Conclusion
Whether you are eating your dinner in a restaurant or drinking alcohol in a bar, you should always leave a tip for the service personnel.
If you have used any coupon codes, calculate the tip based on the total amount before those discounts.
In the case of having special requests like a large party with young children, who have made a large mess, you should consider leaving a slightly higher tip.
Besides, if you have ordered a lot of alcohol, you can calculate the tip on the food separately from the beverages. For example, you can tip around 10 to 15% for drinks, and around 15 to 20% for food.
Also, remember to check if there is an included gratuity on the bill because you shouldn't leave any additional tip.
I hope these free tip calculator apps can help you quickly find out how much you should tip the waiter. It's very easy to download and install these apps on your phone, both iOS and Android.
If you have any questions or contributions regarding this article, let me know.