Disclaimer: This post may contain affiliate links, meaning we get a small commission if you make a purchase through our links, at no cost to you. For more information, please visit our Disclaimer Page.
Your full breakdown on Mac's Task Manager and how to use it.
When changing from Windows operating system (OS) to Apple's Mac OS X, you may feel strange with the new platform and features. Changing settings will often feel completely foreign on this new operating system.
One of the biggest learning curves in switching from Windows to a new Mac computer is learning how to end a task with the help of the Mac equivalent of Windows Task Manager. In Windows OS, it's very easy to stop a running process by opening Task Manager and select "End Process".
Read Article: RingCentral Office VoIP Service Review
Mac also has a Task Manager application but with a different name: Activity Monitor.
Features of Activity Monitor application are very similar to the Task Manager in Windows. On top of ending any active processes, you can also:
Monitor CPU usage to see the percentage of CPU capacity that each application takes up
View the energy impact of each application
See the total disk activity used by each active process on your computer
View network usage for each application
View the memory usage for each running application
See an overview of all cached content that has been uploaded, downloaded, or dropped on your computer
You can easy to view, manage and close any active processes that are running in Mac OS X. Within Task Manager, you can also view CPU
Read Article: 8 Useful Mac Shortcuts You Must Know
---
How To Open Task Manager Mac
Running Task Manager in Windows is easy. Simply use the keyboard shortcut Ctrl + Alt + Del, Ctrl + Shift + Escape, or right-click on the menu bar and select "Start Task Manager."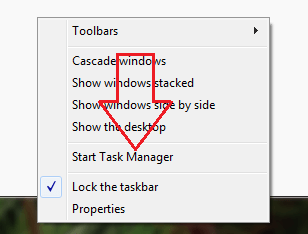 Running Activity Monitor in Mac OS X works a little differently. You can open Activity Monitor by opening up Finder, going to Applications > Utilities and then select "Activity Monitor" application.
Simplest Way To Open The Mac Task Manager
There is another way that could help you to open "Activity Monitor" program easier and quicker.
See Also: How To Uninstall Programs On Mac OS X Computer?
Simply press Command + Space key to launch Spotlight search field.
Type "Activity Monitor" in the search field and press "Enter" or "Return."
The Activity Monitor is a powerful Task Manager application as it's not only displaying running applications under user-level but also shows running applications under system-level or kernel level and a few other processes.
If a program is running in your Mac computer, you can find it with Activity Monitor (Mac Task Manager or Task Manager Mac), never miss any tasks.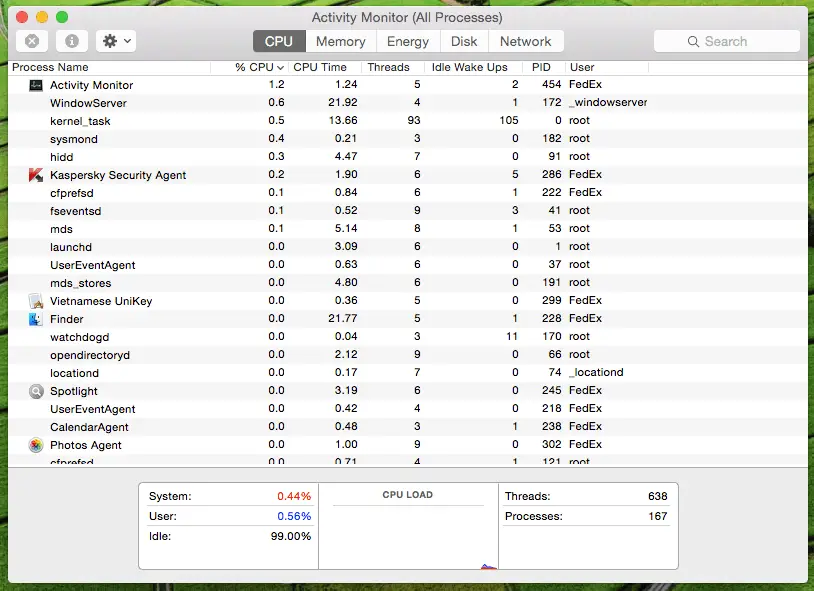 It allows you to sort processes by ID, name and memory usage. Also, you can search for a specific process that matches characters or names.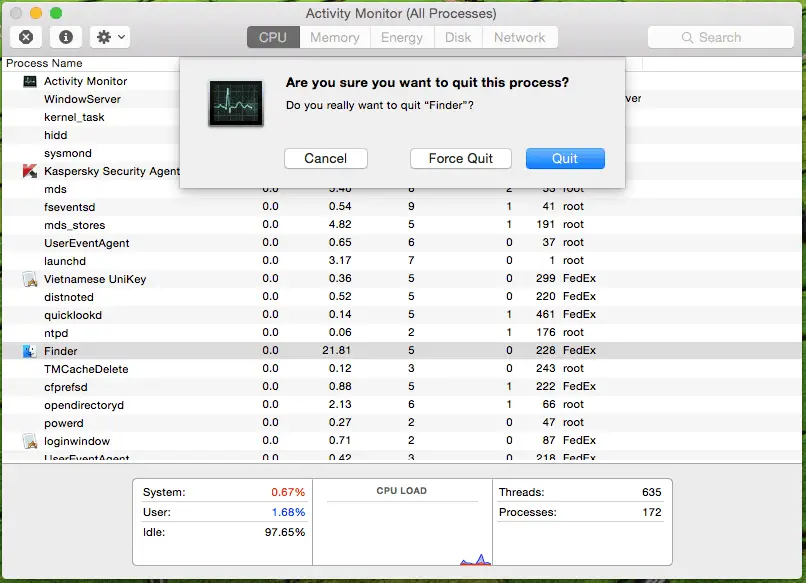 The Activity Monitor application can also use to force quit Mac apps when they are unresponsive. To doing so, select the application you want to force-to-close from the list in Activity Monitor and then click the (X) icon at the top-left corner and choose "Force Quit." The selected application will be terminated immediately.
You can also use Force Quit Application to close any unresponsive apps by pressing the key combination: Command + Option + Esc to bring up Force Quit Application. Next, choose the application you want to close and click on "Force Quit."