Disclaimer: This post may contain affiliate links, meaning we get a small commission if you make a purchase through our links, at no cost to you. For more information, please visit our Disclaimer Page.
This webpage is not available is one of the most irritating errors in Google Chrome that many internet users are encountering. When it occurs, you won't be able to access the requested website or many other sites, depends on what the reason is.
This error can happen due to many reasons like typing a wrong website address, invalid cookies on your Google Chrome browser, DNS server issues or enable the proxy feature in Internet Options with a dead proxy.
So before confirming that it's a fault of your computer or web browser, you have to diagnose and then eliminate physical causes that may also lead to this error, such as:
Issues of your router.
Problems with cables.
Wi-Fi hotspots got errors.
Interruption of the Internet connection.
Besides, you can try to open the requested webpage from another device, such as other PC that connected to a different network or your smartphone with 3G or 4G network to check if the webpage is available or not.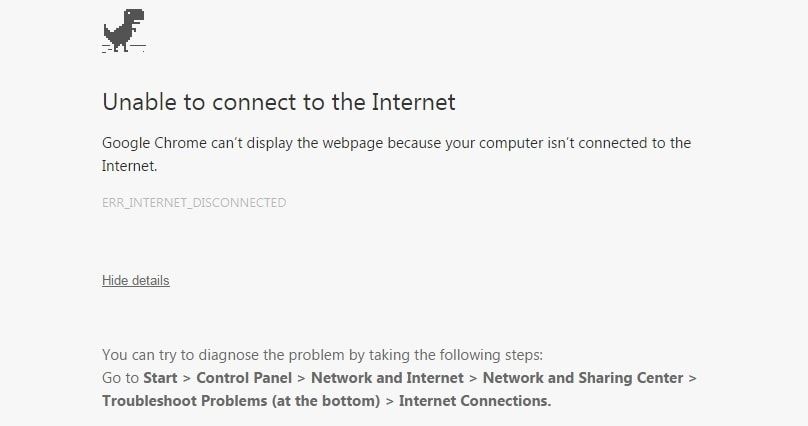 If the requested webpage could not be opened from another computer or any other devices, that's meant the website you want to visit is temporarily or permanently down. In this case, there is nothing you can do until the site is up again.
However, if the website can normally be loaded from other computers, then the issue would be from your computer.
Fix This Webpage Is Not Available Error
When you have eliminated all other causes, then the primary reason of this error must come from your browser or your computer. Here are some quick solutions to fix "This webpage is not available" error:
Make Sure The Website URL Is Correct
It could be a mistake from your side while typing a wrong website address instead of the right one. You can take a look at the URL again and make sure you have typed a correct one.
For example, instead of typing:
www.google.com
You typed:
www.gooogle.com, or www.gogle.com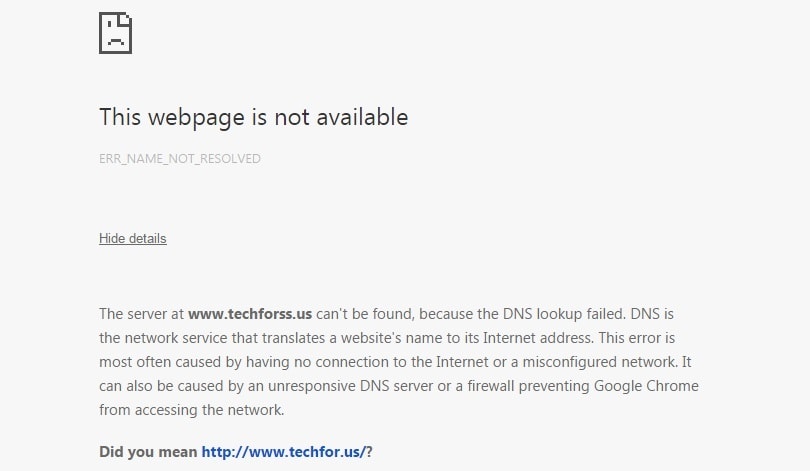 Remove All Cookies Of Google Chrome Browser
Usually, when you visit a website, cookies will be created and stored in a temporary folder on your computer or device. However, if the cookies are expired or corrupted, you might not be able to access the website, even it's available. The reason is that invalid cookies sometimes may create an infinite loop when you visit a particular site and prevent you from loading its content.
To solve this problem, you can remove all cookies on your Google Chrome browser. To do so, just click on the Google Chrome menu icon, select "Settings", click on the "Show advanced settings" option and then choose "Clear browsing data".
A small window will pop up, allow you to choose what you want to remove. Just tick the checkbox called "Cookies and other site and plugin data" and then click on the "Clear browsing data" button.
You can also access this feature by copying and then paste the below code into the address bar of Google Chrome and then press Enter.
chrome://settings/clearBrowserData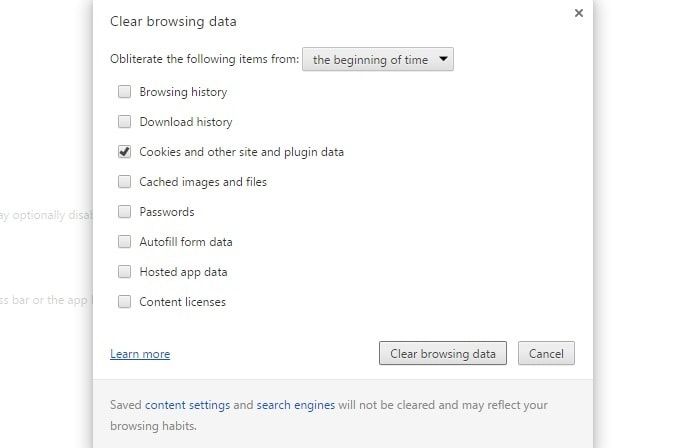 You can use other apps to clean up your computer and remove all cookies on your PC, like CCleaner, a freeware to help you remove all cookies, as well as, other temporary files.
Visit here to download and install CCleaner on your computer.
Change Your DNS Server IP Addresses To Google's DNS
If you are using the default DNS server from your ISP (Internet Service Provider), then sometimes, it could be the cause that leads "This webpage is not available" error. You know, DNS server handles all requests from your computer to the Internet. If it's not stable, then your Internet connection may interrupt and leads to this "webpage is not available" error.
[full-related slug1="change-dns-server-faster-in-windows" slug2="best-public-dns-servers-you-must-know"]
To fix it, you can follow instructions here to learn how to change your DNS server IP addresses to Google's DNS. With this method, it will help you access the Internet more stability.
Check Your Proxy Settings
Sometimes, you have used proxies with your Google Chrome or Internet Explorer and forgot to remove them after using. To resolve the "This webpage is not available" error, please check your proxy settings again and make sure you have not checked the "Proxy Server" option as below.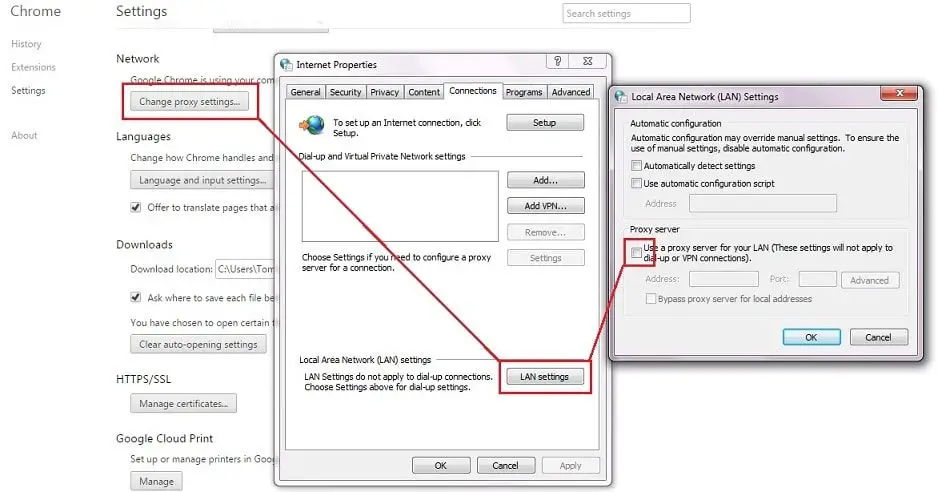 I hope after reading this guide – you can fix "This webpage is not available" error on your Google Chrome browser.
Discovered: Play the T-REX free mini game from Google Chrome in case your Internet connection is down, take a look at the video below.
How To Play Dinosaur Game In Google Chrome?
If you would like to play the dinosaur game in Google Chrome, press Space key on your keyboard when the Internet connection is disconnected or in case that the dinosaur picture appears.
Was this article is helpful? Let's share with your friends and other users through social media sites.