Use True Image to Prepare for the Windows 10 Upgrade
Disclaimer: This post may contain affiliate links, meaning we get a small commission if you make a purchase through our links, at no cost to you. For more information, please visit our Disclaimer Page.
Windows 10 is Here! Just in case you have not heard, Windows 10 is Here! There is a lot of hype about the newest addition to the Microsoft Windows Operating System saga. One bonus to this release is that it is a free upgrade to many of us that use Windows 8.1. Is it a worthy upgrade? Is it a trustworthy upgrade? There has been a lot of Beta testing so by all rights it should be released into the wild as a stable and worthy upgrade especially if it free.
Related Reading: Review of Acronis True Image
The dilemma I have, and I suppose many others, is that I use my laptop for work and have many applications installed that I am not sure will play well with Windows 10 so I refuse to simply click the upgrade button without some safeguards in place but I do want to try the new OS. The best solution to the Windows 10 dilemma that I could think of is to clone the laptop hard drive with Acronis True Image 2015 to ensure that if things go awry with the upgrade I can go back to my stable Windows 8.1 installation with a simple change of the hard drive. Alternatively, you could take an image of the drive. I prefer cloning but I have no problem changing a hard drive. If you do not feel comfortable changing a hard drive, take an image instead. Whatever you decide to do, make sure your PC is backed up before clicking that upgrade button.
I found this new icon in the system tray that Microsoft somehow managed to put there without my knowledge and I just had to click on it. It said "Get Windows 10"

Naturally, I had to smack the button to see what happened.

A few days later, i checked and sure enough it was here.
Cool beans. I can get it for free. Just not sure if I want it.
Now that the files are downloaded, I will make sure that I have a full data backup and start the cloning process so the installation files are on both drives. I am sure I could find a way to save the installation files to a DVD or Flash drive and I might just do that but that's another story.
Now that the download is complete, here is where cloning the hard drive comes into play. I searched through some hardware and found a perfectly good 750 Gigabyte laptop hard drive and put it in a USB drive enclosure. The laptop is using a 1 Terabyte hard drive. Not a problem for True Image. It allows you to clone a smaller drive to a bigger one or a bigger drive to a smaller one. I decided to use a bootable USB Flash drive to clone the drives. Making the drive bootable is easy with True Image, just click on the Rescue Media Builder and follow the simple steps. This is what you will see once the PC is booted up with the bootable media.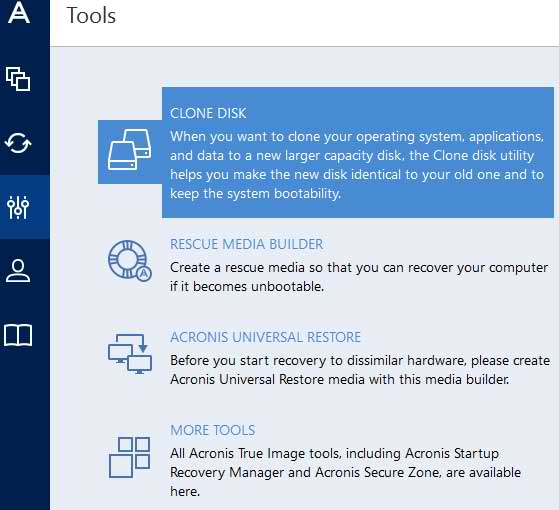 This should be a simple task so I just chose the Automatic settings as a Clone Mode.

As you can see, I selected the source disk which has a 931.5 GB capacity which is One Terabyte in Windows language. 

The next step was to select the destination disk. The obvious choice being the one with the 698.6 GB capacity (750 Gigabytes). Clicking next showed the following summary of the cloning task. Notice how True Image automatically resized the partitions to accommodate the smaller drive.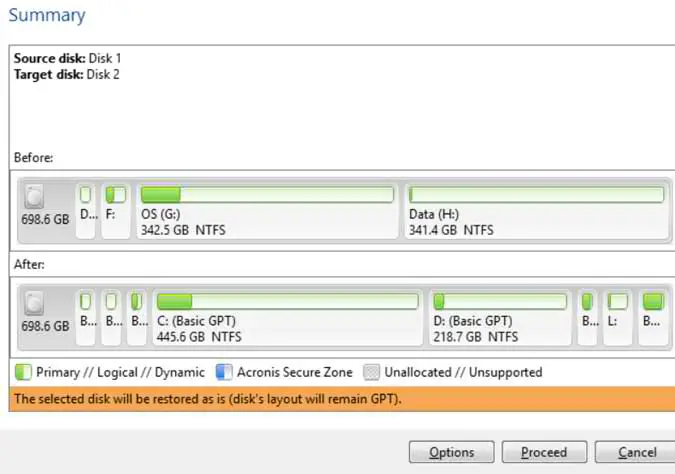 I hit the Proceed button and let the program go to work. It took about 8 minutes to clone the drive. Looking at the Windows Disk Management shows the new drive all set and ready to go.

My Windows 10 upgrade scenario will be to pop in the smaller cloned drive and run the upgrade process and test the new OS for a while making sure all of my apps run as they are supposed to. Supposedly everything that works on Windows 7 and 8.1 will work on Windows 10 but I've heard that one before. If everything works fine, I will have a couple of choices. I could clone the smaller drive to the larger one or simply run the upgrade process on the larger main drive and have the smaller one for a backup.
Anyway that is one upgrade scenario. It keeps all data safe and also has the option to keep using Windows 8.1 if something goes awry with the Windows 10 installation. Works for me.
Whatever your upgrade strategy is, just make sure that all of your stuff is totally backed up. It does not matter if you use Acronis, do it manually or use another program – Back it Up! Can't stress that enough.
Acronis True Image 2017
has been released and it is optimized for Windows 10 and the most recent Mac OS X versions. This version is between 3 times to 6 times faster than the competition. Through the years, True Image has been making it easier and easier to keep your data safe by backing it up. The 2017 version has simplified the process even more. 2 clicks is all it takes to do a full image backup of your entire computer. This version combines the features of the previous versions which includes dynamic disk support and Universal Restore allowing you to restore data to a different PC even if it has different hardware. Wi-Fi support has also been added when backing up to the Acronis Cloud even to a bare-metal PC. It easily backs up Windows, Mac, iOS, Android and even Facebook. Gotta keep up with the times. See our full review of Acronis True Image.
$49.99