Disclaimer: This post may contain affiliate links, meaning we get a small commission if you make a purchase through our links, at no cost to you. For more information, please visit our Disclaimer Page.
A solid-state drive is an important part of any computer system and is usually called an SSD. It improves the performance of your computer and helps it run faster. Though you can use your SSD on a new computer, there are some things you should keep in mind.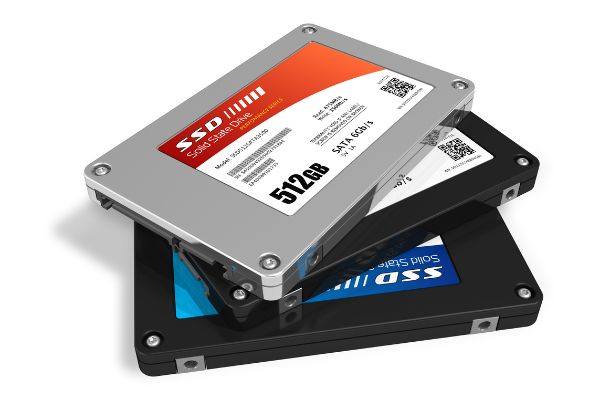 Can I Use My Old SSD on a New Computer?
The SSD on your old computer is similar to a hard drive and allows you to use your device quickly. Not only can it help when gaming, but the SSD also allows you to save files faster and boot up your system in less time.
You may find that you want to transfer or use data from that drive on your new computer. Yes, you can use an old SSD on your new computer. It's easier than you might think as long as you know what process to use.
How to Use an Old SSD
To use an old SSD, check the BIOS setup first. You need to ensure that it will run on the new system. Checking the BIOS also allows you to see if the SSD is still connected to your old system.
You may find that your old computer will not turn on unless you run it through the SSD. Until you sever this connection, your new computer will not accept it. SATA to USB adapters make it easy to use the SSD.
You simply plug one end into the SSD and the other end into an open USB port on your computer. When you turn on the computer, it will recognize the new hardware. This allows you to use the old SSD as new and extra memory.
Transfer Old Data
If you want to transfer old data to your new computer, you can install the SSD in your new setup. The first time that you turn on the computer after doing this, enter BIOS.
You'll want to make sure your computer recognizes the SSD. Once the computer starts running, enter your Control Panel and double click on the drive. You can then move files onto your computer.
You can also clone the old drive and make a copy to use on your new system. Plug in the SSD and turn on the computer. Find a cloning app online and save a copy to the SSD. Open the app and choose the SSD from the available options.
You can then close all the data from the old drive and move it to your new one. Make sure that you change the boot order to force the system to use the new drive first. You can also remove the old SSD if you no longer need it.
Other Ways to Reuse Your Old SSD
Besides using an old SSD in a new computer, you can reuse the drive in different ways. Consider using it as an external drive. All it takes is one disaster for you to realize the importance of your computer.
A hard drive failure can cause the loss of everything you saved on your drive from photos and videos to schoolwork and business projects. Using your SSD as an external hard drive allows you to backup your system regularly.
You can also use it as an extra drive for your computer or sell it as long as you remember to wipe it first. With chip and circuit shortages around the world, now is a good time to make money off computer parts you no longer need.
Do I Need to Reinstall Windows?
While you can use an old SSD on a new computer, you will also need to reinstall Windows before you can use it. You should use caution, though, to ensure that you don't lose any data from the drive in the process.
One benefit of reinstalling Windows is that you can finally get those upgrades you kept ignoring in the past.
As reinstalling Windows may cause you to lose some apps, you should remove apps that you need to register and back up any games that you often play.
Windows can cause you to lose your spot in some of those games and also try to upgrade you to more expensive versions of some apps.
If you want to save your bookmarks, open your web browser and save the bookmarks in the cloud. Once you reinstall Windows, you can sign in and restore the bookmarks.
Click on Settings and then the Update & Security section. Look for the Activation option and click on it. This will tell you whether you have an activated version of Windows that you can reinstall. If you see a different message, go to Settings and then Account and finally Your Info.
You should see a line that says, "Sign in with a Microsoft Account." Click on this button to sign in and follow the instructions on your screen. Completing this step ensures that you have a version of Windows you can reinstall later.
To reinstall Windows to work with your old SSD
go to Settings and then Update & Security.
Look for the "Recovery" option
click on the "Get Started" button.
Choose the "Reset This PC" option from those listed.
You need to follow some prompts and click on different buttons to download Windows to your PC.
What Problems Could Occur with an Old SSD? 6 Issues
There are many problems that can occur with an old SSD. Some of these problems occur due to power failures and surges, but you may also experience some problems caused by the age of the drive. The drive might be so old that it can no longer write over old files.
One issue you may come across is with bad blocks. This happens when the drive keeps trying to save or update a file but eventually gives up and issues a warning message.
You may notice that your PC runs slowly when you try to use large apps or files and that it crashes often, both of which are warning signs of bad blocks.
Bad blocks can also affect the data stored on your PC. Not only will this keep you from saving any new files you create, but it can keep you from updating and saving files you changed/edited.
Some of the other problems that can occur with an old SSD include:
Recovery messages
Recovery messages can appear when you do not properly shut down your computer, but they can also be a sign of an SSD failure. You will need to use the recovery tool on Windows when you get this message.
Slow moving
Computers can run slowly because you open too many tabs at the same time or you have too many apps running. When you swap out your SSD, you may also find that your new computer runs slower than it should because your drive doesn't have enough free space.
Startup crashes
Computers can crash at startup for many reasons, including issues with your SSD. When this happens, make sure you backup your system before you lose your data.
Question mark
If you have a Mac instead of a PC, you may see a question mark (?) popping up when you try to run your device. This lets you know that the computer cannot boot up and may show an issue with the SSD. Computers that run Windows may not boot up or show a boot error when you try to start them.
You can't edit files
Another issue that can occur is that your SSD says you can no longer edit files. When you try to open or save files, your system will say that those files are read-only. This is less rare than some of the other problems.
Screen of death
While the screen on your PC might change colors every now and then, the screen of death is a sign of computer failure. This is when the screen turns blue or black and you cannot turn on your computer.
Make Your SSD Last Longer
Looking at how to make your SSD last longer can help you get more out of the drive. Always make sure that your PC fans run and that your computer doesn't get too hot. Sharp temperature changes can seriously damage your SSD.
You should also check the available storage on the drive and delete files that you don't need along with any copies you find.
If the SSD does not have enough free space, it can run slowly and cause some serious problems. Don't forget that some of these drives have a life span of just five years.
As you near the end of this period, you may find that buying a new SSD is better than trying to use your old one.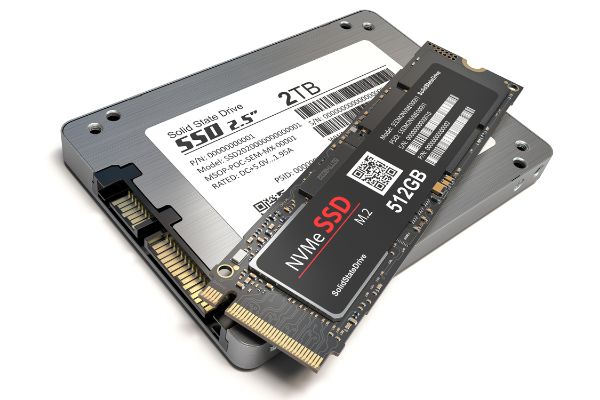 Can I Swap My SSD to Another Computer?
You can swap your SSD to another computer as long as the two are compatible. Many computers use a SATA disk interface. The computer you want to use it with must have the same type of interface. Some drives have an M.2 interface.
This allows you to use the drive with computers that have the same interface or either a PCI-E slot or a SATA slot. You may need some special tools or an adapter to make the swap too.
Bottom Line
When you buy a new computer, it will likely come with an SSD, but that doesn't mean you can't reuse your old one. To use an old SSD on a new computer, you need to reinstall Windows and make sure that the two are compatible.