Disclaimer: This post may contain affiliate links, meaning we get a small commission if you make a purchase through our links, at no cost to you. For more information, please visit our Disclaimer Page.
The Apple Watch is a handy device that syncs to your iPhone and any other Apple devices you own. It works with tons of apps and helps you stay connected on the go. One of the biggest worries many users have is whether the Apple Watch is resistant to water damage, which you can learn more about before or after you buy one.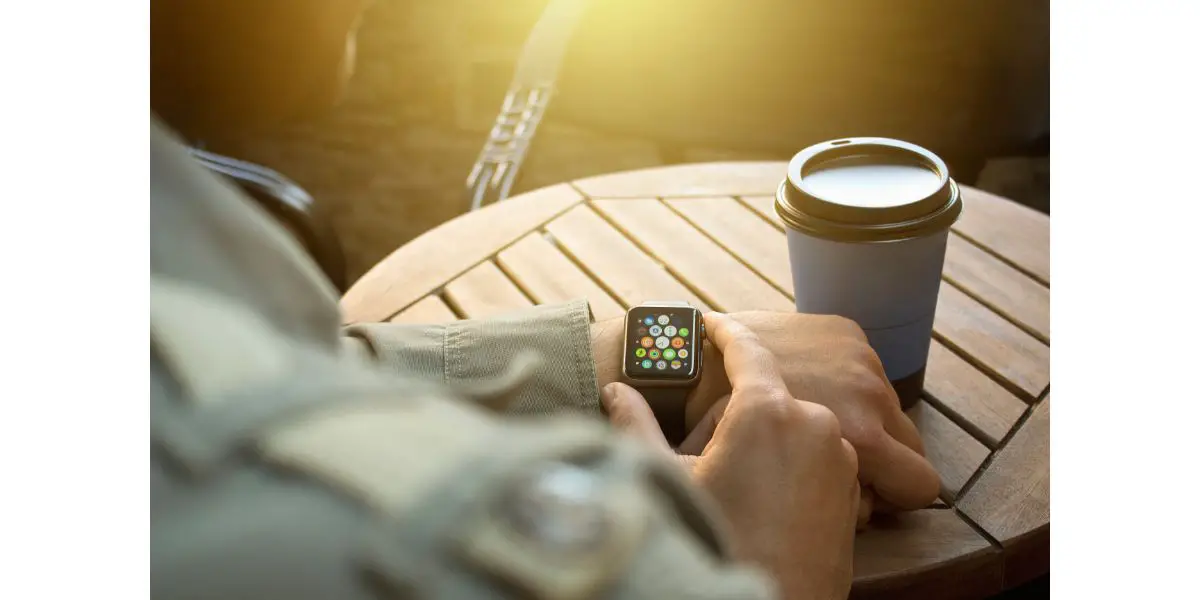 Can Water Damage Your Apple Watch?
Yes, water can damage your Apple Watch. Apple claims that its watches are water resistant but not waterproof. When you expose your watch to any type of water or moisture, you risk damaging it.
While some users claim that they shower, run in the rain, go to water parks, and even shower while wearing their watches and never had any problems, there are quite a few complaints online about these watches suffering water damage.
You should know that the Apple Watch Series 1 and original models are both water and splash-resistant. Apple does not recommend that you submerge these series 1 watches in water such as when you're swimming or washing dishes.
The company even had a viral moment when one of its leaders tried to show how well the watches worked and damaged his watch. If you have an Apple Watch 2, 3, 4, or 5, you'll find that it is water-resistant at depths of up to 50 meters. Apple warns users from wearing these watches in deep water or while doing high-pressure activities.
What Are Some Signs of a Water Damaged Apple Watch?
Corrosion is one of the big signs of water damage to an Apple Watch. Also known as rusting, corrosion occurs when metal parts come into contact with water. If you think your watch has water damage, always check the back. You might notice some brownish-colored spots on the watch's back. Corrosion can also affect the circuit board and batteries. Other signs of water damage to an Apple Watch include:
Discoloration: While the color of the watch itself may not change, water exposure will change the color of the band. Any signs of discoloration around the band can signify water damage.
Mold: Check the charging set for mold, which will appear as a fuzzy substance that may feel soft to the touch. Mold can grow from the charging set to other areas of the watch.
Foggy Spots: If you exposed the Apple Watch to water, look for foggy spots on the screen. These spots appear when water spreads to the face and are a sign that the water damage is on its way to other spots.
Water Droplets: You won't always see foggy spots on your screen when your watch has water damage. There's a chance the water will dry and form foggy spots. Before it dries though, you may see some water droplets on the screen.
Water Lock Breach: Apple Watches come with a Water Lock feature that allows you to lock down the watch in spots where you're around water. You should check the Water Lock for a breach, which will keep it from working as well as it did before.
How Can I Prevent Water From Going Into an Apple Watch?
Using the Water Lock is the best way to prevent water damage to your Apple Watch. All models come with this feature, which is easy to set up.
While wearing or holding your watch, load the Control Center and swipe from the bottom of the screen to the top. Look for the Water Lock icon. It appears as a water droplet in a black circle. Press this button on your screen. When it turns from black to blue, you know it's on.
You should always use the Water Lock feature when you wear your watch around water.
Once you're back in a dry spot, you can turn off the feature. Apple Watches that used iOS before 8 have a digital crown that you turn until the screen says the feature is off. If you have a newer watch, hold down on the digital crown until the feature shuts itself off. Your watch will also play a series of sounds that keep playing until the watch drains any water left inside of it.
Does Apple Cover Water Damage?
No, Apple does not cover water damage to its watches or any other devices. Even if you sign up for an extended version of AppleCare, that plan will not cover any water damage.
Apple has detailed information available on the warranty available for its watches. This warranty has restrictions that limit when and where you can use your watch. Apple Watches are water resistant but not waterproof.
Signing up for AppleCare may reduce some costs you pay to cover water damage though. You need to pay between $69 and $79 as a service fee. This pays for the cost of having a tech examine your watch to decide what the watch needs.
Your warranty may pay for the repair or reduce the amount you need to pay, but it can also cover the cost of a new watch. These plans also come with 24/7 tech support and battery service coverage.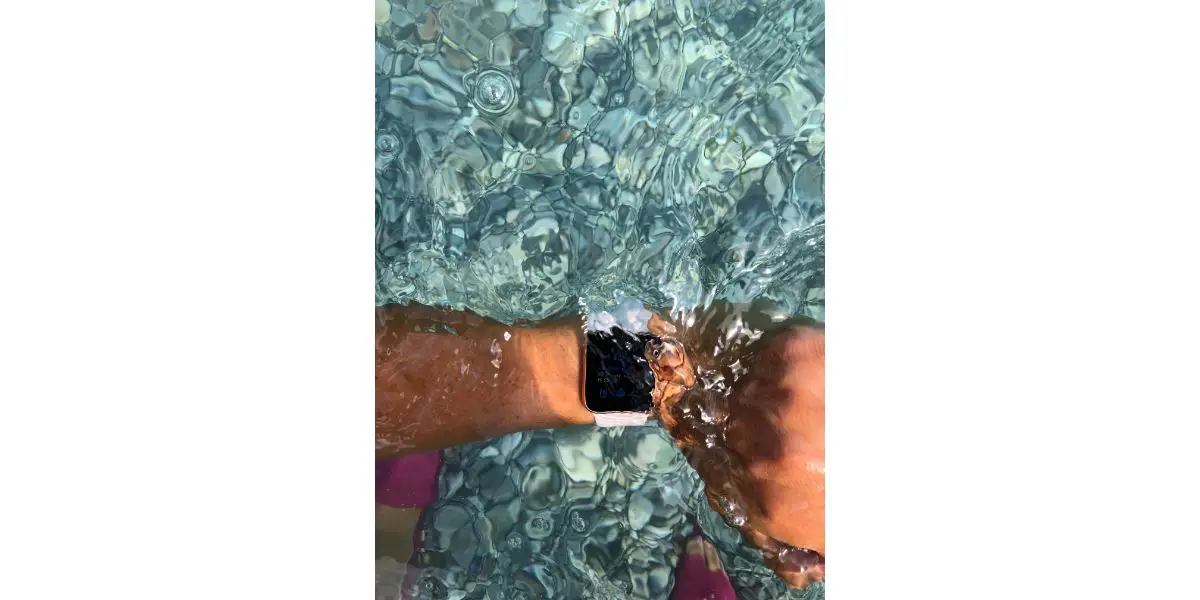 How Can I Save My Water Damaged Apple Watch?
With as much as an Apple Watch costs, no one would blame you for thinking that you can use it anywhere. Whether you go for a swim or get caught in the rain though, you expose the watch to moisture, which can wreak a lot of havoc on it. At the first sign of water damage, take a few steps to save the Apple Watch.
Use the Water Lock Feature
Don't worry if you expose your watch to a few minutes of water. In most cases, the watch is fine. You should always turn on this feature when you plan to spend time around water, including going for a swim or taking a shower.
When you enable the Water Lock, you keep the watch locked. While you can't read a text message or use any of your apps, the watch will stay safe from water damage. Use the steps from above to disable this feature and let your watch get rid of any water trapped inside.
Let the Watch Dry
Even if you don't see any signs of water damage, you should avoid using your Apple Watch until it's dry. As soon as you expose it to water, turn off the watch. Do not attempt to charge it unless you make sure it's dry first.
If the watch feels damp to the touch because you sweated a lot, you can use a dry cloth to wipe off the excess moisture before you charge it. After prolonged exposure to water though, you should avoid using or charging the watch for as long as possible to make sure all of the interior parts are dry.
Take Off the Band
One of the nice things about the Apple Watch is that it has so many available bands. You can match the band to your favorite outfits or pick a different color every day. Once the watch has some water damage, you need to remove the band.
The band hides a small connector from view, which techs use to run tests on the watch. Some of these tests can reveal whether the watch had water damage, which will cause Apple to deny your warranty claim. Take off the band and try to dry any of the water stuck to the connector or nearby areas.
Dry It Quicker
The faster that you dry your Apple Watch, the bigger chance you'll have of saving it from water damage. While you can try the old rice trick, using a food dehydrator is an even faster solution. Set the food dehydrator to the lowest setting and place your watch inside.
Let it sit for a few hours and then place it in a cool and dry place until it comes down to room temperature. You may find that the watch needs a new battery but that the water didn't damage any of the more important parts.
While some techs claim that the rice trick doesn't work, many users had good luck using this method. You'll want to fill a plastic bag or an airtight container with clean and dry white rice.
Place your watch inside the container and add enough rice to cover the entire device. Once you close the container or seal the bag, leave the watch alone for at least 24 hours. If you aren't sure how long the watch was around water, try leaving it alone for two or even three days to fully dry out.
Can I Wash Dishes While Wearing My Apple Watch?
Though many people claim that it's safe to wear an Apple Watch while washing dishes, even Apple itself says that you should not expose your Apple Watch to soapy water. When you keep it on as you do a sink full of dirty dishes, you risk water getting inside as well as the soap corroding the band.
Can You Wear an Apple Watch in the Shower?
The same issues apply when you shower while wearing your watch as when you wear it while doing the dishes. Apple claims that there are a variety of conditions that can affect the resistance of your watch, including:
Dropping your watch from a high fall
Wearing the watch in high temperatures above 130° F (55° C)
Exposing the watch to perfumes and certain chemicals, such as those found in bug repellents and hair dyes
Using the watch in situations with high water pressure like water skiing
Keeping your watch on when you dive
Conclusion
Despite how much use you get out of an Apple Watch, it is not waterproof and is not suitable for all situations or conditions involving water. Signs of water damage can include fuzzy mold growth and a foggy screen. As Apple does not cover water damage, you need to know what to do at the first sign of water damage.