Disclaimer: This post may contain affiliate links, meaning we get a small commission if you make a purchase through our links, at no cost to you. For more information, please visit our Disclaimer Page.
Microsoft's Windows has a lot of useful features that you may use daily in many tasks. However, there are some unnecessary features that you never use nowadays, such as Internet Explorer 11, PowerShell 2.0, Internet Information Services or even Windows Media Player.
I marked these features as unnecessary because I have never used them, and some of these functions are outdated, such as Internet Explorer 11.
Currently, I'm using Windows 10, and I would recommend disabling most of these features in case that you don't use them.
Read Article: How To Fix 'The Requested Operation Requires Elevation' Error In Windows 10
Unnecessary Features You Can Turn Off In Windows 10
To disable Windows 10 features, go to Control Panel, click on Program and then choose Programs and Features. You can also access "Programs and Features" by right-clicking on Windows logo and choose it there.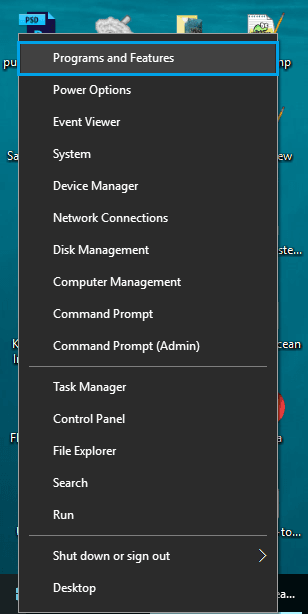 Look at the left sidebar and choose "Turn Windows feature on or off". The "Windows Features" window will be shown up shortly on your screen.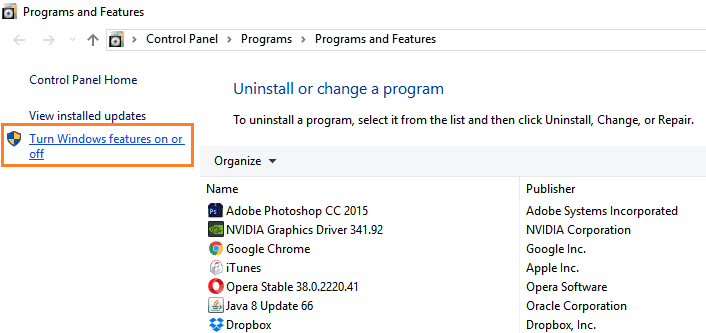 To disable any features, simply unselect the checkbox, choose "Yes" to confirm your selection again and then reboot your PC to take effect. You can disable multiple features and then restart the computer.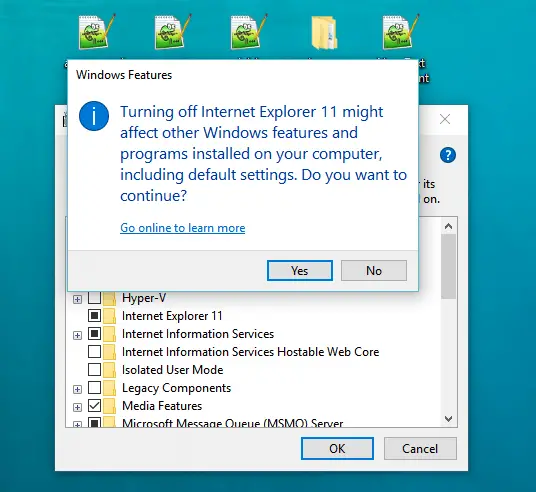 When you want to activate these features again, go here and tick the checkbox and then reboot the PC.
Now it's time to show you a list of 11 Windows features that you should disable.
Read Article: What is DCB_ASSOCIATION?
1. Internet Explorer 11
As you know, Microsoft has replaced Internet Explorer with the Edge since they released Windows 10. But the Internet Explorer 11 (IE11) still kept in the operating system – there is no plan to remove it.
However, Microsoft has stopped send updates to IE11 through Windows Update. If you want to update IE11 to fix bugs or for improvements, you have to download it manually from Microsoft Update Catalog.
So if you don't have any reasons to use IE11 when the Edge is the best choice, then just disable it.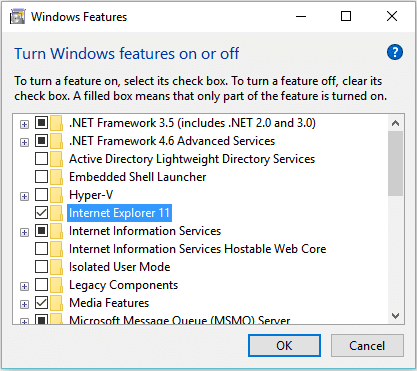 2. Legacy Components – DirectPlay
DirectPlay is an API of Microsoft DirectX API, which was used for games in Windows Live ten years ago. Nowadays, the modern games don't use it anymore.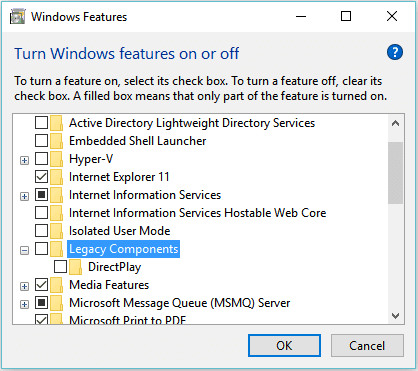 3. Media Features – Windows Media Player
In fact, Windows Media Player is a popular media player that many users use it. However, the disadvantage of this media player is that doesn't support some important audio and video types.
In Windows 10, Groove Music is the default media player, which could be replaced for Windows Media Player. Also, if you are using a third-party media player such as VLC Media Player, there is no reason to keep Windows Media Player on your computer.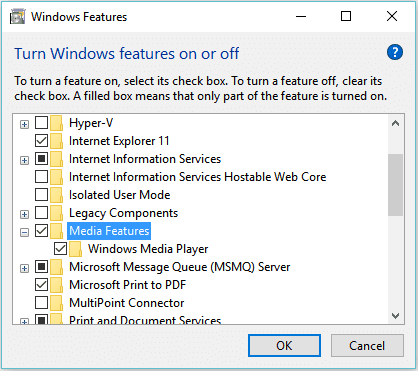 4. Microsoft Print to PDF
This is an option that allows you to convert any documents into a PDF file. It acts like a virtual printer that helps to create PDF documents from your real documents in Windows. But if you are using Microsoft Office, then you don't need this feature because you can save your document to PDF directly within the Microsoft Office.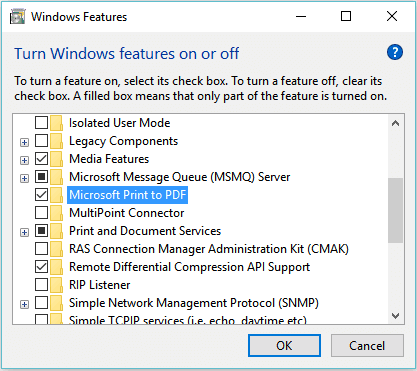 5. Internet Printing Client
Like its name, this feature will allow you to print documents through the local network (LAN) or over the Internet with IPP protocol. But if you only use the printer that connected to your computer, this feature is useless.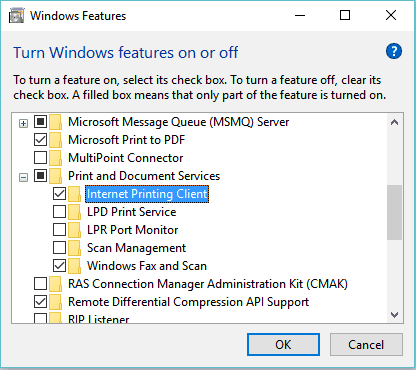 6. Windows Fax and Scan
Enabling this feature on your Windows computer will allow you to use Fax or Scan devices that connected to your PC. If you don't use any of these devices, just turn off this feature.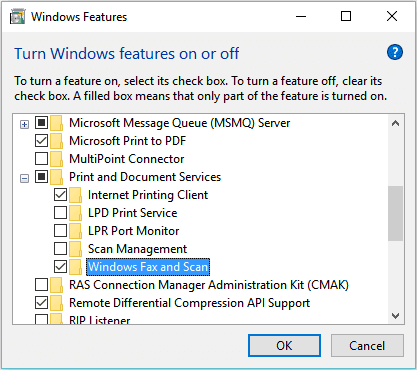 7. Remote Differential Compression API Support
Microsoft has introduced this feature for Windows Server 2003 R2 until now, which helps users to manage servers better. Some programs use this feature to remote access and management, such as Remote Desktop Connection. Hence if you don't use Windows Server or any kinds of remote access, just disable it.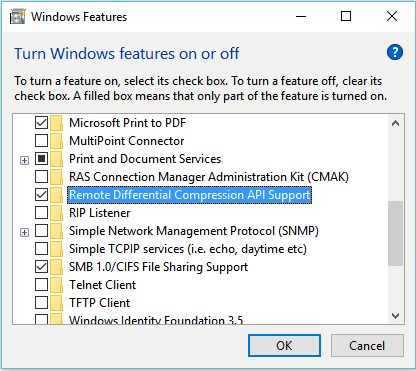 8. Windows PowerShell 2.0
You may be thought Windows PowerShell 2.0 is the latest version of PowerShell in Windows. However, the most recent version of PowerShell is 5.0 and therefore, it's useless. You should disable it as soon as possible.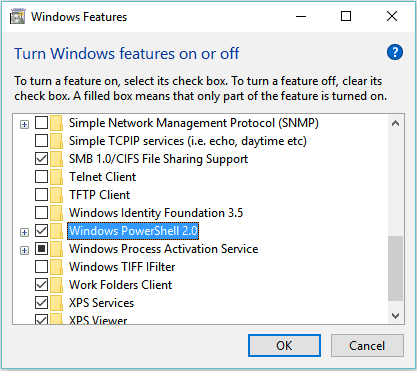 9. Windows Process Activation Service
If you don't have any plans to run a home-based server, then you should turn off Windows Process Activation Service. It's also known as Internet Information Services (IIS), which helped developers to write apps and building their projects. If you are a regular Windows user, just turn it off.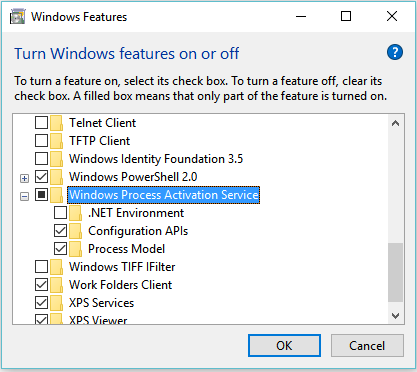 10. Work Folders Client
This feature in Windows allows you to access and work on any linked devices, such as other computers through the network. But if you are using your Windows PC alone at your home, there is no reason to keep this feature.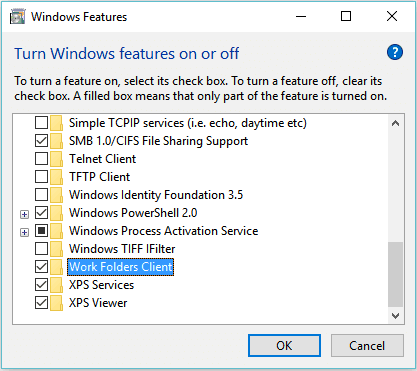 11. XPS Services and XPS Viewer
XPS is a type of file that was designed by Microsoft, to replace Adobe's PDF. XPS Services and XPS Viewer are features that allow users to create, print and preview XPS documents in your computer. If you don't have any plans to use, disable them is a good idea.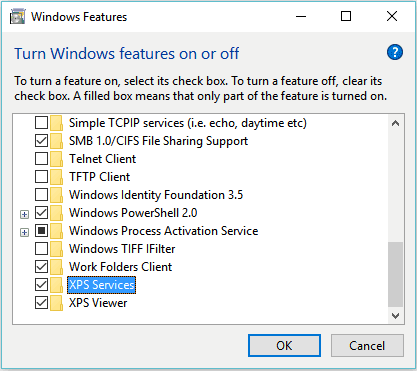 If you have any questions about these Windows features, feel free to leave your comment below. Otherwise, post your question in PCGuide forum, experts there will help you out.