Disclaimer: This post may contain affiliate links, meaning we get a small commission if you make a purchase through our links, at no cost to you. For more information, please visit our Disclaimer Page.
Found Antimalware Service Executable when opening Windows Task Manager but don't know what it is?
For users who don't know, this is a Windows background process that is used by Windows Defender. It was first introduced in Windows 7 and has been around since then in Windows 8, 8.1 and Windows 10.
As with most other background processes, Antimalware Service Executable runs quietly in the background and doesn't use much computer resources. You will not even notice this process in Windows Task Manager.
Unfortunately, this system process can take up your computer resources, such as CPU, RAM, or Disk Usage, in case something goes wrong. In most cases, your CPU, or Disk utilization may reach up to 100% when Antimalware Service Executable gets the problem.
In this article, I'm going to tell you more about Antimalware Service Executable, why it causes high computer resource usage, as well as the methods you can use to diagnose and fix this issue.
Fix High CPU Usage Caused By Antimalware Service Executable
As I mentioned above, this process is part of Microsoft Windows Defender, which provides a real-time protection and monitors your Windows computer for malicious applications that can harm it. In most cases, this system process works in the background of your PC to protect it in real-time.
For example, when you plug in a USB flash drive or an external hard drive, it will monitor those devices for threats. If it finds something that it suspects, it will isolate or eliminate it immediately.
Nevertheless, Antimalware Service Executable works abnormally due to a few issues and starts taking up all the computer resources, making your computer run slowly. This high usage problem occurs for various reasons so there would be no all-in-one method to fix it.
But here are a few useful ways I suggest that you can use to resolve this irritating issue on your Windows computer:
1. Turn Off All Scheduled Tasks Of Windows Defender
In several cases, this high usage issue occurs because Windows Defender continuously runs scans, which are managed by scheduled tasks. Fortunately, you can turn them off manually by changing a few options in Windows Task Scheduler.
To get started, press Windows + R to open the Run dialog box, and then fill in: taskschd.msc and press Enter.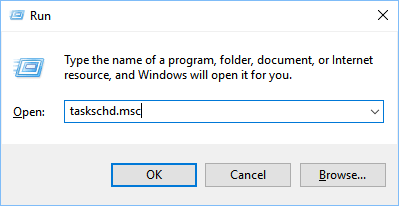 In the Task Scheduler window, open the following path to go to the Windows Defender folder:
Task Scheduler (Local) -> Task Scheduler Library -> Microsoft -> Windows -> Windows Defender
In the next step, find a task named "Windows Defender Scheduled Scan" and double-click on it to open the Properties window.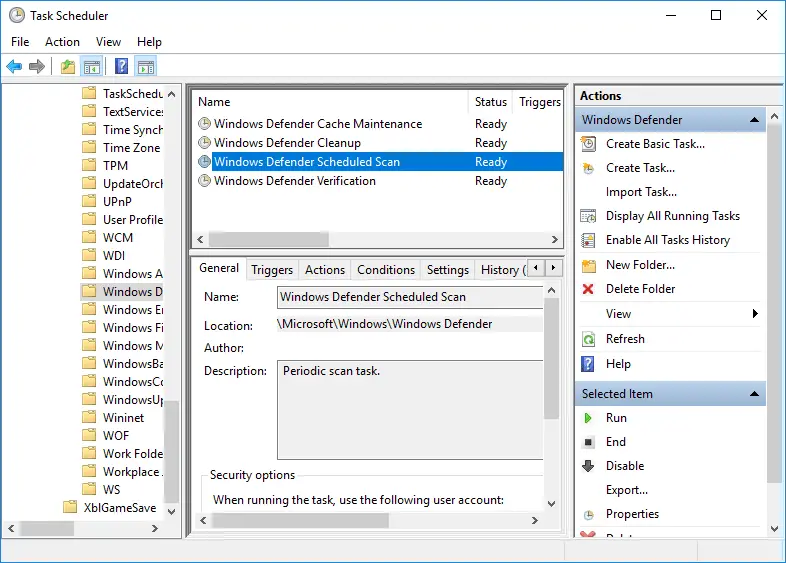 Next, switch to the Conditions tab and uncheck all four options, following the image below: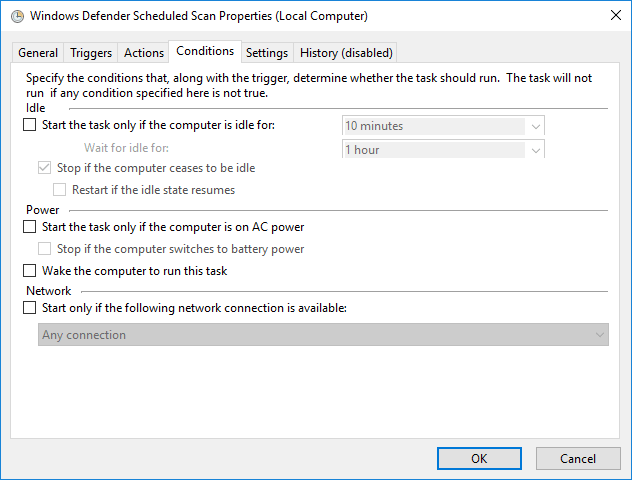 In doing so, you will prevent Antimalware Service Executable from running in particular cases.
2. Prevent Windows Defender From Scanning Itself
You might not know, but when right-clicking on the Antimalware Service Executable and choosing the "Open file location" option, it will show you a file named MsMpEng.exe, which is located in:
C:\Program Files\Windows Defender
In fact, it's the one that has created this annoying thing on your computer. According to a few reports, in some cases, Windows Defender is scanning this file which causes a high CPU usage issue. Therefore, you can add MsMpEng.exe into the "Excluded files and locations" list to prevent Windows Defender from scanning this file, which will help to prevent high computer resource usage issue from occurring.
To do so, navigate to Settings -> Update & Security -> Windows Defender.
From the Exclusions section, choose the "Add an exclusion" option.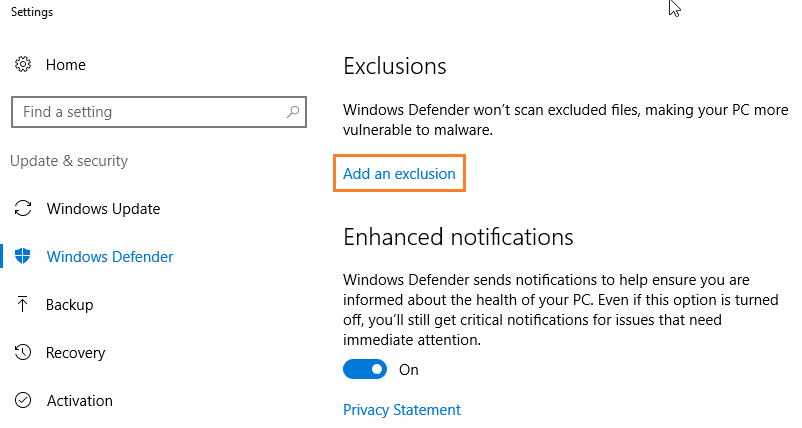 Next, select "Exclude a file" from the "Files and folders" option.
In the next step, choose the MsMpEng.exe file from the address I mentioned above to add to the exclusion list.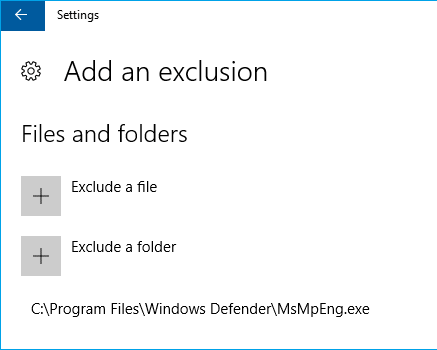 That's it!
3. Scan Your Windows Computer For Malware
It's possible that malware has infected the MsMpEng.exe file and caused this high computer resource usage problem on your Windows computer. Therefore, you can use Malwarebytes or AdwCleaner to scan your computer for malware and remove them out.
[full-related slug1="best-free-antivirus-software-windows" slug2="top-best-premium-antivirus-software-windows"]
4. Turn Off Windows Defender
Keeping Windows Defender running is a good idea to protect your computer from malicious apps. However, if you keep getting high usage issues like this one, which is caused by the Antimalware Service Executable, then probably you should turn off Windows Defender permanently.
To do so, go to Settings -> Update & Security -> Windows Defender, and then toggle off all options there.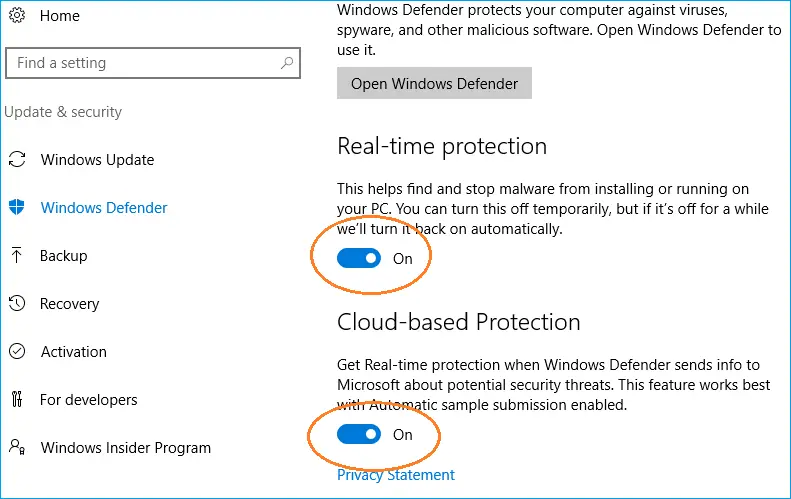 Related: read our detailed reviews of the best CPU coolers of the year
5. Turn Off Windows Defender With Registry Editor
In case you can't turn off Windows Defender with the method above, then try to do it by modifying Windows Registry entries. Or sometimes, you have turned off it in the Settings app, but after upgrading Windows, it's automatically turned on again – then making a few changes in Windows Regedit will help you to disable Windows Defender permanently.
Firstly, press Windows + R, and then type: regedit and press Enter to open Windows Registry Editor.
In the Registry Editor window, open the following path:
HKEY_LOCAL_MACHINE -> SOFTWARE -> Policies -> Microsoft -> Windows Defender
Next, right-click on the Windows Defender folder, select New -> DWORD (32-bit) Value to create a new Registry entry, and then fill in DisableAntiSpyware as its name.
Lastly, double-click on the entry you have created, and then set the value of it to 1, which will turn off Windows Defender permanently.
Tip: You can also disable Windows Defender by downloading this Registry script and execute it. It's much easier than doing all the complicated steps above.
After turning off Windows Defender, you need to find a good antivirus or anti-malware program to install on your Windows computer to protect it from harmful apps.
I hope these methods can help you to resolve high PC resource usage problems which are caused by the Antimalware Service Executable process. If you have any questions about this article or Antimalware Service Executable process, please leave your comment below.