Disclaimer: This post may contain affiliate links, meaning we get a small commission if you make a purchase through our links, at no cost to you. For more information, please visit our Disclaimer Page.
The error message: Ethernet doesn't have a valid IP configuration, it occurs on your Windows computer because it couldn't get a valid IP address from your DHCP server, for example, the switch, modem or wireless router.
By default, your network connection will obtain details, such as subnet mask, default gateway, or DNS server, IP Address automatically.
However, because of some unknown reasons, your Ethernet connection can't obtain all the essential details as I mentioned above.
As a result, all the connections on your computer can't reach and go through the DHCP server. Therefore, you might confront some annoying errors, such as no internet access or limited connectivity.
But you don't need to worry as this error is a software-related issue and isn't permanent. That said, you can get rid of it with a few steps. In this post,
I'm going to share with you a few handy methods you can use to resolve the Ethernet doesn't have a valid IP configuration error on your Windows computer.
Read Article: Best Ethernet Cable for Gaming in 2020 [Our Reviews & Comparisons]
Fix Ethernet Doesn't Have A Valid IP Configuration Error In Windows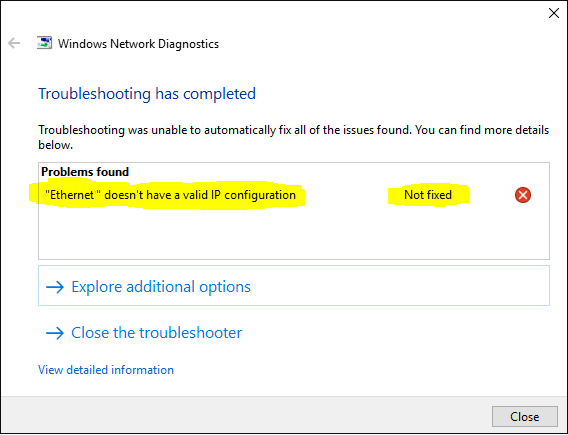 Several reasons can cause this Internet connection error, such as incorrect configurations in the network adapter, expired cached files, cable issues, DHCP issues, or even a faulty network driver.
However, it's quite simple to fix it by using several methods below:
Tip: Before using any method to solve this Internet connection error, I would recommend restarting your Windows PC first. Sometimes, a simple reboot will help to get rid of the most annoying errors.
Related Content: DNS Server Not Responding: How To Fix Error In Windows, Are you suddenly unable to access the internet?
1. Reset Winsock Protocol And TCP/IP Settings
Resetting the Winsock protocol as well as TCP/IP settings will help users get rid of most Windows errors, which are related to the Internet connection, IP, or DNS.
To get started, press Windows + X and then select the Command Prompt (Admin) option from the pop-up menu.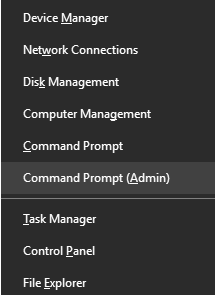 In the next step, perform this command to reset the Winsock protocol on your Windows computer:
netsh winsock reset
and then execute the two following commands to reset TCP/IP settings:
netsh int tcp reset

netsh int ip reset
After that, reboot your Windows computer to apply these changes. In case the Ethernet doesn't have a valid IP configuration error persists, you can move to the next solution.
2. Clean-Up All The Network Cached Files Causing Invalid IP Configuration
If resetting the Winsock protocol and TCP/IP couldn't help to fix this irritating problem on your computer, you can try to clean up all the network cached files on your computer. To do so, perform the following commands in Command Prompt in the same way I suggested in method number #1.
ipconfig /release
ipconfig /flushdns
ipconfig /renew
After that, restart your computer and check again if the Internet connection is back to normal or not.
3. Manually Configure TCP/IP Settings
If resetting TCP/IP couldn't help to resolve this problem on your computer, you can try to set up those settings manually.
Firstly, right-click on the network connection icon on your taskbar and select the Open Network and Sharing Center option.

Next, click on the Ethernet network adapter you are currently using.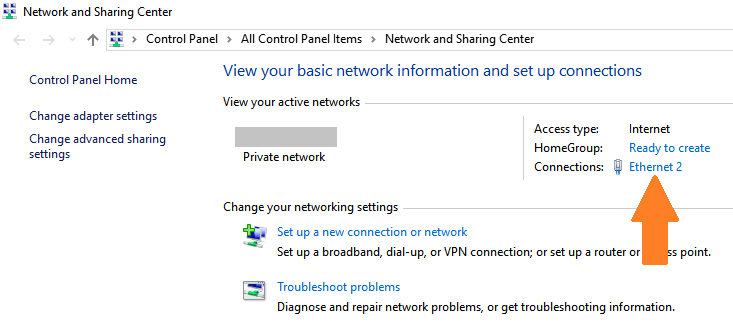 In the next step, click on the Properties button.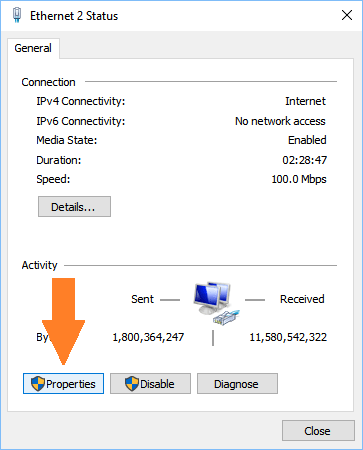 And then select the Internet Protocol Version 4 (TCP/IPv4) option and double-click on it. If you are using IPv6, choose the Internet Protocol Version 6 (TCP/IPv6) instead.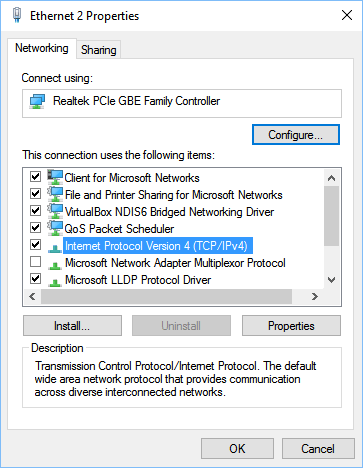 In this step, there are two cases:
Case #1:
If you have configured static IP address as well as other details, and are unable to access the Internet, and as a result, your computer shows you the Ethernet doesn't have a valid IP configuration error message, then you need to switch back to automatic configuration method.
All you need to do is select two options as the following image below: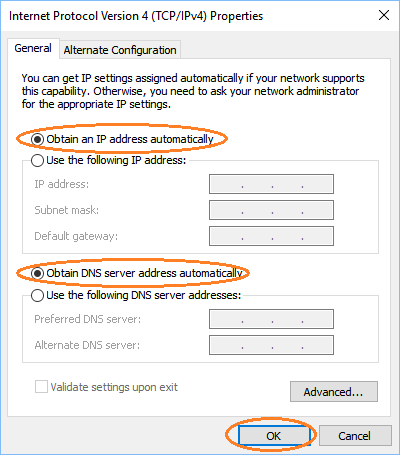 Case #2:
If you haven't set up anything and left everything as default, you can try to configure those settings with the static details, including the LAN IP address, Subnet Mask, Default Gateway, and DNS Server.
For example:
IP address: 192.168.1.112
Subnet mask: 255.255.255.0
Default gateway: 192.168.1.1
DNS server: 8.8.8.8 and 8.8.4.4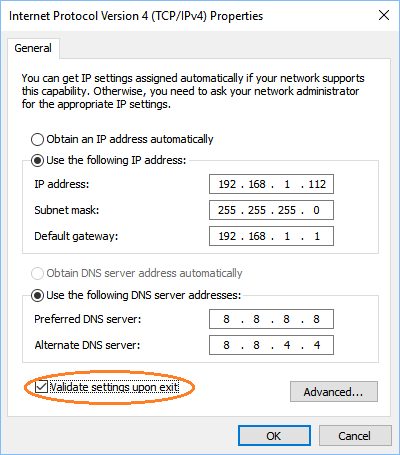 In those details, there are two options you must remember your IP address and the default gateway.
Default gateway: This is the IP address of your router or modem – depending on where the DHCP server is running, as well as where your Ethernet cable is connected to.
IP address: You can set any IP address you want but it must follow this form, which is the same as your default gateway address. For example, if your default gateway address is 192.168.11.1, then your IP address must be 192.168.11.xxx. The [xxx] is any number from 2 to 255, but must not be the same IP address that other devices have used as that will lead to an IP conflict issue.
After you have filled all essential details, click on the "OK" button to save the changes and then reboot your computer. Then check again to see if your Internet connection is back or not.
4. Check Your Ethernet Cable And Reboot Your Modem Or Wireless Router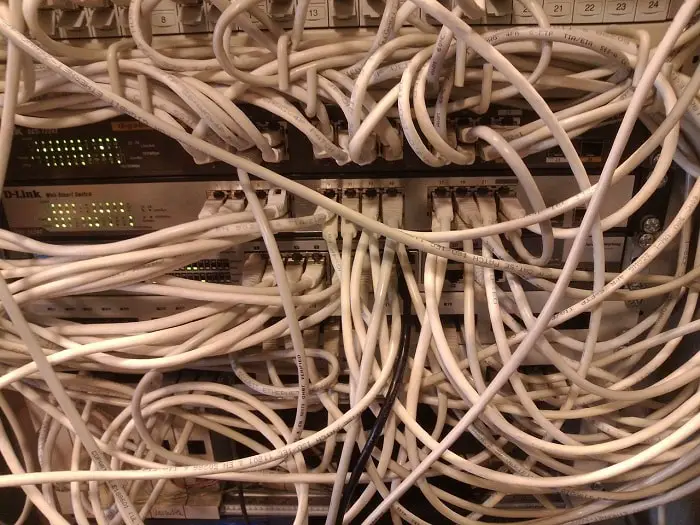 The first step to do is to check again the Ethernet cable which you are using to connect your computer to the modem or wireless router.
In some cases, a damaged Ethernet cable can lead to interruptions of your Internet connection and cause this annoying error. Therefore, if you think that your cable has been broken, replacing it would be a wise choice.
Besides, you also need to reboot your modem or wireless router. In a few cases, these devices aren't stable and require a restart to refresh everything. According to many users, after rebooting their modem/router, the issue was gone, and their Internet connection is back.
5. Reinstall The Driver Of Your Ethernet Network Adapter
In case all the above methods can't help you resolve the 'Ethernet doesn't have a valid IP configuration error on your Windows computer' error, then it could be an issue with the driver of your Ethernet network adapter.
In this case, you need to reinstall it or update it to the latest version. Sometimes your network adapter can't work properly with a corrupted or incompatible driver which will cause many serious errors, including this one.
To update or reinstall the driver of the network adapter, press Windows + X, and then choose the Device Manager option from the pop-up menu.
Locate your Ethernet network adapter from the list of devices, then right-click on it and select the "Update Driver Software…" option.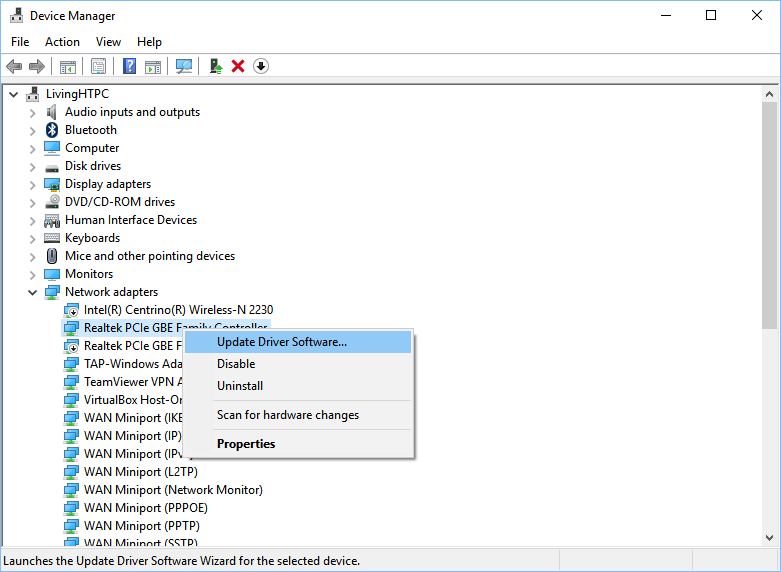 In the next step, there are two possibilities to choose from:
Search automatically for updated driver software.
Browse my computer for driver software.
Choose the option you want to use and then update the driver for your Ethernet network adapter.
In addition, you can also uninstall the driver for your network adapter, go to the manufacturer's website to download the latest version of the driver and then install it again.
Of course, this is usually an issue on lower versions of Windows OS, specifically Windows 7.
Check the video below on how to install ethernet network driver for Windows 7:
If you have any questions regarding the Ethernet doesn't have a valid IP configuration error or this article, don't hesitate to let me know by dropping your comment below.