Disclaimer: This post may contain affiliate links, meaning we get a small commission if you make a purchase through our links, at no cost to you. For more information, please visit our Disclaimer Page.
Antivirus software is always the best choice to help you protect your personal and sensitive data from attackers, viruses, malware, ransomware and other malicious applications. It will detect, prevent, disarm or eliminate malicious programs before those things affect your devices.
I do agree that there is no all-in-one and perfect solution to solve problems on your computer. But antivirus software is the first step to secure your PC, laptop or any other devices, and prevent those malicious programs from affecting your computer.
Last few days, I wrote an article about five best free antivirus software for Windows. These free antivirus programs come with basic and essential protection features, such as full scans, scheduled scans, email protection and a few other functions. However, these apps aren't always the good choices, especially if you need more protections for highly sensitive data and customers' information.
Premium antivirus programs have many advantages, including real-time protection, financial protection, network monitor, parental control, application control, virtual keyboard, support for multiple platforms, sandbox, online password management, two-way firewall, browser protection and many other features.
List Of Five Best Premium Antivirus Software For Windows
In this article, I will show you a list of top five best premium antivirus software that I have used and suggested for friends and readers. These programs are good at protecting your PC, as well as other devices, from harmful apps and malicious programs – never slow down your devices.
Kaspersky Total Security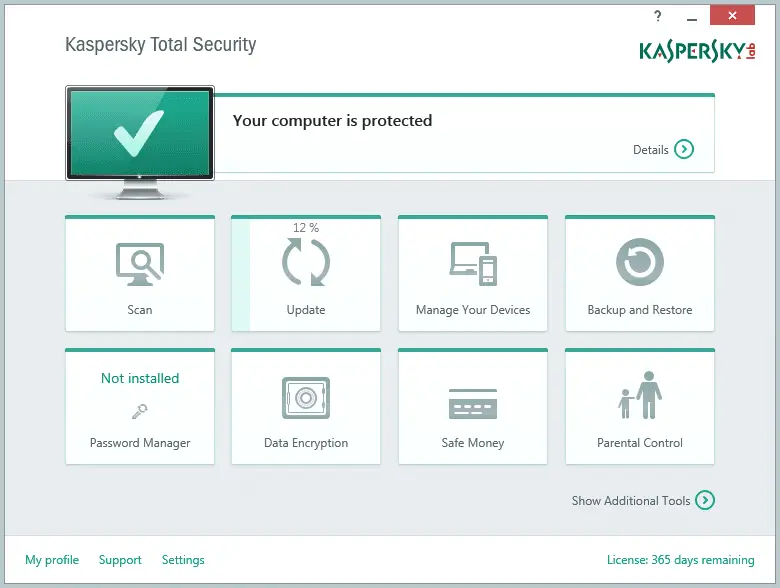 Kaspersky is one of the first internet security software providers in my list. Its products offer excellent protection for your devices. Kaspersky Total Security has many premium features, such as Application Control, Parental Control, Safe Money, Password Manager as well as encryption and backup tools.
It also supports multiple platforms, including Windows, Mac OS X, Android devices, and iOS. With the Kaspersky Total Security, you are able to use on multiple devices, depends on the type of license you ordered.
Kaspersky is now selling the Total Security license for three devices, valid for one year for $99. However, you can have a lower price from Amazon.com, which costs you $70, uses up to five devices.
There is a "PC Disc" version (ship CD to your home) that selling for $38, plus free shipping. I don't know why the "PC Disc" edition is cheaper than the "PC Download" edition. But I really don't care because it offers the same product from Kaspersky and genuine license.
Bitdefender Total Security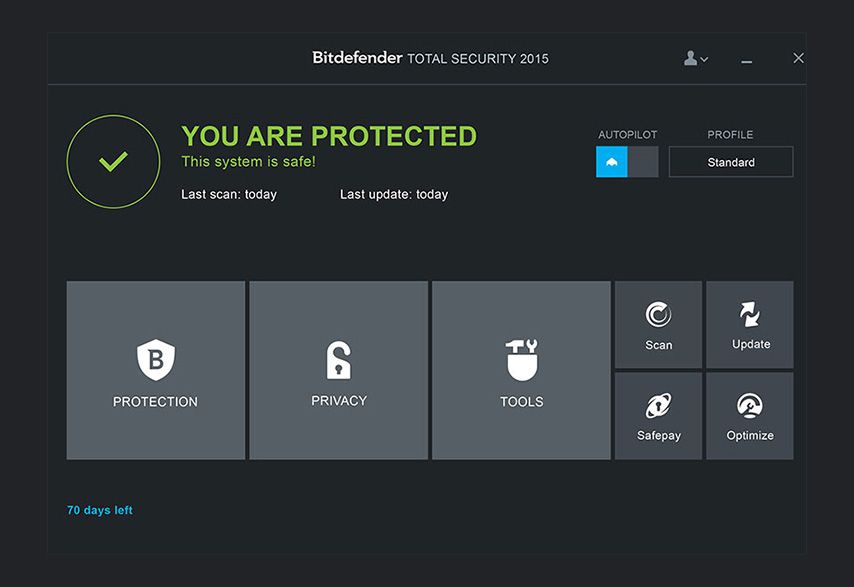 If you have used Bitdefender antivirus software before, you will know what's inside the Bitdefender Total Security. Both have the same user interface, but more components and features, such as secure online storage – the cloud, device anti-theft and file encryption.
Bitdefender products have been tested by many independent labs, and got excellent marks, like AA-level certification from Dennis Technology Labs. Bitdefender Total Security combines perfect protection with powerful features, including new profile settings to optimize resources and performance of your PC.
The Bitdefender Total Security is now selling for $90 on the company's website or $54 from Amazon.com. The license of Bitdefender Total Security 2015 can use up to 3 PCs and valid for one year. If you have to choose a premium antivirus software for your computer, this would be great viruses and malware removal tool.
Trend Micro Premium Security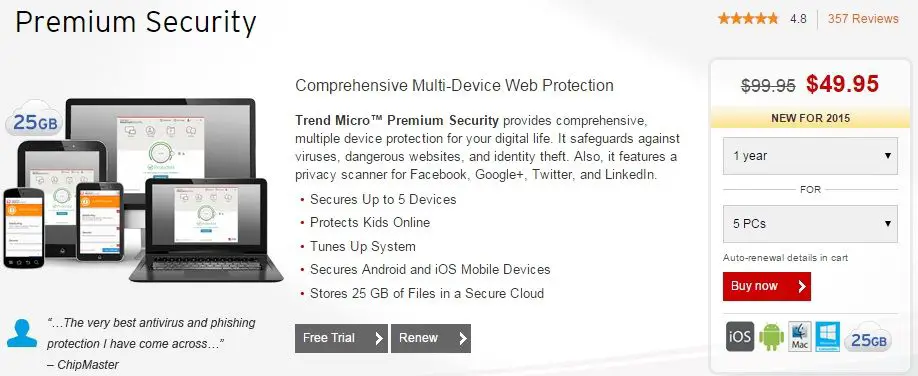 Trend Micro Premium Security offers multiple device protection, including your PC, Mac, Android and iOS devices. It protects, detects and eliminates viruses, malware, adware as well as other malicious programs, blocks dangerous websites and identity theft.
The Trend Micro Premium Security also protects kids online, tune up system feature and give you up to 25GB of the secure online cloud to store your files.
If you want to purchase Trend Micro Premium Security, it's now available for $50, up to five devices, one year license. But you can have a lower price from Amazon.com, which costs $31 for the same product.
Norton Security with Backup
Same as the other antivirus programs, Norton Security with Backup is a great solution to protect your and family member devices – up to 10 devices – across platforms, including PC, Mac, Android, and iOS, with a single protection plan.
It provides real-time protection against threats, manages your passwords securely, warns unsafe websites, alerts risky Android apps before downloading from Google Play to your devices, as well as automatically backs up data from your Windows PC, up to 25 GB.
Norton Security with Backup is now selling for $70 from the official website or $55 from Amazon.com.
McAfee Total Protection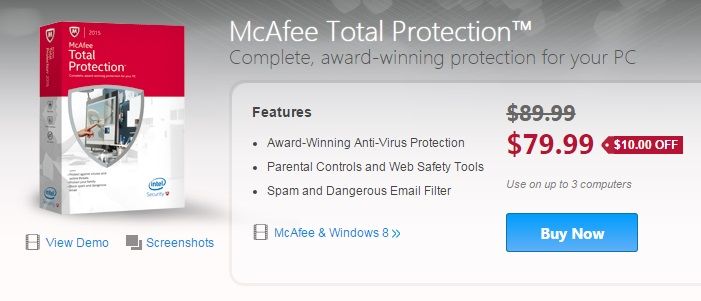 It's a good premium antivirus software that helps you stay safe from viruses, malware, spyware, rootkits, trojans and much more. It will detect, block and quarantine threats to prevent damage to your computer.
The McAfee Total Protection also has Parental Controls, Web Safety tools, as well as, a two-way firewall system to monitoring traffic in and out of your PC.
You can go to McAfee.com website to order the Total Protection for $80, and use up to three devices in one year. Or you also get the same product from Amazon.com for just $10here for PC Key Card.
[right-related slug="best-free-adware-removal-tool-windows"]
You may wonder why most of these premium antivirus licenses are selling for a very low price than the official website. As I said, I don't really need to care about that. There is nothing to worry about these licenses because they are genuine licenses, which selling by the same companies through Amazon.com.
Note: These prices may change over time because Amazon.com regularly update their prices. If you can't find a low price for your wanted antivirus software, do a search.
Moreover, Amazon.com gives an additional offer with $30 off when you apply for the Amazon.com Rewards Visa Card, free and cost nothing. So before purchasing any premium antivirus programs, apply for the Amazon Rewards Card, get a $30 gift card, use this gift card to place the order and get your premium antivirus license with very low price.
You can also go to SharewareOnSale to grab free licenses of premium antivirus programs. Sometimes, they share 100% one-year licenses, 6-month licenses, or just 50% OFF coupon. Give them a try!
What do you think?