Disclaimer: This post may contain affiliate links, meaning we get a small commission if you make a purchase through our links, at no cost to you. For more information, please visit our Disclaimer Page.
Sometimes, it feels as if we can't live without our controllers. It's like they've become an extension of ourselves, and it's hard to imagine not playing video games with them. But what happens when the battery runs out? Or, you lose your controller? Luckily, there are a lot of different ways to use your PS4 without a controller.
You can use your PS4 through the official PlayStation app which is available on both Android and Apple devices. You can also connect a keyboard or a mouse to operate the PlayStation and even play games. However, not every PS4 games are compatible with a keyboard and mouse setup.
What Can I Use Instead of a PS4 Controller?
The PlayStation 4 is one of the most popular gaming consoles out there. And fortunately, there are multiple ways you can enjoy it, even without using a PlayStation controller.
This feature of the PS4 can come to your rescue if you suddenly find out that the controller is not working. Or using a different setup can help you out in certain games and make the navigation process all the more convenient.
So, here are some alternative ways to control a PS4 system.
Connect With a Smartphone
Navigating through the PlayStation menu with the typical controller can be a tedious task. Thankfully, Sony themselves have released an app that allows you to connect your smartphones directly to the console.
All you have to do is simply download the playstation app on your phone and then pair it up with the PlayStation.
By using a phone, you will be able to type the content you are looking for much more easily. Additionally, the app can make your phone a temporary remote controller for the console.
Use a Keyboard
Some PS4 titles are more suited to the keyboard than the hand controllers. A keyboard allows you to move with more precision and convenience.
And with a PS4, you can connect pretty much any keyboard and operate it the same you operate it with a computer.
Try a Mouse
Similar to keyboards, you can connect a mouse to the console and control it that way. Once again, you would use the mouse the same you have always used them.
Check out below to see how to connect each device.
Can I Use My Phone as a PS4 Controller?
You can use any android smartphone or iPhone to control your PS4. You can use it as a keyboard or a remote controller. Some of the PS4 games allow you to play it through smartphones. But most do not.
Here is how you connect your PlayStation to any smartphone of your choosing:
Download the App
Just search for the official PlayStation app. For android users, go to the google play store. Apple users need to download it from the Apple store.
Keep in mind that this app is not available in every region. And the app will not allow you to play every game on the console. Also, you need to have a PlayStation Network or PSN account for this to work.
Open the App
Once the download process is finished, open the app on your phone. The app will ask you to log in. Simply enter the username and password you have for your PlayStation network account and you will be good to go.
If you keep getting logged out of your PSN account, check our article here.
Pair the Devices
For the devices to pair properly, you need both the PS4 and your smartphone on the same network.
Tap on the "Connect to PS4" icon on the app's main menu.
Then select the "second screen" option. Provided that both devices are on the same network, the app should be able to locate your PS4. If it does, then it will show you the name of your console.
Tap on the device to pair them.
Now, head over to the settings menu on your PlayStation.
Go to the "PlayStation App Connection Settings".
Next, select the "add device" option.
Here, your PS4 menu should display a code. Type that code into the app and your phone will be registered to the PlayStation.
Now you can freely use your phone to direct your PS4. You can return to the "PlayStation App Connection Settings" the same way to add or remove any device in the future.
Alternatively, if you see the Playstation app in app store for your tablet, you can try and pair your tablet to the console.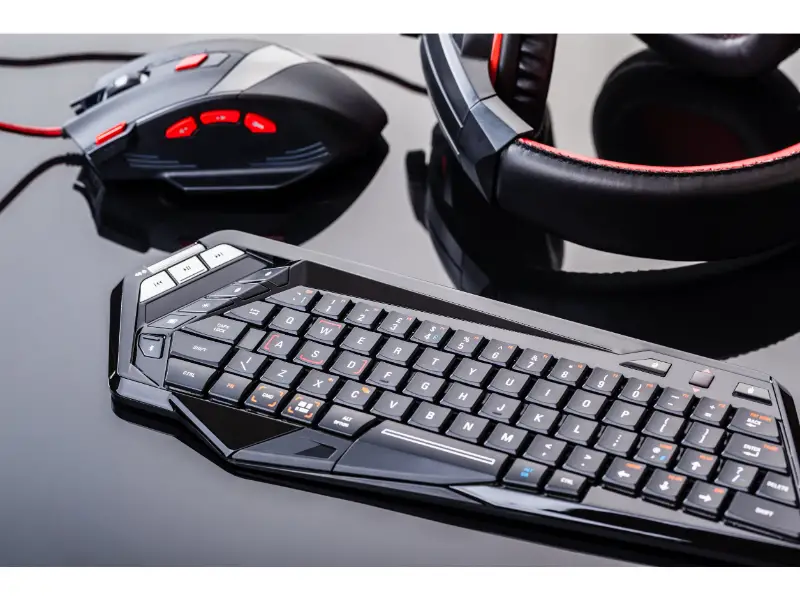 Can You Use a Keyboard Instead of a PS4 Controller?
Similar to smartphones, you can turn your keyboard into a makeshift PS4 controller. This feature works with both wired and wireless keyboards.
If it is wired, you simply need to plug the keyboard into one of the USB ports available on the console. If compatible (and most keyboards should be), the console will ask you to select a profile. Select the one you prefer and your keyboard will pair with it.
If the keyboard is wireless I.e., it runs on Bluetooth, so you need to connect it the same way you connect any other Bluetooth device to a PlayStation. Here is what you need to do:
Connecting a Bluetooth Keyboard to the PS4
First, go to the "settings" menu from the PS4 home screen.
Select "device".
Go to "Bluetooth Device". The console will start scanning for any Bluetooth device nearby.
Turn on the pairing mode for your keyboard.
If it successfully recognizes your keyboard, its name will pop up. Select it and the pairing process will start. This may take a few seconds, after which you will be able to use the keyboard freely to control the console.
You can also adjust some additional settings for the keyboard. Head back over to the "settings" menu and go to "device". Here, you will see the option for "external keyboards".
You can set the type of keyboard as well as the keyboard repeat delay and rate. You can also remove any paired device by going back to the "Bluetooth Device" menu.
Keep in mind that like with all devices, a keyboard can get worn out through continuous use.
Can You Use a Mouse with a PS4?
Yes, you can connect a mouse to your PS4. The process is exactly the same as with a keyboard.
If the mouse is wired, plug it into one of the vacant USB ports. If it is a Bluetooth mouse, you need to pair it with your console's Bluetooth feature. Just follow the same steps as you did with the Bluetooth keyboard, and you will be good to go.
You can connect and utilize a keyboard and a mouse simultaneously. This allows you to turn your PS4 into sort of a computer. Navigating the web and searching for content becomes much easier this way.
Can You Play Games on the PS4 with a Keyboard and Mouse?
Other than a few notable exceptions, most PS4 games are not compatible with a keyboard and mouse set up. In theory, this should not be the case. You should be able to play any games on the console with a keyboard since you can do pretty much everything else with it.
But unfortunately, you will need to use a DualShock 4 controller to enjoy all of the titles available on the PS4. If you try to play any non-compatible games with a keyboard, they simply will not respond.
This does not mean you are completely out of luck. Some popular games do support a keyboard and mouse setup. Titles such as Final Fantasy 14, Smite, Overwatch, Elder Scrolls Online, War Thunder, etc. are all fully operational with a keyboard.
Many of these games have a massive online multiplayer platform. So, it makes sense these games at least support keyboards. In fact, the keyboard and mouse setup gives you more precision in many of these games that you cannot find with the regular controller.
So, the alternative can help you master the game even better.
You can easily find out if a specific game is keyboard and mouse compatible or not by looking it up on the internet. Or you can simply boot the game and test it out firsthand whether it works.
Conclusion
The PlayStation 4 is a versatile device that lets you control it even without a designated controller. Sadly, most of the games on it do not support this feature. Still, using a keyboard or smartphone can make navigating the console much simpler.